Robin Thicke – Sex Therapy (2009) (Preview)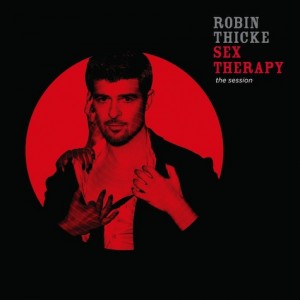 You can preview now the full album on Amazon.com. Thanks to Plaxxx.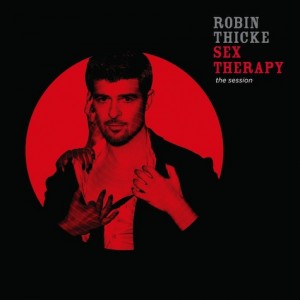 Robin Thicke – Sex Therapy (2009)
01 – 911 (Intro)
02 – Mrs. Sexy
03 – Sex Therapy (Polow Da Don)
04 – Meiplé feat. Jay-Z
05 – Make U Love Me
06 – It's In The Mornin' feat. Snoop Dogg (Teddy Riley)
07 – Shakin' It 4 Daddy feat. Nicki Minaj (Polow Da Don)
08 – Elevatas feat. Kid Cudi
09 – Start With A Kiss (Interlude)
10 – Rollacoasta feat. Estelle
11 – Million Dolla Baby feat. Jasmine Sullivan
12 – 2 Luv Birds
13 – I Got U
14 – Jus Right
15 – Mona Lisa
16 – Brand New Luv
17 – Diamonds feat. Game
Robin Thicke can explain the concept for the video of his new single, "Sex Therapy," in a nutshell: It's "a combination of Eyes Wide Shut and Madonna's 'Justify My Love.' It's supposed to represent those parties that you wish you could be invited to, that you always hear exist, but we never get invited to." Somehow, I suspect that Robin is getting plenty of wild party invitations, and that all of mine that have gotten lost in the mail are being diverted to his house. Not that a guy who's married to Paula Patton should ever feel the need to go out. And judging from his upcoming album, also titled Sex Therapy and due out Dec. 15, he and the missus do spend a fair amount of time at home, far from the madding crowd, tending to each other's needs. The sensuality is noticeably heightened this time; Thicke says that's not merely a commercial decision, but another strain of musical autobiography.
"I write about what my life is like at the time," he told me, "and my life over the last year has been a lot of partying and fun and a lot of stress and worrying about the future and money and relationships. And my wife and I have been focused on keeping our relationship sexy and hot and fresh, so we don't lose the fire between each other, because that's the only thing that makes the end of the day seem better: our connection with each other… And the song asks, what does a woman need at the end of the day? What does she really need after she's been stressed out and overworked and underappreciated? She needs a good dinner, she needs her foot rubbed, and she needs some sex therapy."
As well as "therapeutic" balladry, where the Love Doctor dispenses advice on how to treat a woman, the album includes party songs like "Shakin' It for Daddy" (with guest Nicki Minaj, a protege of Thicke's pal Lil' Wayne). That one may sound ready-made for strip clubs, but the singer insists even a song this salacious is based in his own committed relationship. "You're only supposed to shake it for one daddy! If you shake it for a bunch of daddies, that's nasty. It's really about my wife shakin' it for her husband. If my wife comes in the room and she shakes it for daddy, trust me, the night is gonna go very well." Let's hear it for monogamy! But how monagamous is the "Sex Therapy" video itself—or the cover of the album?:
Thicke has sometimes had a bit of a Pierce Brosnan thing going on in his photo shoots (although, happily, he has a much more accomplished falsetto than Brosnan's in Mamma Mia). With this cover imagery's blood-red circle, was he finally explicitly going for the Bond thing? Yep, pretty much. "We started out with this doctor theme, trying to play the sex therapist, and then it just kind of turned into the James Bond version of the therapist," Thicke says. "It was James Bond meets Sigmund Freud." The new album has decidedly more hip-hop and modern-urban influences on collaborators than on any of Thicke's previous three albums. Among the guest artists: Jay-Z (who does a rap on the likely second single, "Meiplay"), Snoop Dogg, Kid Cudi, Estelle, Game, and Jazmine Sullivan. Thicke's co-producers for the disc include Polow Da Don, Pro Jay, and Teddy Riley.
"The last album [2008's Something Else] was an ode to my favorite '70s music, but this new album is really a testament to the hip-hop and soul music that has shaped myself and my generation. I was thinking of artists like R. Kelly, Jodeci, Mary J Blige, Jay-Z, Biggie Smalls, and Snoop Dogg. I wanted to recreate a combination of the raw sensuality of R. Kelly's 12 Play and the confidence and champagne celebration that the music of Uptown and Bad Boy Records created." And there's a bit of a running theme through the album… besides just, you know, sex. "The first song, which goes 'I wanna make you Mrs. Sexy,' that's an 'I want to take care of you' song. And then 'Sex Therapy' is 'I want to take care of you.' And then in 'Meiplay,' Jay-Z and I take our ladies on a shopping spree through France, where they will be treated like queens. That's 'I'm gonna do better than any other boyfriend or anybody else could do. I'm gonna take care of you.'"