Robin Thicke x Mog.com Interview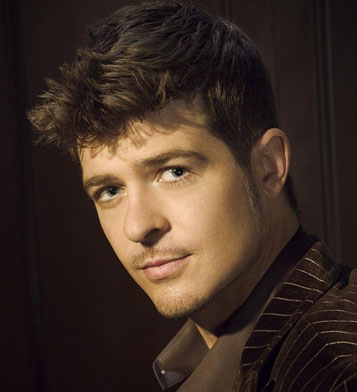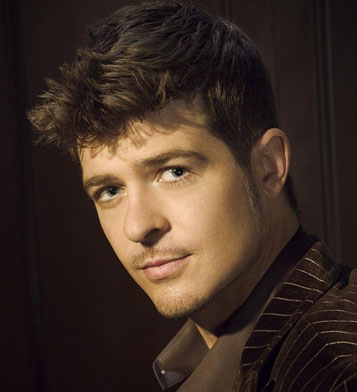 Recent chart-buster Robin Thicke occupies a singular space within contemporary R&B. Many artists avoid overtly sexual songs only to be pigeonholed as neo-soul and left to languish. Robin Thicke, meanwhile, is one of the few who have managed to straddle the line, experimenting with a variety of sounds and subjects while maintaining credibility with both sides. His new album, Sex Therapy, debuted at number 9 on the Billboard charts, a success fueled by collabs with rap's elite (Jay-Z, Nicki Minaj, Game, Ludacris). Robin caught up with MOG to chat about his upcoming tour alongside Alicia Keys, back Jay-Z in the great "We Are The World" Debate, reveal an upcoming film role alongside Anne Hathaway, and explain what it's like to have models lick you all over.
MOG: In your new video for "Sex Therapy" you have really hot models licking your face. Did your wife give you a hard time about that?
Robin Thicke: No, never.
MOG: Do you have any thoughts on the new "We Are The World 2010"? I know Jay-Z said he appreciated the thought behind the song, and giving to a good cause, but he thought they should have created a new one because the original was a classic.
Robin Thicke: I don't know why there would be any problem with what he said. He's right, and so are the people who did the song. It should have been a new song; you can't beat the original. There shouldn't be any conversation about it. He didn't say anything wrong. He was just claiming the obvious, that the first one was a classic.
MOG: Oh yeah, I kind of agree with him. I didn't say there was anything wrong…
RT: We all do. The new record wasn't meant to be great. It was made to make money. So everybody wins all the way around.
MOG: With Sade's new album, Soldier Of Love, coming out recently, you can't help but notice how different she sounds compared to R&B today. Do you think hip-hop has taken some of the romance out of R&B over the course of the last 20 years?
RB: I think it always comes down to the artists themselves. It's not that Sade's production or the music is what matters; its when her voice shows up. That's when it becomes Sade. Her voice has stayed amazing, her songwriting is great, but it just comes down to the artist, you know… There's no other genre music that has as much love as R&B, or romance, or vulnerability.
MOG: Do you think R&B artists feel any pressure to include hip-hop features to get radio play, or get noticed?
RT: I think people do it because we grew up in a generation of hearing records like that. It's natural for artists to create what they love. So if I loved Biggie and Total, what's wrong with me putting Jay-Z on one of my songs so I can be a part of the type of music that I love? I think when certain people jump on a record, it makes the record more enjoyable… So when Gucci Mane shows up on a record that you weren't expecting him on, your interest piques.
MOG: You have a son on the way pretty soon, are you planning to take a step back from the music or take a break when the baby is delivered?
RB: No, no no, absolutely not. He'll understand [laughs].
MOG: My favorite song in the world right now is R. Kelly's "Pregnant," where you're featured on alongside Tyrese and The-Dream…
RT: Oh I love it…
MOG: I love that song. How did you get on it?
RT: Tyrese brought it. Tyrese came to my girl's birthday party last year — he's a good friend – and we were hanging out and he came to the studio and said "I wanna play this record R. Kelly's got…" And I went to Chicago and put down the vocals when I was on tour with Jennifer Hudson. .. and that was it. I didn't hear it. I just heard my part and R. Kelly's chorus. I didn't hear the full song until…
MOG: So you must have bugged out hearing the final version with all those people on there right?
RT: Yeah, yeah.
MOG: You've mentioned that you record music constantly, but a lot of artists talk about how they want to branch out into acting….
RT: Yeah, I'll get into when it all feels comfortable. I'm doing this movie, this animated film [called Rio]. I'm doing a voice-over for Fox, with Anne Hathaway and a bunch of people, so that'll be fun. I'm trying not to take things so seriously anymore. I use to be so serious about everything; now I'm just trying to enjoy life and take some chances. But really the music comes to me, I have to write it. There's just too much music for anything else to ever be more important.