RJD2 – Games You Can Win feat. Kenna (Instrumental)



Here is the Instrumental to the RJD2 x Kenna collaboration 'Games You Can Win' from RJd2's Inversions Of The Colossus.
RJD2 – Games You Can Win (Instrumental) (10′)

Updated: January 20th
RJD2 – Games You Can Win feat. Kenna (Album Version)
RJD2 celebrates his new label by releasing new album. Free from the constraints of labels, at least one not owned by him, RJD2 will soon look to unveil his latest attempt to, as he says, "rearrange one's brain, or… provide some relief from real life for a moment or two." That's because on January 19th, the Columbus, OH based musician will unveil The Colossus, his fourth full-length and first on his newly established personal imprint, Electrical Connections. As for what to expect? Well, unlike its processor, 2007's The Third Hand, RJD2's new 14-track effort is described as "collaborative as possible," featuring a slew of samples and guest appearances from the likes of Phonte Coleman (Little Brother, Foreign Exchange), Kenna (Star Trak, VA Beach), Aaron Livingston (The Roots' Guns Are Drawn), Columbus MC's The Catalyst, Illogic, and NP among others.
That said, there will also be quite a bit of RJD2's own talents — for example, the album will mark his debut behind the drum kit. Of course, the latest piece of news in what has a busy last couple of weeks for RJD2. Back in August, he launched his aforementioned personal imprint and celebrated by digitally reissuing a ton of rarities. What's more, on October 20th, his new label will release RJD2 2002-2010, a box set that will feature vinyl re-releases of Deadringer, The Horror EP, Since We Last Spoke, and The Tin Foil Hat EP, as well as "a hand silk-screened, signed and numbered poster, a download card for exclusive treats, plus a beautifully printed box." In other words, time to start flipping over the couch cushions again. Thanks to nepnerd25 & xeroth3t3ck.
RJD2 – Games You Can Win feat. Kenna (10′)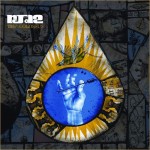 RJD2 – The Colossus (2010) (January 19th)
01 – Let There Be Horns
02 – Games You Can Win feat. Kenna
03 – Giant Squid
04 – Salud 2
05 – The Glow
06 – A Spaceship For Now
07 – The Shining Path feat. Phonte Coleman
08 – Crumbs Off The Table feat. Aaron Livingston
09 – A Son's Cycle feat. The Catalyst, Illogic & NP
10 – Tin Flower feat. Heather Fortune
11 – Small Plans
12 – Gypsy Caravan
13 – The Stranger
14 – Walk With Me