Rick Ross & Pharrell Cooking Up 'A Special Record'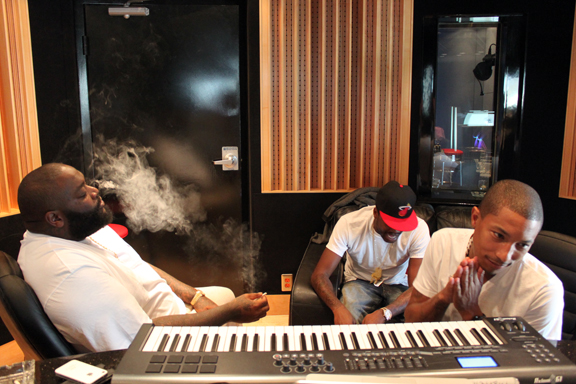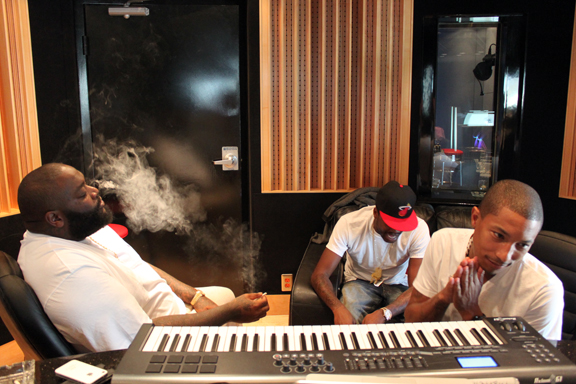 'He has his own paintbrush and his own colors,' Neptunes producer tells MTV News, nominating Rozay for 'Hottest MCs in the Game.' By Rob Markman, with reporting by Ricky Louis. When it comes to MCs, Pharrell has worked with some of the greats. Skateboard P has produced and rhymed with the likes of Jay-Z, Kanye West, T.I. and Snoop Dogg, and for this year's hottest MC in the game, P has a nomination: "Rick Ross is on his way, he's working his way. He's been doing it for a minute, and he's been really consistent," The Neptunes producer told MTV News on Friday in Miami. The debate rages on, and Sunday, February 19, the "Hottest MCs in the Game VII" will premiere on MTV2. During the half-hour special, MTV's Hottest MCs Hip-Hop Brain Trust will gather at the roundtable and decide the top five rappers in the game. Beginning February 13, MTV will reveal MCs 10 through six online, but only one spitter can snag the #1 spot.
If Pharrell has his way, Rozay will conquer all in this highly contested debate. "That guy is an animal; he's an animal with it. Lyrically, he's crazy, and he's just got a very distinct style, it's his own," P campaigned. "There were a lot of comparisons made at the beginning of his career, but along with the test of time, he's proven that he's his own person and he has his own paintbrush and his own colors." Skateboard might be just a bit biased as he reveals to MTV News that he and the Bawse have some very exciting things in the works — then again, Pharrell has worked with a number of MCs who could contend for the crown. "He and I have something special too. We have a special record too, but we're still working," the multiplatinum producer said. "I'm happy to be a part of it." Tune in to MTV2 on Sunday, February 19, at 10 p.m. ET/PT to catch "MTV2 Presents: Yo! MTV Raps Classic Cuts," then watch "Hottest MCs in the Game VII" immediately after at 10:30 p.m. ET/PT before capping the night off with "Sucker Free Certified" at 11 p.m. ET/PT. Thanks to Kotik.