Pharrell Brings His Fashion Expertise To 'Project Runway: All Stars'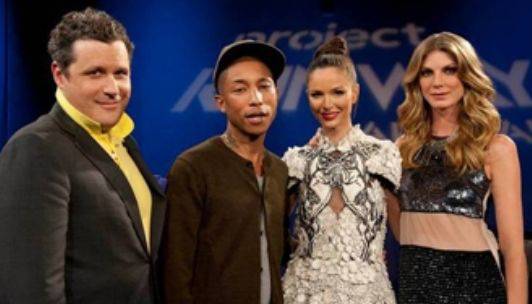 The five remaining contestants were really faced with a daunting task this week on "Project Runway: All Stars" (Thu., 9 p.m. EST on Lifetime). The challenge was to create a design using light technology that will really pop on the blacklit runway. It certainly pushed these all stars into whole new areas of creativity, culminating in some incredibly bizarre and unique designs. The multi-faceted Pharrell Williams, who can include fashion designer on his resume, was on hand to judge the final products, and he gave very concise and pointed critiques.
Isaac Mizrahi, Pharrell Williams, Georgina Chapman Angela Lindvall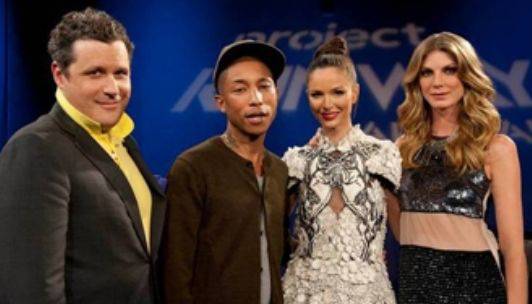 It's a testament to the importance of having someone with some background in design and the art of fashion in general on that panel when a guest is brought in. Jerell went crazy with the lights, creating what he described as "the ethnic tribal thing, but like tribal meets technology." Williams saw more of a grandma theme to it. "Her body gets lost and she just gets this long grandma look," he said. Michael's look was a bit more like a Comic-Con costume than an actual fashion design. For a Comic-Con type of event, it would be a fantastically successful look, but he may have missed the mark here.
These were the bottom two designs, but after some deliberation, Comic-Con was allowed to stay in the competition, while grandma was sent packing. It was the end of the road for Jerell. Find out who gets eliminated next on "Project Runway: All Stars" (Thu., 9 p.m. EST on Lifetime). TV Replay scours the vast television landscape to find the most interesting, amusing, and, on a good day, amazing moments, and delivers them right to your browser.