Pharrell Williams x The Wall Street Journal Article (May 18th)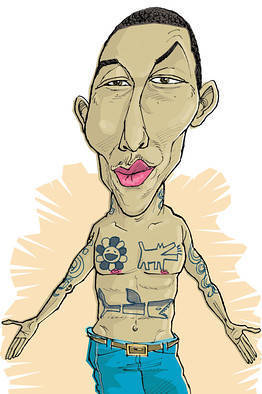 Pharrell's Favorite Artists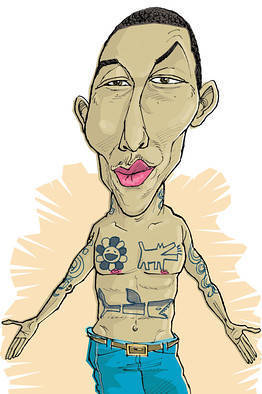 Picture By Harry Harrison.
Pharrell Williams is widely known for his music, which spans his work as a producer with everyone from Jay-Z to Britney Spears, to his own band, N*E*R*D. His listeners might not be as familiar with his art collection, but Mr. Williams is a fan of contemporary sculptors and painters such as Takashi Murakami, whom he collaborated with for an installation at Art Basel three years ago, and KAWS, whose work harnesses pop-culture figures like SpongeBob SquarePants ("I was the one that sent him into that SpongeBob zone," Mr. Williams says) and the Simpsons. Mr. Williams shed light on some of his favorite artists in an interview with the Journal.
Jeff Koons
The American artist has riffed on pop-culture subjects from Louis XIV to Michael Jackson's pet chimpanzee Bubbles. It is his torn-from-Marvel-Comics depictions of the Hulk that attract Mr. Williams. "When there's a slight twist on the things that we know to be normal, they really stand out," he says. "Those are some of the best things to me." Asked which artists he'd like to work with next, Mr. Williams responds, "for sure, Koons, at some point."
Damien Hirst
The subject of a retrospective at the Tate Modern (and recently exhibited at Gagosian galleries around the world), the British artist's renderings of surgery, part of his "fact paintings" series, are another favorite. KAWS "I don't have the most eclectic in taste buds for art. I like what I like," Mr. Williams admits. "With KAWS, I felt like he had this very interesting take on pop culture." Emmanuel Perrotin, who represents Mr. Williams and whose new gallery in Hong Kong opened with a KAWS solo show, is one of many people Mr. Williams introduced the artist to.
JR
The artist who works anonymously and got his start on the streets of Paris has now become "the guy that all around the world you see," Mr. Williams says. While JR's photography has shown at the Centre Pompidou and the Museum of Contemporary Art in Los Angeles, his immense close-ups of eyes and faces still appear outside as well, most recently on the sides of buildings in Havana in a project with Cuban-American artist José Parlá.
Takashi Murakami
Mr. Murakami's work is heavily influenced by Japan's version of geek culture, or otaku, and his melding of high and low strikes a chord with the musician. "When I see Murakami's work, I see guys who allow their imaginations to run wild, and it's always interesting to see their take. You always want to see what Murakami's doing," Mr. Williams says. "You know [his] language. That's a gift in itself, for someone to have an easily recognizable fingerprint on everything that they do, all the while continuing to explore different themes."