Rosco P. Coldchain Album 'Almost Famous' To Finally See Light Of Day

Great News right there. By Allen Starbury. Incarcerated Philly rapper Rosco P. Coldchain, known as a former member of The Neptunes Star Trak label, will finally release a full-length project following two shelved albums and a handful of botched record deals. In mid-June, the rapper will release Almost Famous, comprised of songs recorded over the last decade with producer Fatin "10" Horton, of 9th Wonder's Soul Council collective. According to HipHopDX, 10 worked extensively with Rosco … and this nine-track collection are the result.
"After being one of the most anticipated artists of the mid 2000s, Rosco [P. Coldchain] seemingly vanished into thin air. Because of that, there was so much music that the world missed out on and ran the risk of never getting a chance to hear," says Fatin. "I was privileged enough to record about 15 songs with 'Sco between 2003 and 2007. One day, I was listening to the songs on my laptop and still marveled at his brilliance, almost nine years after our initial recordings. The music that Rosco made and his lyrical content is better than almost all of the music being released by this next generation of emcees, and he hasn't recorded since 2008. That proves that he was, at least, three years ahead of his time.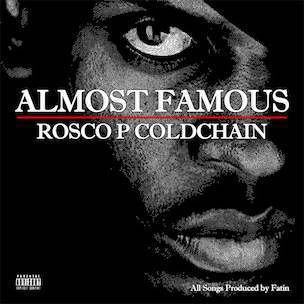 "The songs that we're releasing are out of a vault of lost music; the Pro Tools sessions for these records don't even exist anymore, hence the raw (and in some cases, non-existent) mix. Even still, the dopeness of 'Sco is undeniable. His witty, vivid, animated, and honest delivery are any producer's dream to have access to. Here's hoping you enjoy witnessing some of the magic we were able to create." This project may be the last songs you'll hear from Rosco as well. He's currently behind bars, after being arrested in connection with a double-murder in 2008.
The status of his case is unknown as of press time. Rosco P. Coldchain spent the mid-2000s signed to Star Trak Records, but never released an album. The one-time Clipse protege was under both the Arista Records wing and later Interscope as Star Trak and The Clipse transitioned. Despite production by The Neptunes, DJ Premier and others, his Hazardous Life album remained shelved. Almost Famous is slated to drop June 12, digitally through Soulspazm Records. It features guest spots from Jean Grae and MeLa Machinko.
*ballerstatus.com
*hiphopdx.com