Pharrell x Complex.com Interview (June 11th)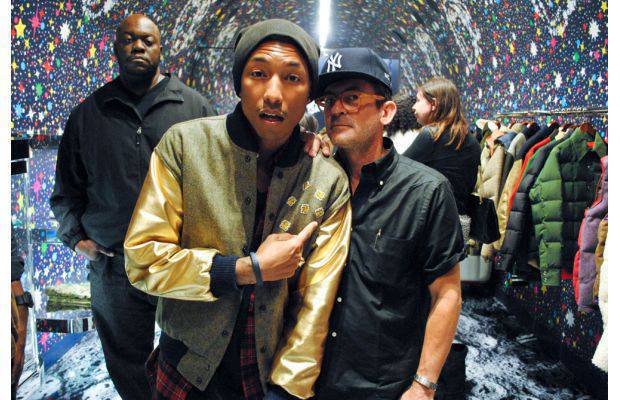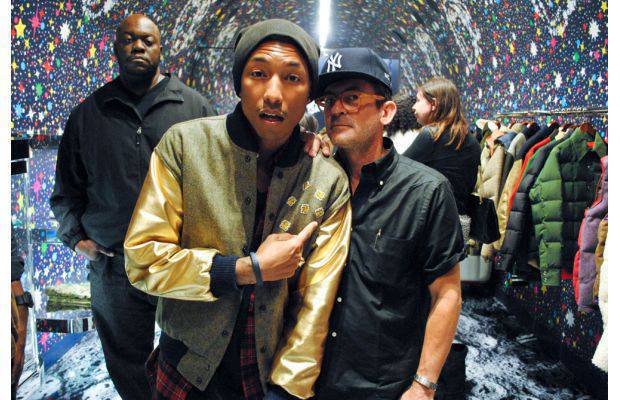 Complex caught up with Pharrell and Mark McNairy at a preview of the upcoming Billionaire Boys Club fall collection, and got an up-close look at the BEE line collection designed by Mark McNairy. Check out the interview below, and find out which Japanese designer McNairy reminds Pharrell of.
Complex: How did you get introduced to Mark McNairy?
Pharrell: I met Mark through our first shoe collaboration. We were doing wingtips, and I wanted to do some boots, and I wanted to have some made. I was like "I would love some with a red bottom, or a green bottom, or a yellow bottom" and he pulled some out, so he had already had it done. Then it was like "Ok cool, let's go."
Complex: What do you like about his work and design?
Pharrell: Mark is super Southern in his tastes, but his tone is amazing. He has just as much knowledge when it comes to textiles and the garment business as a dandyman from England. This guy has just as much understanding of fabrics as the some of the best bespoke places on Bond Street. And he's from North Carolina, that's like right next door to me, he's kind of like an American Southern Junya Watanabe. I'm a huge Comme des Garcons fan. So when I got the chance to team up with him, I was like "Oh yeah, someone who thinks like me! Let's make weird, accessible clothing that people can put on and become individuals." That was basically it, so you'll just see the mixing and melding of different mentalities across the board. Like you have a bubble vest in a material they would never use. This is a time for layers, and all of our stuff is very layer friendly. Hunting is naturally a BBC thing, and Mark's an outdoor guy, so it makes sense. I'm creatively passionate about certain things, but I'm not the homework guy. I'll see something and fall in love with it but I'm not really doing the research. This is what he does everyday.
Complex: What inspired the BBC collection?
Pharrell: The main BBC collection is continuing with the outdoor lifestyle and all the usual stuff. It's the next iteration of where we are with the DNA of the brand and trying to progress forward with our colors, patterns, and the things we feel like make us, "us."

Complex: BBC started out heavy with all-over prints, especially in hoodies, and now you guys have got critter pants and all-over print polo shirts, is that a natural, classier progression of BBC? Are you paying homage to that sort of heritage of the brand?
Pharrell: Maybe it's homage, or maybe it's just what we feel right now. That's gonna change. Next year it's gonna look completely different.
Complex: So what kind of things are you feeling right now?
Pharrell: Extra denim. The more denim, the better.
Complex: Yeah, you're definitely rocking some drop-crotch jeans with a lot of fabric bunching right now. Do you think that's a future trend?
Pharrell: I don't know for anyone else, but for me. I did these for myself. I even customized my boots. I think the biggest trend right now is customization. You could either get it bespoke somewhere or you could do it yourself, and I try to do a little of both.
Complex: What about the color schemes of the BEE Line?
Pharrell: Well let me bring Mark over for that. Mark, can you speak to the colors that we chose?
Mark: We used a lot of yellow accents because of the whole "BEE" thing, such as yellow pocket lining.
Complex: What about the use of tweeds, herringbones, and more menswear-influenced fabrications and patterns in the line?
Mark: Yeah, I was trying to merge traditional menswear and streetwear.
Complex: It's a perfect fit, you've been working with artists like Danny Brown, and no one else in menswear has really embraced hip-hop in their work as publicly as you have, is there a reason for that? Do you like rap or just like these rappers?
Mark: It's funny because I started listening to Grandmaster Flash, The Clash, Young M.C., Afrika Bambaataa… and then I missed out on hip-hop for a long time.
Complex: Like the '90s?
Mark: The '90s and more, so there's very little that I knew.
Complex: What brought you back into the hip-hop world?
Mark: Honestly, Jay-Z, I love him as a guy, as a person, businessman or whatever, but I only knew one of his songs, that's it. Only one: 99 Problems. To tell you the truth, I thought Kanye was a dick. My younger brother, who's 10 years younger, who's very narrow-minded about his music — he likes English Brit-Pop or whatever, he tells me he liked Kanye. I was like "what the fuck are you talking about?!" And then I listened to My Beautiful Dark Twisted Fantasy and I was like "what the fuck?! This is fucking amazing!" And then it just went from there.
Complex: How do you play off the creative energy between you two?
Pharrell: He's my hero! Not only is he very talented, but he cracks me up. He's the funniest guy. I could have grown up with him. He could have been my best friend as a kid because we both have those southern sensibilities. The shit you just wouldn't understand unless you were from the south. I couldn't believe that somebody from the south had his taste and tone. Especially when it came to traditional English textiles that he'd use. His usage of tweed, herringbone, and gingham print — all the things that I love — and how he mixes it and flips it, it's ingenious. So I'm happy. And he doesn't have a New York accent, it's all the real shit, but he lives here, and he's lived here for the longest time. He's rare. Super rare.
Complex: What else can we expect from you two in the future?
Pharrell: Those. [Points to a pair of camouflage shoes McNairy is wearing]. But I'll have them first.
Mark: We got saddle shoes coming. Navy saddle shoes with gold saddles.
Pharrell: Unbelievable shit. He's the shit!
Complex: What is the one dream item you guys would make together if possible?
Mark: The dream item? I think this was the first one. [Points to Pharell's varsity jacket] And this happened by mistake. We'd already done two varsity jackets with Golden Bear, but they weren't delivering. We weren't gonna get them, so I was like "fuck this!" We already had the fabric, so I went and made a pattern from another BBC varsity jacket, and had this in mind to do it. And I was like "fuck it, let's put gold sleeves on it."
Complex: The varsity you have is one of one, can you tell us about it?
Pharrell: I had to establish the fact that I was the king bee.
Complex: How many bee patches do you have on there?
Pharrell: Seven.
Complex: I think it's rad that you guys use Crescent Down Works for the puffy jackets and vests, and Golden Bear for the varsity jackets. How important is it for you to have U.S.-made goods?
Pharrell: The U.S. is very important for us. We try to do everything American-made.
Mark: Well for me, that's all I know. I've always made clothing in New York and the United States. I don't know how to do tech packs and CADs, know what I mean? I'm very hands-on, so I work with my patternmaker in the factory, which is a completely different process from making clothes overseas, when you're not in the factory.