Pharrell Talking About Michael Jackson (July 20th)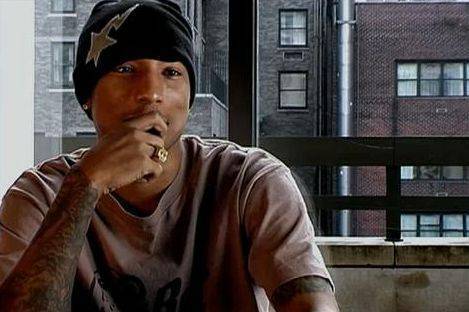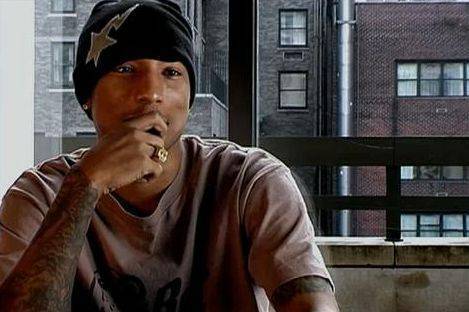 Pharrell Williams talks us through his childhood obession with Michael Jackson. By Dazed Digital. "The most important thing I have to say about Michael Jackson is that he was an incredibly enlightened, super-intelligent guy who changed the standard for entertainment. My first memory of him is being in front of the TV when I was a child, watching him perform. My mom didn't have a floor model TV – we had one of the older ones that stood on a stand and I remember running as close to it as I could, totally mesmerised by him. It was the "Let's Dance Let's Shout" record and I was glued to the television. It was a phenomenal experience just to watch him perform. From then on, he reinvented the standard of what being an artist was about. I can't think of anything I'd seen before that point, or that I've seen since for that matter, that even comes to being anything like it, musically or visually.

That said, at that age, I never thought about making music inspired by Michael. I didn't think about making music at all. Thinking like that wasn't an option. I was in the projects in Virginia – there was no custom of thinking like that. It wasn't that so-and-so did something and you thought you might do it one day. At that age, in a place like that, you know what you love and what you feel an incredible relationship to. You know that you think music is magical and art is magical and movies are magical, but there isn't much around to cultivate that magic, to make it even seem like a possibility in your own life. That was part of the amazing thing about Michael. What he did seemed impossibly magical. He was always just something completely special. More after the jump, thanks to aliXxXDabeat.
Michael Jackson – Working Day & Night (DJ Freakiii Extended Mix) (79′)


Of course, back then, I wasn't looking at music in an objective way. It was what it was. It didn't cross my mind to think of Michael comparatively to other artists of the time; it was just an unspoken, undisputed thing that he was inherently different, and something that you did not want to miss. He was definitely the only artist at the forefront of my attention by the time Thriller dropped in 1982, when I was nine. By the time that came out there was no doubt: you wanted to look like him, you wanted to dress like him, you wanted to be able to dance just like him. Not that he hadn't been impressive like that before: for me, the Off The Wall look was amazing too, the suit, the bow tie and the afro. That was a great style. The point is that he always had really good style. As soon as he left the Jackson Five he was really expressing himself; going to places like Studio 54, meeting people, working to hone the details that improved him. He was studying Walt Disney, developing his love for animation, old films and interesting books, his tremendous style evolving along the way.
He definitely worked out his own vernacular in fashion. He never wore anything by mistake and was literally making a statement every time he got dressed. Could I decode it or decipher it? No, I couldn't. The thing is, he didn't do things on a whim. Everything he wore and everything he did was calculated – he knew the reaction he would get and was making intricate statements with it all. I couldn't tell you what he was thinking. In this image, for example, where he's boarding a plane in 1988, during the Bad era – which was another amazing time for his style – he's wearing Ray-Ban Wayfarers and a military jacket. I can tell you that there would have been some complex thought behind it, and that he would have had a statement in mind, but I don't have the audacity to try and tell you what that is. We just have to walk away knowing that he was a super iconic figure in entertainment, and one that was inimitable.
With that in mind, I can't say that I've ever strived to follow his style in a literal way. I wear Ray-Ban Wayfarers too, for example, but just because of their iconic shape. They're cool. They're what the French would call baba-cool, a 1960s fashion term which sort of translates as bohemian. But that's what they mean to me, not to him. He was a special guy. We were associates, we had a couple of conversations, I visited his place before and he interviewed me for Interview magazine many years back. He was the most talented, interesting, troubled and enlightened human being that I've ever come across and indeed been fortunate enough to experience first-hand. But he was also enigmatic. I couldn't tell you what the sunglasses symbolised for him because he put up incredible barriers, impenetrable parameters that prevented a deeper understanding.
The thing I think I can say I do look towards, in terms of his style, is not anything literal, but just his attitude towards it. I look to his sense of fashion liberation. Michael was a man who felt free to be himself and express himself. That is a value I strive towards and that I attribute to him completely. In terms of his personal style, he has definitely done his own thing. You've got to know what you're doing when you're talking about Michael Jackson and his fashion taste and I'm not sure I measure up. I'd say I tore a page out of his book in terms of marching to the beat of your own drum, though. As much as we all feel like we're individuals it's very easy, when thumbing through the average magazine, to see how everybody kind of really looks like everyone else. The attitude of really defining yourself in that way is a rare thing: refusing to give in to your critics and doggedly doing your own thing, no matter what anyone says, is what it's all about. That's what Michael was all about and what his style was all about. It's something I really respect."