Pharrell x Popdust.Com Article (August 7th)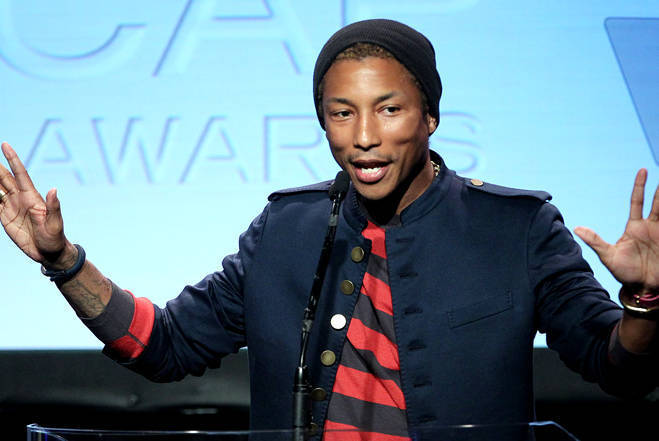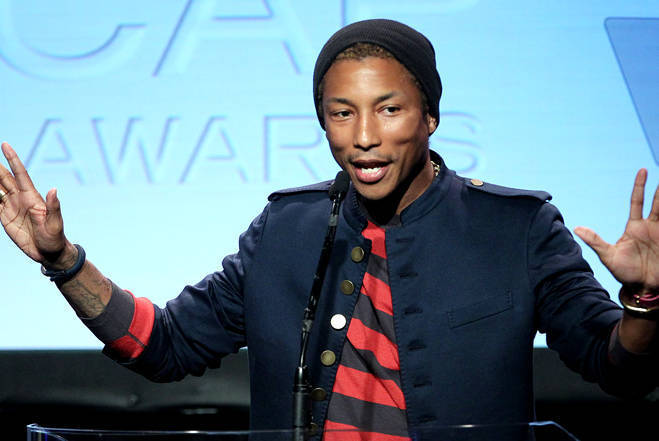 Pharrell Williams' Quiet Comeback Year, And Why We Need Him Now More Than Ever
Posted by Andrew Unterberger, thanks to Thanks to hayabusa. Searching around the production credits for some of this year's biggest and best pop albums, you might find a familiar, but somewhat distant, common name: Pharrell Williams. Yes, the one-time superstar producer with The Neptunes (and for a brief moment, solo star as a lead artist in his own right) is just about everywhere in 2012, on big-ticket releases like Usher's Looking 4 Myself, Rick Ross' God Forgives, I Don't, Frank Ocean's Channel Orange, Tyga's Careless World, even Adam Lambert's Trespassing. His productions in '12 have been uniformly excellent, and make you wonder a little bit why he fell off in popularity the way he did over the last half-decade—and if he can get back there again.
You don't need to be all that old to remember a time when Pharrell Williams, as one-half of the superstar production duo The Neptunes, basically helped shape the sound of popular music. For most of the first half of the '00s, The Neptunes, and Pharrell especially, were on a level of pop saturation that no hip-hop producer had previously reached since at least Dr. Dre. There was a time when it seemed like you couldn't go three songs on the radio without hearing one of their funky, skeletal-but-maximalist beats in the background, or three videos on MTV without seeing Pharrell's smiling face peeking out from the background.
As the Max Martin, TRL-led era of boy band and teen female pop started to taper in popularity, and hip-hop was taking over as the dominant form of popular music, The Neptunes were at the forefront, with singles for artists like Mystikal ("Shake Ya Ass"), Jay-Z ("I Just Wanna Luv U") and Usher ("U Don't Have to Call") going massive, soundtracking summers and countless block parties and Hype Williams videos and the like. Before long, even Britney ("I'm a Slave 4 U") and Justin ("Like I Love You," "Rock Your Body") were calling on The Neptunes' assistance, as their red-hot beats helped Brit shed her good-girl image, and put as much distance between JT and his early days in N' Sync as he would ever need.
It all peaked with Nelly's "Hot in Herre," still the Summer Jam to end all Summer Jams, one that even turned the heat of the season into a competitive advantage over anything else on the radio by turning it into a cause for disrobing in the club—always a welcome suggestion in pop music. The song's "Bustin' Loose"-aping beat set a new standard for funkiness in 21st-century hip-hop, and made the types of chart-topping beats from the year before, from the likes of 7 Aurelius, Jermaine Dupri, and Jimmy Jam and Terry Lewis, sound hopelessly tame and outdated in comparison. "Hot in Herre" spent seven weeks at #1 in the summer of 2002, and established the Neptunes as the most important producers in popular music.
Meanwhile, Pharrell was achieving a celebrity on his own that was relatively unheard of for a non-performing producer. Good-looking in an nonthreatening, unassuming way, and shirtless nearly as often as Nelly, Pharrell had the look of a star in his own right, and like Puff Daddy and Timbaland had set the standard for doing in the late '90s, he began appearing in the videos for songs he produced, even singing on the hooks, as the sound of his falsetto'd croon—"I'M A HUSTLER, BAAABY!!," "I THOUGHT I TOLD Y'ALL DUDES BEFORE, Y'ALL DUDES CAN'T MESS WITH ME!," "BEAUUUUTIFULLLL…I JUST WANT YOU TO KNOW…THAT YOU'RE MY FAVORITE GIRL!!!"—soon became just as omnipresent as the duo's clanging, shuffling beats.
It was inevitable that Pharrell would go become a lead performer himself, and eventually he did—first as part of the band N.E.R.D. with co-Neptune Chad Hugo, and then just straight up as a solo artist, scoring a huge hit as the artist on the left side of the "f/" symbol for the first time in his career in 2003 with "Frontin'." As The Neptunes' Do-No-Wrong period extended into the middle of the '00s, with production on chart-toppers like Gwen Stefani's "Hollaback Girl" and Snoop Dogg's "Drop it Like It's Hot," Pharrell even decided to give rapping a try—first as a guest artist on the Snoop song, then on his own album In My Mind, under alias Skateboard P.
The latter was his first real misstep since becoming a star, as In My Mind received middling reviews and failed to spawn a hit. The album was arguably the beginning of the end for Pharrell as both a celebrity and critical figure in popular music—the same year, The Neptunes would score their fourth #1 single with Ludacris' "Money Maker," but it was to be their last. In fact, in the six years since, the Neptunes would not score a single other top 40 hit, and the duo were replaced as the hip-hop producers of the moment, first by Lil' Jon at the height of crunk's crossover popularity, and then by Timbaland and Danja as they had mega-success reinventing the careers of Nelly Furtado and (again) Justin Timberlake.
Over this time, Pharrell faded out of popular consciousness. He stayed working, composing the score for animated 3-D flick Despicable Me and even collaborating with Hans Zimmer on the music for this year's Oscars, and released a couple more albums with N.E.R.D., none of which had much commercial impact. He also stayed producing, sometimes with Chad Hugo and sometimes solo—Hugo's level of involvement in the Neptunes always being something of a mystery to casual observers. More and more, though, the Neptunes-produced cuts were relegated to album tracks by the major artists they worked with, with the only singles they produced being released by old friends like Pusha T and Noreaga, artists who owed nearly all of their crossover success to the Neptunes' once-magic touch.
Little has changed about Pharrell's status in the year 2012, unfortunately—despite having his productions appearing on so many of the year's biggest releases (Rick Ross' God Forgives, I Don't will mark the third #1 album to boast a Pharrell production this year when it officially debuts on top of the charts this week), the only song of his to be released or promoted as a single in 2012 is Frank Ocean's "Sweet Life," whose greatest chart success to date has come in South Korea, where it has peaked at #124. We're still a very long away from the commercial heights Pharrell reached at the peak of the Neptunes' powers.
Still, if nothing else, this year has proved that Pharrell not only still has an incredible ear for rhythm and melody, but that he's expanded his musical repertoire significantly since we last heard from him. He's still more than capable of the funky clang-and-shuffle of classic Neptunes, as evidenced by Ross' "Presidential," Tyga's "Lil Homie" or Curren$y's "Chasing Paper," but now he can also do some impressive glam-disco, on display with Adam Lambert's 'Trespassing" and "Kickin' In" and the Scissor Sisters' "Inevitable," and Stevie Wonder-esque '70s soul on Ocean's "Sweet Life"—not to mention that in UK heartthrob Conor Maynard ("Lift Off," "Glass Girl") he might've find his best pop conduit since Justin Timberlake. For the first time in a while with Pharrell, the possibilities really seem limitless.
Now it's just on us to start paying attention again. And the thing is—we could really, really use Pharrell in pop right now. Looking back on all those great hip-hop crossover smashes he was largely responsible for ten or so years ago, it's hard not to wonder where those songs are these days. Looking at the Top 40 now, the biggest rap hits are songs like "Starships" and "Wild Ones," jams that stem more from the EDM world than the hip-hop one, with only four hits—Kanye and Company's "Mercy," 2 Chainz and Drake's "Mercy," Wiz Khalifa's "Work Hard Play Hard" and Ca$h Out's "Cashin' Out"—actually boasting hip-hop-based production, and none of them likely to make the top ten. We haven't even had a pure hip-hop #1—not counting rapping dance-pop acts like LMFAO and Pitbull—since Wiz Khalifa's "Black and Yellow" in February of 2011.
While this trend is attributable to a number of factors—the rise in popularity of EDM and pop super-producers like Dr. Luke and RedOne, the failure of recent breakout rappers like Big Sean and J. Cole to really make a connection with pop audiences, the fact that Lil Wayne is too damn lazy and Drake is too damn emo to concentrate on making true summer jams, etc.—a key component is the lack of a go-to producer for sure-thing hits in hip-hop at the moment. Hit-Boy has done great work for a number of major artists, but has still only scored one major crossover hit with "Niggas in Paris," Noah "40″ Shehib helped make a star out of Drake but is generally too muted and meditative for true pop maximalism, and while Diplo might have a shot after "Climax" and "Look at Me Now" he seems to pick his projects too sparingly to reach that level of saturation.
No, the man for the job might be the same guy who never really vacated the position in the first place. Pharrell clearly hasn't lost his touch for making pop-friendly hip-hop smashes that still manage to stay faithful to his base genre, and he could be the perfect figure to usher back in the days when songs like "Hot in Herre" and "Beautiful" represented the sound of pop music, the same way "I Want it that Way" and "Baby One More Time" did at the end of the '90s and "Call Me Maybe" and "Good Feeling" do now. Even if not, the fine work Pharrell has been doing this year, whether in hip-hop, soul, dance or pop, deserves far more attention than its been getting. Take a listen to our playlist below if you don't believe us: