Pharrell & Co. Team Up With MTV To Help "Restore The Shore"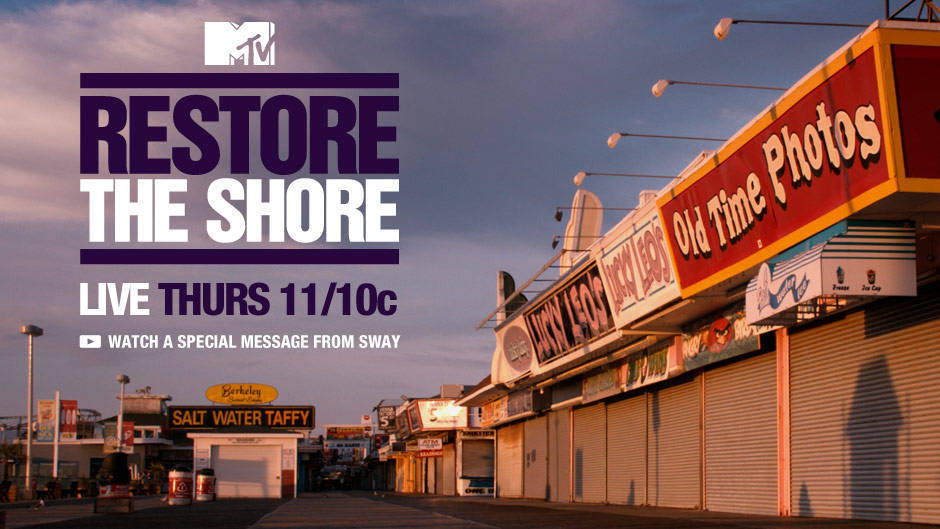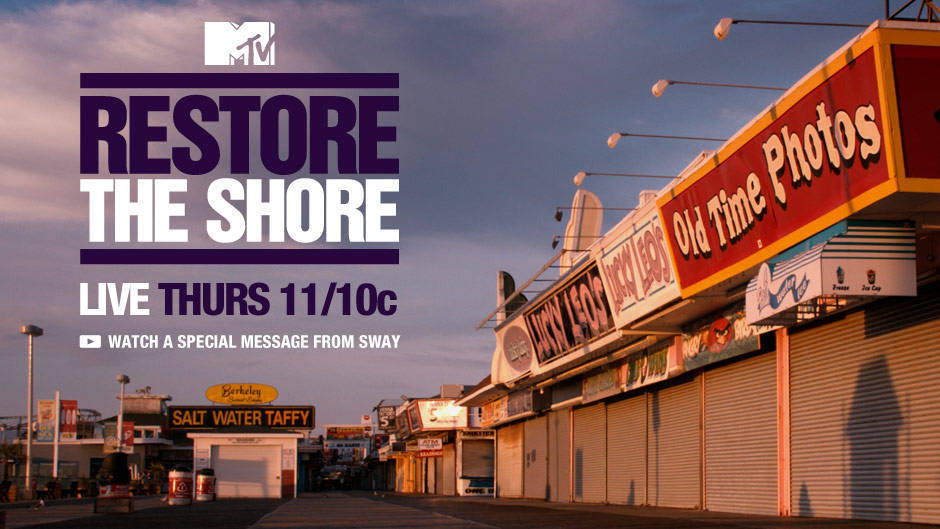 MTV (a division of Viacom Inc., NASDAQ: VIAB) today announced that dozens of stars, artists and organizations have joined in the effort to #restoretheshore and help rebuild Seaside Heights, New Jersey – the heart of the Jersey Shore, which was devastated by Hurricane Sandy. Generations have grown up enjoying the iconic Seaside boardwalk, but with the city condemned and many local businesses and homes ruined, Seaside needs urgent help to get back on its feet. Thankfully, some of entertainment's biggest stars are answering the call to action and will be part of MTV's "Restore the Shore," a one-hour fundraising special to air live at 11pm ET (tape-delayed PT) on MTV, MTV.com, MTV mobile and MTV radio on Thursday, November 15th.
From 4 pm until midnight (ET) on Thursday, the cast of MTV's "Jersey Shore" – as well as stars from other top MTV shows including "Awkward," "Teen Wolf," "Teen Mom," "The Challenge," and "The Real World" – will be live in MTV's Times Square studio, calling donors to thank them for giving. Unlike a conventional telethon where viewers call in and hope to speak with a celebrity, MTV's "Restore the Shore" will feature stars personally calling individuals who donate via Indiegogo at RestoretheShore.MTV.com or make a $10 donation by texting SHORE to 85944. All funds raised will go to Architecture for Humanity, an internationally recognized non-profit that led rebuilding efforts in New Orleans after Hurricane Katrina and in Haiti after the 2010 earthquake. They are now setting out to help rebuild the famed boardwalk, local businesses and homes in Seaside Heights ravaged by the storm.
"Restore the Shore" will feature live performances from Gym Class Heroes (with special guest Oh Land) performing the comeback anthem "The Fighter," as well as "American Idol" Season 11 winner Phillip Phillips performing his stirring hit "Home." Stars contributing messages of support who will be featured on-air include One Direction, Alicia Keys, Mac Miller, Taylor Swift, Nicki Minaj, Britney Spears, Pharrell, P!nk, Demi Lovato, Kim Kardashian, Ne-Yo, Kelly Clarkson, Bruno Mars, No Doubt, fun., Carly Rae Jepsen, Swizz Beats, the Jonas Brothers, Ludacris, All Time Low, Sean Kingston, Christina Aguilera, CeeLo Green, Adam Levine, Blake Shelton and Carson Daly of "The Voice," Ashley Greene, Dakota Fanning, Nikki Reed, Peter Facinelli and Elizabeth Reaser of "The Twilight Saga: Breaking Dawn, Part 2," Jay Leno, the cast of "The View," Simon Cowell, L.A. Reid, Wendy Williams and many more.
Everyone who donates $25 or more will receive an exclusive MTV "Restore the Shore" song bundle, which includes 30 songs from the past six seasons of "Jersey Shore." Online crowdfunding platform Indiegogo.com has created a special campaign donation page (RestoretheShore.Indiegogo.com) for MTV's "Restore the Shore," and in conjunction with PayPal.com, will be waiving 100% of the fees on all donations. The MTV Shop, as well as select Modell's locations in NY, NJ, PA, DE and modells.com, will be selling the official MTV "Restore the Shore" t-shirt for $20, with all net proceeds going to Architecture for Humanity's Seaside rebuilding fund. In addition, Viacom will donate $100,000 to Architecture for Humanity in support of the "Restore the Shore" fund, as part of its $1 million Viacommunity pledge to Hurricane Sandy relief efforts.
"We're very proud to be partnering with the cast of 'Jersey Shore', 495 Productions, Architecture for Humanity, some of the biggest names in entertainment and our audience to help rebuild Seaside Heights – a community that is dear to MTV and urgently needs assistance," said Stephen Friedman, President, MTV. For the fundraising and rebuilding effort, MTV is partnering with Architecture for Humanity, a non-profit organization that provides design and construction services to communities in need.
The organization has created a "Restore the Shore" fund to collect donations that will be principally directed toward the rebuilding of the Seaside Heights boardwalk – the commercial artery of the community – as well as supporting the rebuilding efforts of in-need businesses and residents in Seaside. Architecture for Humanity has been helping communities rebuild after natural disasters for more than a decade, including major efforts in Biloxi and New Orleans following Hurricane Katrina, and in Haiti after the devastating earthquake in 2010. For a sneak peek of "Restore the Shore," featuring Nicole "Snooki" Polizzi's emotional reaction to the devastation caused by Hurricane Sandy, click here. Embed code below: