How Robin Thicke Became The Dork King Of R&B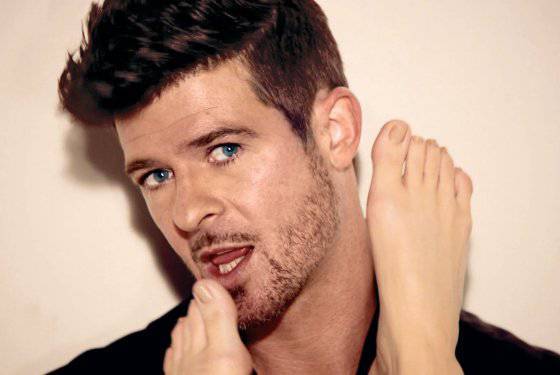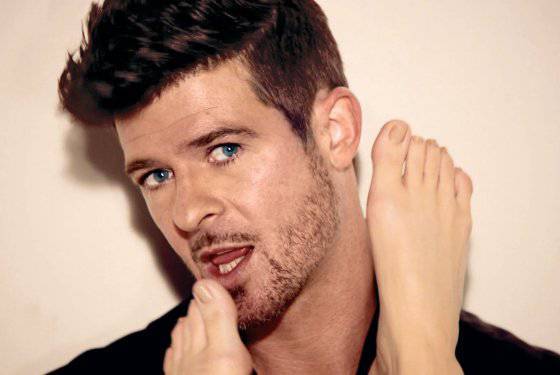 By Jody Rosen. Robin Thicke is a cheese ball, and I don't mean that as an insult. He's a cheese ball in the same way, for instance, that Émile Zola was a literary naturalist. For Thicke, cheesiness is an aesthetic and an ethos. More to the point: It's a job qualification. Thicke is an R&B Casanova in the tradition that descends from Marvin Gaye and Teddy Pendergrass and Barry White through R. Kelly and Usher down to The-Dream and Trey Songz and dozens of other, lesser Lotharios.
The touchstones of the form are familiar: plush musical backdrops, quavering melisma and fluttery falsetto, earnest supplications and promises of carnal heroism, generally involving some combination of ceiling mirrors, expensive lingerie, fine wine chilling in bedside ice buckets, and, maybe, a canister or two of whipped cream. More than almost any other pop genre, boudoir soul calls on listeners to suspend their sense of irony, with lyrics that could make even the randiest gal spit-take her Dom Pérignon.
"I'll lick you down / I'll make you feel like you're out of body / The doctor's here for you," cooed Thicke in "Sex Therapy," the title track of his fourth album, released in 2009. In "Give It 2 U," on Thicke's new one, Blurred Lines, he sings: "I've got a taste for you / Tasty / I bought lace for you / Freaky / I'll put it on you / Yeah / So I can come and take it off you." Fellas, try texting that to your girlfriend and see how far you get.
There are a lot of R&B Love Men out there, and Thicke brings some obvious handicaps to the competition. He's not just a white guy; he's the son of one of pop ­culture's echt–white guys: Alan Thicke, the walking, talking pair of pleated Dockers who played Jason Seaver, the dorky patriarch on the eighties sitcom Growing Pains. Thicke fils is a slick dresser, but physically, he's awkward. Look at him, mugging and boogy­ing in the now-­notorious video for the chart-topping "Blurred Lines."
Next to Pharrell and T.I., he looks like — well, a big doofy white fellow who can't really dance. Thicke has a baby face and a silly quiff hairdo; he wears a wispy goatee that looks like it was purchased at a joke shop and Scotch-taped on. The feline grace of Usher, the freaky sensuality of R. Kelly, the easeful panache of Justin Timberlake — all of this is beyond Thicke. Yet with his new album, he's lapped the field.
Blurred Lines is a great record, period. It's catchy, it's fun, it's artful but unpretentious, it sounds like a million bucks. It zips past: At a time when big pop releases are routinely padded out, Thicke limits himself to eleven songs and brings down the fader on each before it's worn out its welcome. (Compare Thicke's eleven tracks in 43 minutes to the ten in 70 on Timberlake's wearying The 20/20 Experience.) It's pop music — lean and sinewy, with all the fat trimmed off — but the arrangements fold in surprises that grab your ears. Listen to the rub of organic and synthetic in "Go Stupid 4 U," which sets a scrabbling acoustic guitar, sampled from the Brazilian singer-songwriter Seu Jorge, against a belching synthesizer bass line.
Check out the drums in "Top Of The World" — a tight, dry, jabbing vintage-funk sound, boosted way up in the mix. This is top-drawer record-making, the work of a wonk and a gearhead, a man who has obviously spent many hours geeking out to old records and fussing with Fender Rhodes keyboards. The result is an album that will work its magic up close or at a distance, whether you're curled up with noise-canceling headphones or dancing in a club with a sound system the size of a barn.
Blurred Lines sounds right at home in 2013 — which is to say that it sounds a bit like 2030 and 1982 and 1978 and 1973. There's sci-fi hip-hop courtesy of Timbaland and big, buzzing club pop from Dr. Luke. Other songs glance backwards. The beatific "Ooh La La" is pure Off the Wall–era Michael Jackson; "Get In My Way" channels the heaving electro-funk of the Gap Band. Retro moves are de rigueur these days, but Thicke has had old-school leanings — in particular, a Marvin Gaye fixation — from day one.
(If you raised an eyebrow at the "Got To Give It Up" bite in "Blurred Lines," listen to "Love After War," the title track from Thicke's 2011 album, which brazenly mimics Gaye's "After The Dance.") On Blurred Lines, though, the vintage sounds are just accents, punched up with contemporary production. Thicke knows his history, but he's no fuddy-duddy.
Turns out, Thicke has been making music in this vein for years now. Blurred Lines sent me back to his previous work, which I'd dismissed as skillful but negligible. I was wrong. I've re-listened to all of his albums, from his 2003 debut, A ­Beautiful World (released under the unfortunate moniker "Thicke"), to Love After War, a commercial flop. They're all good. Part of the secret is songwriting.
Thicke has written or co-written every song that's appeared on his albums, and he knows what he's doing; he has an easy way with a hook. His real weapon, though, is his voice, one of the nimblest in R&B. He flaunts it on the new album, show­casing his mid-range and burly bottom end as well as his default falsetto. Thicke even raps, or rap-sings, in "Top Of The World," and sounds fine doing it.
Whatever his other assets, Thicke's timing is excellent. The percolating "Blurred Lines" airdropped onto radio playlists just as summer was heating up, and those topless models in the video didn't hurt. Meanwhile, male R&B has moved back to the center of pop culture, and Thicke has managed to seize the genre's most valuable real estate. ­Bummer-sex specialists like the Weeknd garner critical kudos, but the masses have yet to develop a taste for bleak, arty music that makes a booty call sound less enjoyable than a case of gout. Usher is between albums.
Justin Timberlake has decided to become a retro-soul man, ­boring everyone stiff with windy, hook-starved jams. As for Thicke: Here he comes, pompadour bobbing, while a half-naked girl writhes in front of some balloons that spell out the sentence: ROBIN THICKE HAS A BIG DICK. There are a couple of stray "serious" moments on Blurred Lines. (The album-closing ballad "The Good Life" is a homily that lands with a thud.) But Thicke mostly sticks to basics, singing about partying and shtupping while giving free rein to his gauche instincts. Consider some lines from "Go Stupid 4 U": "Girl, I wrote a song about you / Designed a little part that reminds me of your ass." Has there ever been a more ridiculous lyric? Thicke has not forgotten the traditional recipe: Take a tasty tune, season with smut, and bake, at high heat, au ­gratin. Blurred Lines, Robin Thicke. Star Trak/Interscope. *This article originally appeared in the July 29, 2013 issue of New York Magazine.