Win A Free Year Subscription To Quarterly.co From Pharrell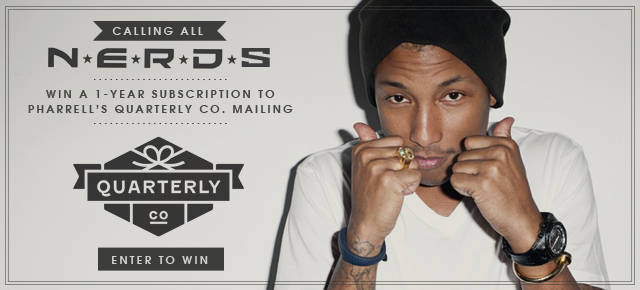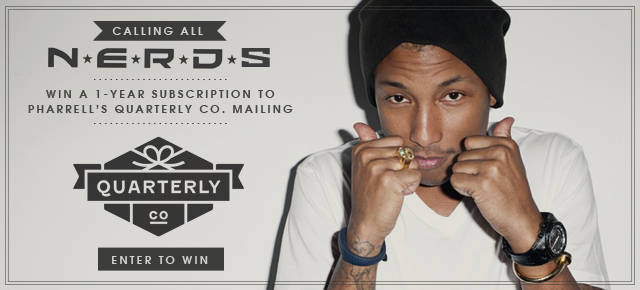 Enter to be one of the lucky winners of a Free Year Subscription to Quarterly.co from Pharrell Williams & Karmaloop! Quarterly Co. is a subscription service that sends you dope, exclusive items from influential contributors via good ol' snail mail. When you sign up for the service, pick and choose your favorite cultural icons and every three months, you'll receive a curated gift with each shipment telling a story about the artist of your choice. Sounds ill, right? Well, in true Karmaloop fashion (yeah, that's a pun), we're hooking up two lucky winners with a FREE yearly subscription from N*E*R*D god Pharrell Williams.
What can you expect? Knowing our homie P… who really knows? Dude's interests are as varied as his sonic landscapes so we'll let you hear it from the man himself. "The theme of my Quarterly mailings is curiosity. I think it's important to live each day like a student. Learn new things, exercise my mind and devour culture like an archaeologist. Whether it's a book or something I just think is cool, every item I send has inspired me to feed my curiosity."
Vague? Yes. Enticing? Hell yeah! Two grand prize winners will be blessed with a 1-year subscription to Pharrell's Quarterly Co. Mailing while three runners-up will receive one dope mailing – and once you see what's inside, trust, you'll want to sign up and receive the final three shipments of the year. Thanks to Molly.