Pharrell: "Jay-Z Is Private"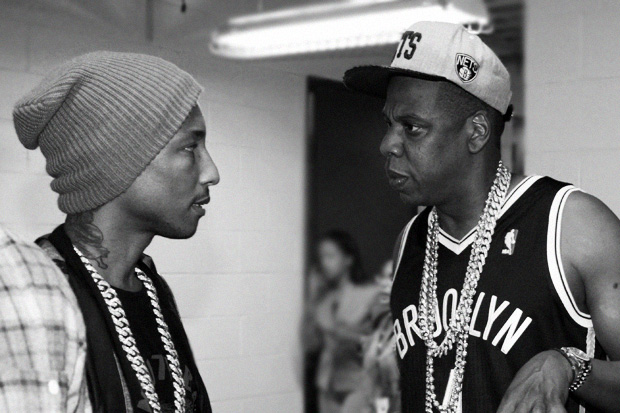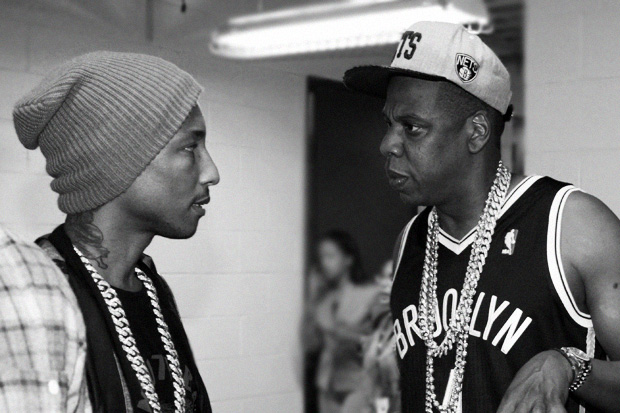 Pharrell Williams has assured fans Jay-Z isn't a part of the "Illuminati", but simply likes to keep some things to himself. Pharrell Williams says Jay-Z is a very "secretive" person. Recently a picture made the rounds, showing the Blurred Lines singer hanging out with Jay-Z and fellow musical stars Timbaland, Rick Rubin and Swizz Beatz. It left hip-hop fans the world over excited, but Pharrell says his close friend wouldn't be happy if he divulged too much about what they are working on.
"Everyone makes these jokes that Jay-Z is a member of the Illuminati. That's not true! He's just a very secretive person," he explained to German newspaper Bild. "We can't say much about it, because he doesn't like to reveal too much too soon. Otherwise the following happens: I say something, you interpret it in your own way and it builds up false expectation. That's why he likes the music to speak for itself. In other words: I'm not allowed to say much. All I can say is: the picture gives a clue to what will happen. There was big demand for it."
Pharrell features on huge hit of the moment Blurred Lines, with Robin Thicke and rapper T.I. The star grew up listening to hip-hop and can remember the music that really got him going when he was younger. "I don't know if it was a coincidence or fate, but yesterday I met Florian [Schneider] from [German electronic music band] Kraftwerk. That was amazing!" he revealed.
"He and his band are such pillars of the hip-hop culture. We all danced to this music when we were growing up. Numbers is an incredible song for me, to this day. When you play that, everyone has this bodily reaction… You can feel it! It doesn't matter what kind of culture you come from, what kind of surroundings, or what you think. You just have to let your body react! For me, that would be the ultimate collaboration. He's a genius!"