Pharrell's Former Teachers Speak Out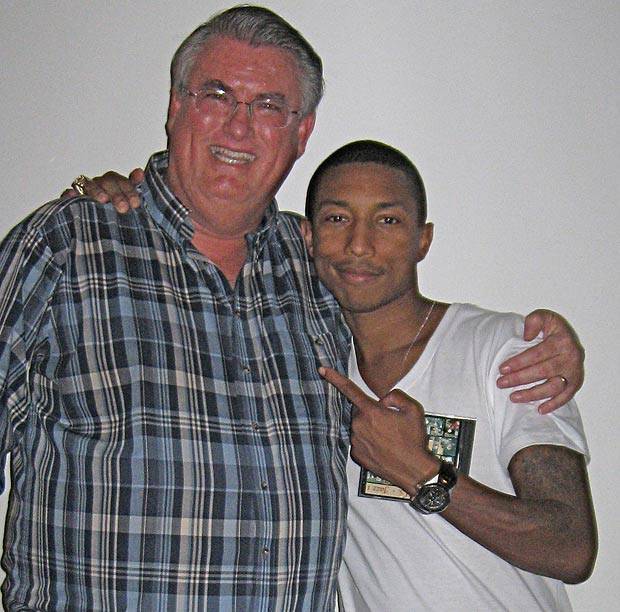 Alan Sharps & Pharrell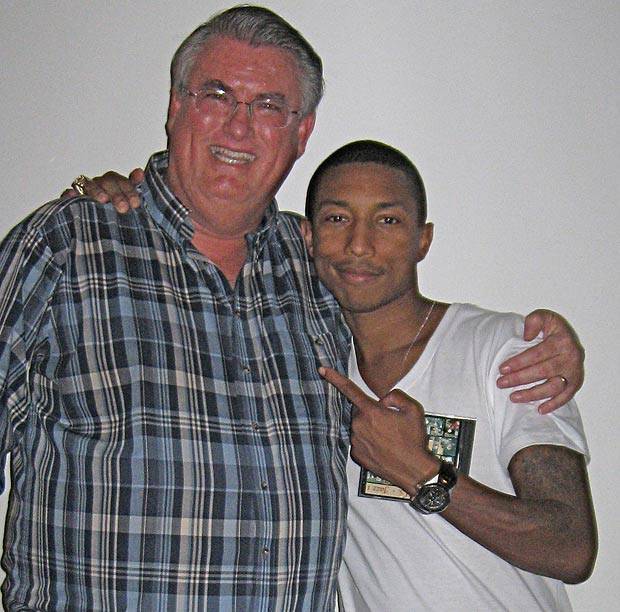 By Graeme Culliford & Barbara McMahon. In his feathered hat, nerdy blue cape and smartly pressed pants, the teenage lad hardly seemed likely to one day take the pop world by storm. But Pharrell Williams went on to do exactly that. This week the renowned rapper, composer and record producer continued his domination of the UK charts. Blurred Lines, his worldwide hit with Robin Thicke, sits proudly at No1 while Get Lucky, his global smash collaboration with Daft Punk, is still nestling at No4. The Sun can today reveal the untold story of the musical prodigy — and how he earned his stripes in a high school marching band in the east coast state of Virginia.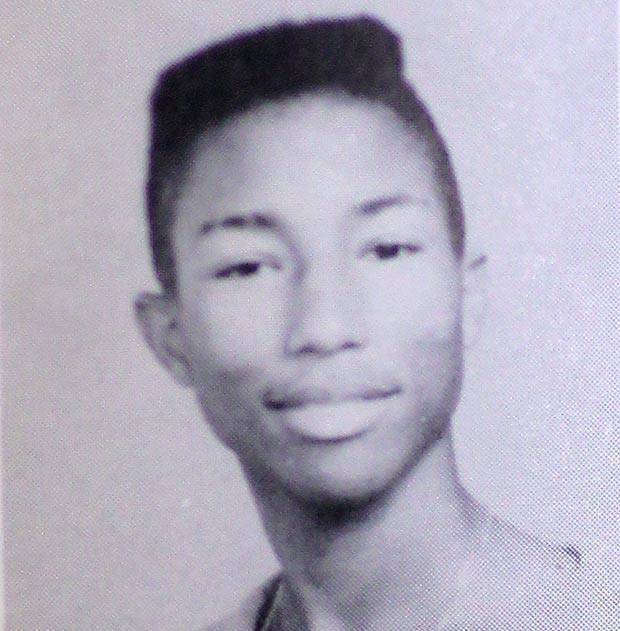 Pharrell spent his formative years on a downtrodden housing estate on the wrong side of town. But he hauled himself out of the ghetto by working hard at school and developing his talents wherever he could — even if it involved banging a drum while marching in formation. As one of the school's Fabulous Marching Cavaliers he wore a uniform that would make him a laughing stock in showbiz circles now. But his former high school teachers recall that he did it with such panache that few doubted the inner cool that lurked behind his starched shirt. Alan Sharps, band director at Princess Anne Elementary School when Pharrell was a pupil there, says: "Pharrell was incredibly gifted and he loved to play drums.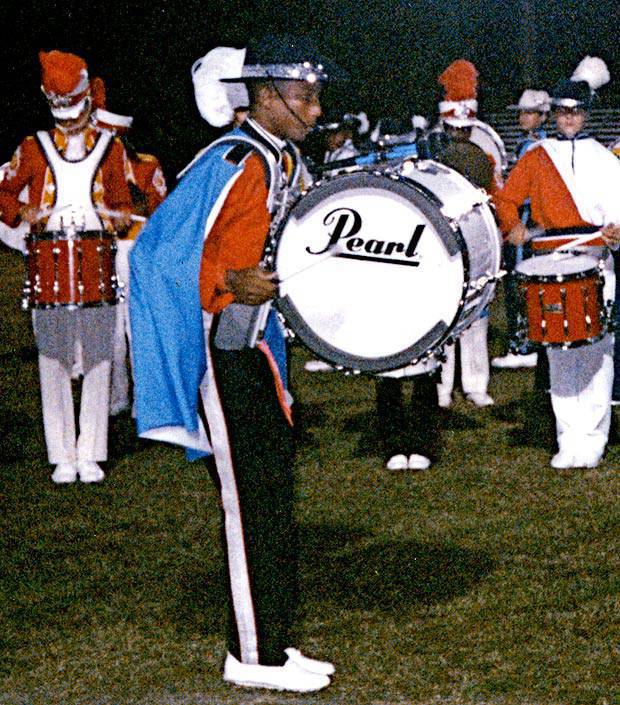 "He dabbled in the rap stuff but he was eclectic in his musical tastes — and he brought a lot of energy to the marching band. "He'd come and sit in the stands and go through a routine that he'd thought up for the band. I'd make him go away and put it down on paper. He said later that this preparation helped him in his career." Pharrell was born in April 1973 in Virginia Beach, Virginia, the eldest of three boys. His mum Carolyn was a teacher and his dad Pharaoh was a handyman. The family started out in low-income housing called the Atlantis Apartments, where home was a modest ground-floor flat in a community that had more than its share of social problems.
Pharrell's parents encouraged his obvious musical talent. When he was 12, they sent him to a summer music camp where he befriended Chad Hugo. Later, Chad became Pharrell's partner in the Grammy-winning production duo The Neptunes and later a fellow member of hip-hop group N*E*R*D. When Pharrell enrolled at Princess Anne Elementary he became a percussionist in the school band, The Fabulous Marching Cavaliers. Being in the drum line was something that consumed him. One of Pharrell's former teachers, Kim Love, recalls with a smile: "He'd come into my classroom and I'd have to tell him off because he'd be banging out a beat with his hands on the desk."
As teenagers, he and Chad entered various talent shows and were eventually signed by record producer Teddy Riley, whose studios were a few blocks away from Princess Anne Elementary. Miss Love adds: "Pharrell was always tired in school because he'd be up late at night in the recording studio. "When he was 17 he told me he'd sold a song for $1,000. That was a lot of money for a teenager but I was worried people were taking advantage of him. "He said to me: 'Oh, Miss Love, don't worry. I'm going to write plenty of other songs.' He was very confident about that." Although he was average academically, Pharrell always applied himself at school. He attracted attention because of his wacky hairdos and unusual dress sense.
"He was non-conformist," says Alan Sharps, who is now working in San Antonio, Texas. "But he was always a very respectful kid." Of all his teachers, Mr. Sharps knew Pharrell the best. The pair developed a strong bond at school and kept in touch after he left. Four years ago, Mr. Sharps got a call from Pharrell's manager to say his ex-pupil was doing a concert in Austin, Texas, with Jay-Z and would like to invite him and his family to be his guests. He recalls: "Pharrell came on and, in front of about ten thousand people, he turned to the guys in his percussion section and said: 'My drum teacher's in the audience tonight so you better play good'. "That was an amazing moment for me because as a teacher you have those days when you wonder if you're getting through to your kids — and here was this very successful young man remembering the good relationship we'd built up."
Mr Sharps believes that being in the marching band taught Pharrell about discipline and teamwork. And he adds that Pharrell's interest in all musical genres has probably helped him deal with the differing styles of the stars he now works with. Pharrell is the mastermind behind hits fronted by, among others, Snoop Dogg, Usher, Mariah Carey, Justin Timberlake and Gwen Stefani. He has capitalised on his success by amassing a fortune in record sales and co-founding both the Billionaire Boys Club and Ice Cream clothing brands. In his private life, he is about to get married to long-time girlfriend Helen Lasichanh, a model and fashion designer.
Despite his fame and fortune, the four-times Grammy winner has never forgotten his humble beginnings. Locals reveal how he often returns home to be with his family and old friends. His parents now live in a huge detached house he bought for them in Virginia. He has also pumped huge amounts of money and time into his local community through his charity, From One Hand To Another. Founded by Pharrell in 2008, it aims to empower underprivileged youngsters, aged between seven and 20, through learning programmes that concentrate on science and technology, media and the arts. He also sponsors summer camps and often returns to his old school to encourage pupils to push themselves that little bit further, just like he did.
In the band room where Pharrell used to play is an autographed photo he left behind with the words: "Drum to your own beat!" Elder Adam Thourogood, who is senior pastor at the New Jerusalem Church of God in Christ where Pharrell used to sing in the choir, says: "Pharrell is very keen on education and letting kids know that they can achieve anything and do anything if they really set their minds to it. "He didn't set limits for himself and he wants to pass that message on to other kids from the same background he's from." Another local tells us: "There's no doubting Pharrell has become a huge star. The title of his song is right, that boy Got Lucky. But we are all very glad he did."