Robin Thicke Hints A Future Collaboration With Miley Cyrus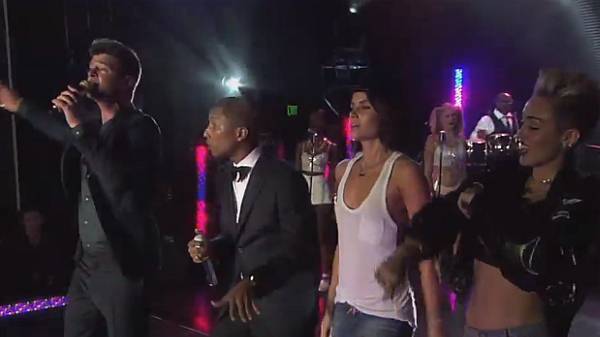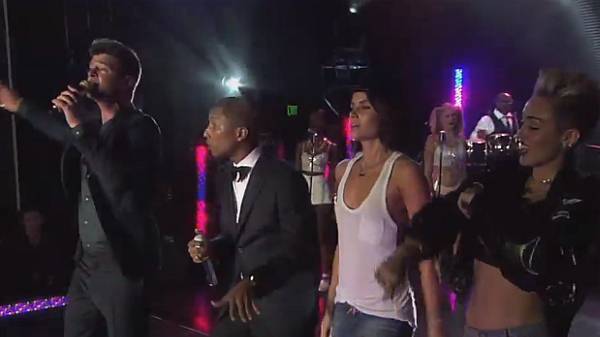 By Mike Vulpo. Robin Thicke is having one hot summer! Fans across the country can't stop singing his smash hit single "Blurred Lines" featuring the talented T.I. and Pharrell Williams. In addition, the song is now finding huge success across the pond—it helped Thicke's Blurred Lines album knock Jay Z's Magna Carta Holy Grail to No. 2 on the U.K. album charts. With all the success, we were curious to know if Thicke now has any official plans to collaborate with the one and only Miley Cyrus.
"There might be, there might be," Thicke told E! News backstage at the iHeartRadio theatre. "Pharrell was working with Miley when Pharrell and I made 'Blurred Lines.' He was just finishing up with her when we started recording together." Talk about a small world and a perfect combination of talent! Would it be possible to see Cyrus twerking in Thicke's upcoming video as well? "Never say no," Thicke told iHeartRadio's Paul The Web Guy. "I'm not good at saying no." Between recording, collaborations and epic performances, the talented singer is also finding time to enjoy life with his wife, actress Paula Patton, and son, Julian.
"I think he is perfect," Thicke gushed before his concert. "You can't top that. I'm set." With no plans on having any more children, Thicke is now focused on enjoying the success with his good friend Pharrell. "He's been one of the great songwriters and producers of our generation," Thicke said. "For him, to him, this resurgence, and for him and I to have this success together, we keep kind of laughing saying, 'Man, this is so great we get to have this together.'"