Robin Thicke x GQ Interview, Talks Working With 2 Chainz & Kendrick Lamar, New Movie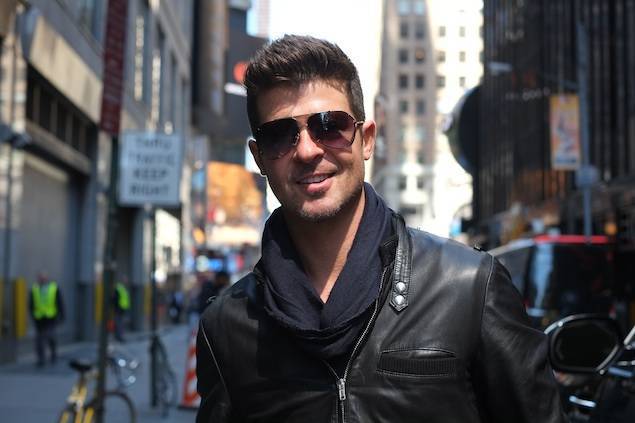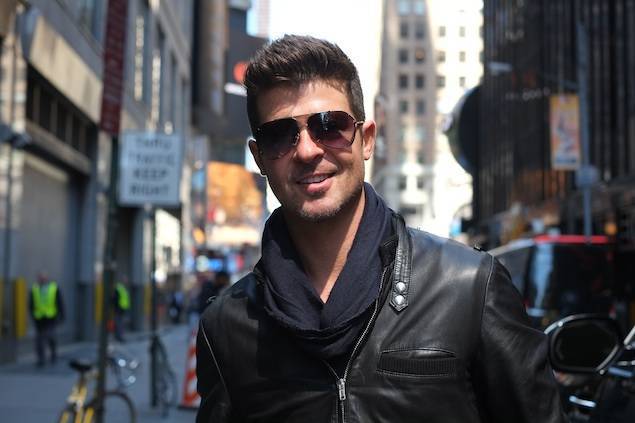 By Stelios Phili, Photograph by Nate Erickson. Robin Thicke's latest music video features mostly-naked models, allusions to drugs and bestiality, and a balloon arrangement that reads, "Robin Thicke has a big dick." So when I met the singer-songwriter for an interview at GQ headquarters, I didn't expect that we'd first talk about mercy killings, home eviction, and cancer (the topics of Thicke's upcoming self-penned short film, Mercy) before moving on to his controversial music video, "Blurred Lines," which is banned, like, everywhere.
"What a pleasure it is to degrade a woman," he said. "I've never gotten to do that before." Calm down, folks, it's a joke and everyone in the video is in on it. Thicke's a real Southern gentleman and his soul's as good as his hair. (Note: Thicke has a perfect, self-maintained coif. A hair and makeup artist stopped by during the interview and never touched it.) Here, the multifaceted Thicke on everything from his heavy new film to his deep love for 2 Chainz.
GQ: Before we talk about the music, word is you're getting into film.
Robin Thicke: I'm directing a short film I wrote called Mercy. About a year ago, I saw this story in the news about a man who shot and killed his wife after 40 years of marriage. Afterwards, he called the police and said, "The gun will be on the television and I'll be waiting for you on the porch." The couple was getting evicted that day and had lost all their money to his wife's cancer, and they were suffering terribly. That's why I called it Mercy—it was a mercy killing. It made me think, what if my wife [Paula Patton], who I've been with since we were teenagers, got sick and I got sick and that happened to us? I figured it was an important story that should be told. I started writing it in the fall, and luckily my wife is going to be in it and Amandla Stenberg from The Hunger Games will play my daughter. We're going to figure out the lead role soon. We start filming next week, and it'll be ready for the Toronto Film Festival. I also just finished my long form screenplay. I've always written my own songs, so it's just an extension of telling stories.
GQ: What's the origin story behind your new single "Blurred Lines"?
Robin Thicke: Pharrell and I were in the studio and I told him that one of my favorite songs of all time was Marvin Gaye's "Got To Give It Up." I was like, "Damn, we should make something like that, something with that groove." Then he started playing a little something and we literally wrote the song in about a half hour and recorded it. The whole thing was done in a couple hours—normally, those are the best ones. Him and I would go back and forth where I'd sing a line and he'd be like, "Hey, hey, hey!" We started acting like we were two old men on a porch hollering at girls like, "Hey, where you going, girl? Come over here!" That's why, in the video, we're doing all these old men dances. It was great.
*gq.com
*twitter.com/robinthicke
GQ: Yeah, the catcalling old man vibe definitely comes through in the video.
Robin Thicke: That's what I wanted to create, just imitating how we were in the studio. A lot of my videos and songs have been so serious—about love and pride and relationships and hope and getting over insecurities and vulnerabilities. But lately, I've just wanted to have fun and enjoy my life, really appreciate all the great things that I have, like a great wife, a great child, and a great career. That shows up in the music with more humor and light-heartedness.
GQ: I didn't know T.I. could dance.
Robin Thicke: I just said, "Hey, do some old man dances!" And he went for it. T.I. and I have become best buddies since then. He's a great guy.
GQ: How did T.I. end up on the track?
Robin Thicke: Well, at first it was me and Pharrell. Then I thought, who else is a grown Southern gentleman with a family? T.I. Even though he's a hardcore rapper, he's a real Southern gentleman. He says "Sir" and "Ma'am," he stays cool, and he's really beloved. Pharrell's the same way. It was just three really nice guys having a good time together.
GQ: Some animals also made it into the video…
Robin Thicke: We tried to do everything that was taboo. Bestiality, drug injections, and everything that is completely derogatory towards women. Because all three of us are happily married with children, we were like, "We're the perfect guys to make fun of this." People say, "Hey, do you think this is degrading to women?" I'm like, "Of course it is. What a pleasure it is to degrade a woman. I've never gotten to do that before. I've always respected women." So we just wanted to turn it over on its head and make people go, "Women and their bodies are beautiful. Men are always gonna want to follow them around." After the video got banned on YouTube, my wife tweeted, "Violence is ugly. Nudity is beautiful. And the 'Blurred Lines' video makes me wanna…" You know. And that's the truth. Right now, with terrorism and poverty and Wall Street and Social Security having problems, nudity should not be the issue.
GQ: The video also features an interesting balloon arrangement.
Robin Thicke: That wasn't my idea! [laughs] That was director Diane Martel's idea. I was like, "You sure T.I. and Pharrell will be okay with that?" The whole point was to go over the top, knock down the ceiling, jump over the wall and say, we're gonna do things everyone is afraid to do, as brash and fearless as possible. Diane did the whole video. All I told her was that I wanted it to be funny and for it to have some Benny Hill type stuff. We just wanted it to be as silly as possible. That way, the nudity isn't taken seriously.
GQ: So 2 Chainz and Kendrick Lamar are confirmed on the album.
Robin Thicke: I did a song with will.i.am on the album and he produced it. I reached out to 2 Chainz, because I'm a big 2 Chainz fan, and I think Kendrick is amazing. So the funny thing was, my management sent it to Kendrick while I had sent it 2 Chainz. So I already had a 2 Chainz version and then suddenly we hear that Kendrick loves the record and already recorded a verse. And I was like, "Oh my god, this is incredible." So they're both on the song now, because it's just too good. Want to hear it? [Pulls out a laptop, asks me to turn off the recorder, plays the track. It's a synth-heavy, club-ready banger. After 15 seconds, he says, "Let's just skip to the rap." The word "dick" is mentioned a few times, and Kendrick and 2 Chainz are lovely as always.]
GQ: That's awesome. I also read that you were thinking of getting A$AP Rocky for the album.
Robin Thicke: I sent Rocky a record and he didn't like his verse yet, but I'm hoping that I'll get him on something. Then I'll almost have everyone from "Fuckin' Problems" on the album. Now all I need is Drizzy Drake. I've made fifty, sixty songs so far—I always make too many songs for an album. And every time right before I finish, I write three or four new songs that replace the others. The song with 2 Chainz and Kendrick will probably be the next single—unless we beat it.