Robin Thicke x VH1 Interview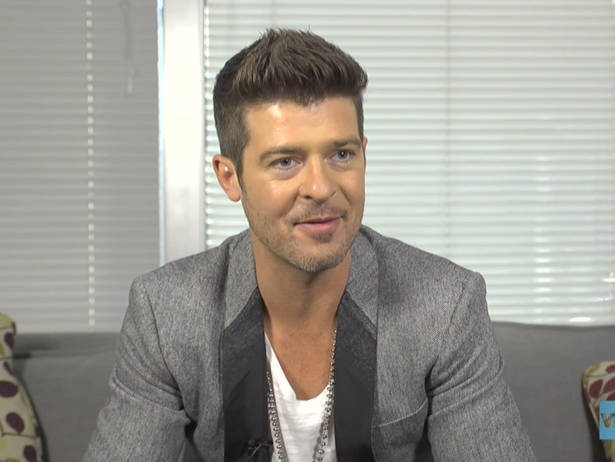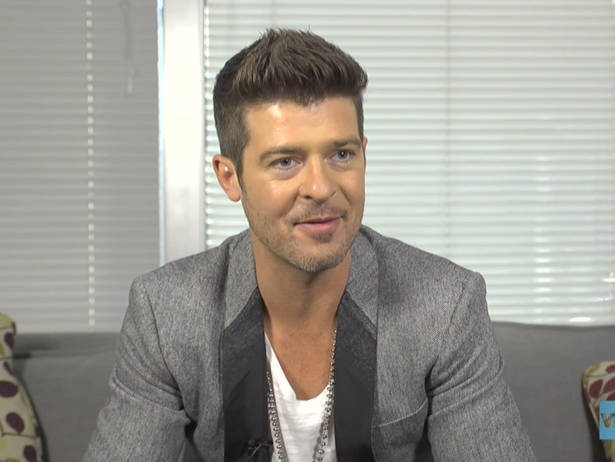 By Mark Graham. Robin Thicke's recent collaboration with Pharrell Williams and T.I., "Blurred Lines," is arguably the most buzzed about video of 2013 thus far. So, naturally, when he popped by VH1 headquarters last week, we asked him TONS of questions about the evolution of both the song and the video:
HOW DID THE SONG "BLURRED LINES" COME ABOUT?
"Pharrell and I went in the studio, and I had mentioned to him that one of my favorite songs of all-time is Marvin Gaye's 'Got To Give It Up.' So we tried to get a little groove like that going, and then we started dancing around the studio like old men hollerin' at young from a porch, ya know? Like 'Hey hey hey!' We wrote the whole song in about a half an hour, because once we had the little track we went into the booth together and I would sing a line, and he'd go 'Hey hey hey' or 'Hey girl, come here!' We just had such a great time that when we did the video, I wanted to make sure we kept that energy and that sense of humor. When T.I. showed up, I was like, 'Hey man, can you do some old man, like your grandpa at a wedding kind of dances?' And T.I. went right for it, he was fearless, he gave us some Redd Foxx magic."
HOW ABOUT THE VIDEO CONCEPT?
"It was Diane Martel's idea. She told me, 'I have this idea to do like a Terry Richardson kind of a video, a shoot with the girls being naked.' And I was like, 'Hey, you know, let's go for it.' 'Cause for me, nudity is the least offensive thing in the whole world. Guns, violence, war? That's offensive. A woman's body has been painted and sculpted and talked about since the beginning of man. What I enjoy about the video is that we're not oogling and degrading them, we're laughing and being silly with them."
*vh1.com
*twitter.com/robinthicke
WHAT ABOUT THE GOAT?
"There's a lamb. It's a baby goat. (Laughs) There's a lamb and a taxidermist dog (laughs), and sausage links. We pretty much wanted to take all the taboos of what you're not supposed to do —bestiality, you know, injecting a girl in her bum with a 5 foot syringe— I just wanted to break every rule of things you're not supposed to do and make people realize how silly some of these rules are."
YOU ALSO GET SLAPPED IN THE FACE BY A FOOT IN THE VIDEO…
"I was using [her foot] as a microphone (laughs), and Diane Martel screamed out, 'Slap him in the face with your foot!' That was the energy of the video: Let's have a bunch of props, let's take the girls clothes off, and let's just take some chances.'"
Robin Thicke On Justin Timberlake Comparisons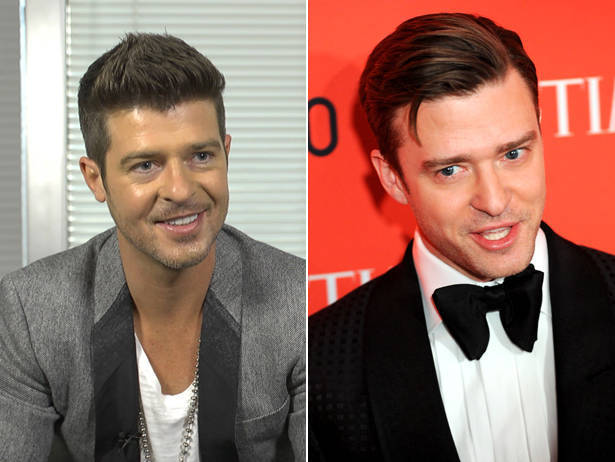 Because they're both good looking white dudes who make music that gets a lot of urban-format play, the media likes to draw comparisons between Robin Thicke and Justin Timberlake. When we sat down with Robin Thicke here at VH1 headquarters recently, we asked the debonair singer/songwriter what he thought of constantly being compared to JT. "If you really listened to our music and you didn't know what we looked like, you wouldn't compare us as much," he explained.
"Our music is pretty different," he continued. "And, if you came to our shows, our audiences are different. But the fact is we're both around the same age, we both were inspired by the same generation of artists —Prince, Michael Jackson, George Michael, as well as Marvin Gaye and Al Green. The good thing about him is he's not faking any of it, he makes music that he loves. He love soul music and he wants to make that and, you know, I make music that I love. But the thing is, we're both married to actresses, we're both white guys making black music, so there are similarities."
In addition to answering questions about "Blurred Lines" and his former grade school basketball nemesis Jason Collins, we also asked him about performing at Michael Jordan's wedding a few weeks ago. "That was a personal highlight for me because he was my idol growing up," he said. "And [MJ] knew all the words to the songs while I was singing, it was a magical moment for me. I sang 'You're My Baby', '2 Luv Birds,' 'Jus Right' … all non-singles. He picked all the songs that he wanted to hear that him and her listened to while they fell in love. That was a pretty cool moment."