Robin Thicke x NYtimes.com Article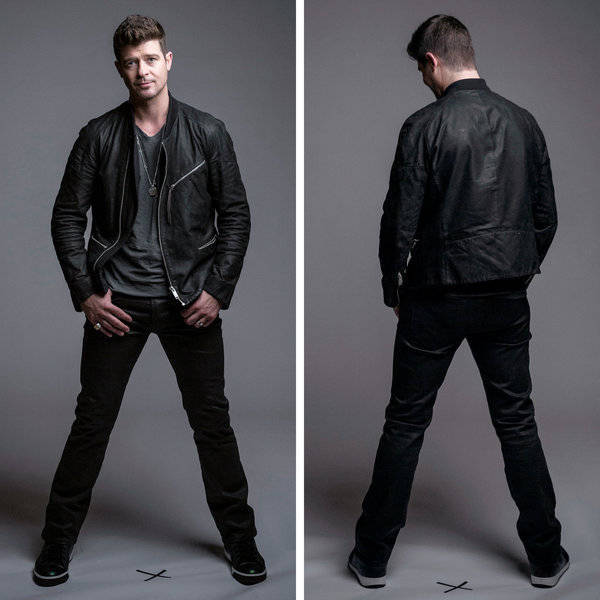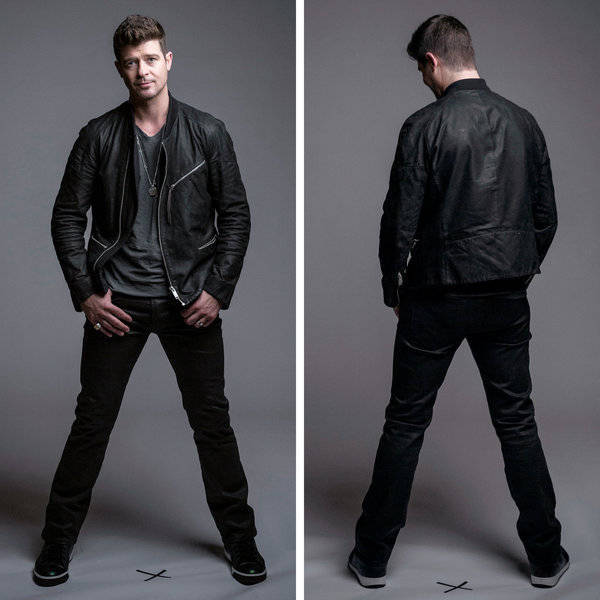 Robin Thicke was having a smoke behind the Colonnade Hotel here after performing his hit "Blurred Lines" at a radio promotion party when he attracted the attention of some teenagers passing by. They knew he was famous, but they still had trouble placing him. "Is that Justin Timberlake?" a young man asked. Mr. Thicke exhaled smoke and shook his head with a wry smile. "It's Robin Thicke," Mr. Thicke's manager said. "Can I hug you?" a wide-eyed young woman asked. She ran to Mr. Thicke, and as they hugged, she squealed, "Oh, my God."
These days, Mr. Thicke gets mistaken for Mr. Timberlake less and less. With "Blurred Lines," he has finally scored a No. 1 hit, after 20 years of writing romantic R&B songs that did well with black audiences, especially women, but never crossed over to pop radio. As the young woman left with her friends, Mr. Thicke climbed into the back seat of a black S.U.V., settling in next to an empty car seat that belongs to his 3-year-old son, Julian Fuego. The boy had fallen asleep during his father's set, and his mother, the actress Paula Patton, had taken him back to the nearby Four Seasons. "We still got the baby seat in here," Mr. Thicke said. "How rock 'n' roll is that?"
At 36, Mr. Thicke is a bundle of contradictions: a white singer from a privileged Hollywood family who sounds as if he got his start working smoky R&B clubs; a family man who married his first sweetheart but croons about sex and seduction with the moist heat of a veteran ladies' man; a songwriter with a political conscience whose video for "Blurred Lines" is so risqué — it features nearly nude models cavorting around Mr. Thicke as he leers and sings, "I know you want it" — that critics accused him of objectifying women and reinforcing rape myths.
The deliberately lewd video stirred up a predictable storm of publicity, both positive and negative. It turned out to be a marketing coup, transforming Mr. Thicke within days into a recognizable star and helping to propel the song up the pop chart. The song is a catchy come-on that Mr. Thicke composed in a few hours with Pharrell Williams (who also performs in it) over a '70s funk beat, and it has topped the Billboard Hot 100 chart for five weeks. That success has raised expectations for his sixth studio album, also titled "Blurred Lines" (Star Trak/Interscope Records), to be released on July 30.
"It's like being an athlete and finally winning a championship," he said. "I feel like I've been waiting to win a championship, just one, before I retire." This moment was long in coming. From the time he was 16 and landed a recording contract with Jimmy Iovine at Interscope Records, Mr. Thicke has had some of the most influential producers and artists in the R&B world betting on his talent.
His early mentors included the singer Brian McKnight and the producer Andre Harrell. Both heard a powerful soul singer in the longhaired, idealistic son of the actor Alan Thicke, best known for playing the father on "Growing Pains," and the singer Gloria Loring. "It's really hard for a white singer to play on the radio and really sound like he's a black church singer," Mr. Harrell said. "His gift is romantic intimacy." Mr. Thicke's smooth vocals and falsetto became a staple on urban adult radio, and a few of his songs, like "Lost Without U" and "Sex Therapy," have topped Billboard's R&B chart. But until now, a pop radio hit had eluded him.
Mr. Iovine attributes the success of "Blurred Lines" to the popularity of the retro R&B sound that has developed over the last two years, not any change in Mr. Thicke's songwriting. "The market is now timed to where he wants to be," he said. "He didn't go after the market." Mr. Thicke said he gravitated toward R&B from a young age. Though his father loved Bruce Springsteen and Gordon Lightfoot, his mother, who had a long career as a singer and recorded the hit duet "Friends & Lovers" in 1986, considered rock vocals to be "a bunch of yelling."
Her house in Sherman Oaks, Calif., was filled with the music of Aretha Franklin, Luther Vandross and Marvin Gaye. Ms. Loring recalled that her son started singing as a toddler and often pretended to be a lead singer when he and other children would play. A great mimic, he learned early on to do impressions of Stevie Wonder and Michael Jackson to impress his friends. By 14, he had formed a vocal group, As One, and started performing R&B songs in churches. It was a demo tape he recorded with the group that intrigued Mr. McKnight and eventually led to his first recording contract.
His debut album in 2003, "Beautiful World," which many in the industry thought would make him famous, bombed commercially, sending him into an emotional tailspin. "All of a sudden the balloon pops," he said. Still, the album opened doors, winning him fans among the likes of Mr. Williams and Usher, who became collaborators. "I was blown away — I thought Beatles, Earth Wind & Fire, Shuggie Otis, Marvin Gaye — all in one album," Usher said. "He's got a soul you can't buy, man."
The next album, "The Evolution of Robin Thicke," produced by Mr. Williams in 2006, started slowly but eventually sold 1.6 million copies after the single "Lost Without U," a tender love ballad for Ms. Patton, became a sleeper hit. Then he hit a plateau. The next two albums never broke the 500,000-sales mark. In an interview over dinner at the Four Seasons, Mr. Thicke said he let go of the reins for the "Blurred Lines" album. Tall, with carefully cut hair and rakish good looks, he is a lively conversationalist, often reflecting instantly on what he has just said with a touch of self-deprecating humor.
He considers himself a songwriter with a social conscience, like his idols Marvin Gaye, John Lennon and Bob Marley. On his first five albums, he delved into issues like racism and being married to a black woman. He also mined his own insecurities and the emotional battlefield of marriage for songs. But on "Blurred Lines," he abandoned that introspective material to collaborate with some of pop's biggest hit makers — Mr. Williams, Timbaland, Dr. Luke and Will.i.am. "I needed people like Pharrell and Will.i.am to get me out of my head," he said.
Making the new album, he played demos of songs for his wife in the evenings to get her opinion, as he often does. He said they found themselves wanting to skip the serious tracks in favor of the up-tempo songs. "At the end of the night, after the baby goes to bed, you just want to dance with the one you love and have fun and let it go," he said. "I ended up deciding to keep my sadder songs for a later date and keep this album as much fun as possible, more of an escapist album."
The album has a split personality: five tracks are classic R&B songs with a 1970s feel that Mr. Thicke wrote with his longtime songwriting partner Projay. "For The Rest of My Life" is a ballad that recounts how he fell in love with Ms. Patton when he was 15. But the other five tracks are poppy dance grooves with erotic lyrics. Like "Blurred Lines," they seem tailor made for Rhythmic Top 40 radio. The second single scheduled for release is "Give It 2 U," a menacing, sexually explicit electronic track produced by Dr. Luke and Cirkut, featuring Kendrick Lamar.
Mr. Thicke said "Blurred Lines" came out of a three-day writing session in July 2012 with Mr. Williams. On the last day, he told Mr. Williams he wanted to do something like Marvin Gaye's "Got To Give It Up." Mr. Williams started playing a funk rhythm with syncopated cowbell accents on the drums, and that, coupled with a simple two-chord progression, became the spine of the track. Mr. Thicke improvised a melody and some lyrics about seducing another man's girlfriend.
"Within an hour and a half, we had the whole record recorded and finished, completed, magical," he said. T.I. added a rap several months later. It was Mr. Williams who came up with the repeated catch phrase "I know you want it." That line earned the ire of feminist critics, some of whom called it "rapey" and argued it reinforced the myth that women who say "No" to a man's proposition really mean "Yes."
Others took issue with lyrics in the rap that describe rough sex and even the title, which hints at moral ambiguity. "Both the lyrics and the video seem to objectify and degrade women, using misogynistic language and imagery," Katie Russell of the British charity Rape Crisis told The Independent. Mr. Thicke said the lyrics were meant to be humorous. "If people want to have a conversation about 'Is it sexist or is the video sexist or misogynistic?,' then that's fine. We can have a conversation," he said.
"But once you throw the word 'rapey' in, that's not fair. There is absolutely no bone in my body, or Pharrell's, that would ever write a song with that type of idea in it." He said it was the director, Diane Martel, who decided to go in what she saw as a goofy, taboo direction: topless models dancing and holding absurd props — a lamb, a giant syringe, a stuffed dog. "I just want to do something funny or silly, like Benny Hill or something," Mr. Thicke said. "And that sparked her to go, 'What if we have the girls take their clothes off?' "
Ms. Martel has defended the video in interviews, saying she sees the women as being in a powerful position, subtly ridiculing the men and their absurd pickup lines. Mr. Thicke said he found it odd that he had gained notoriety for the video when so many of his songs have been inspired by his marriage and respect for his wife. She advised him to make the video and offered suggestions, he said. "She's not only my muse, but my creative mirror," he said. "My music has always been woman friendly, and if my wife didn't like it, I wouldn't consider putting it out," he added. "But you know what my wife wants to do right now? She wants to feel young."