Robin Thicke's Rare Double No. 1 Album, No. 1 Song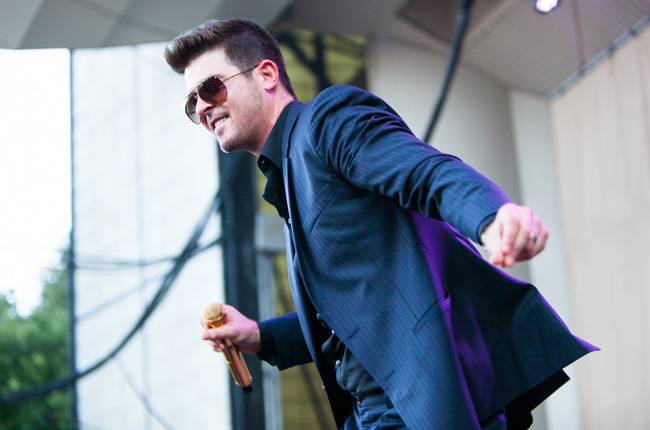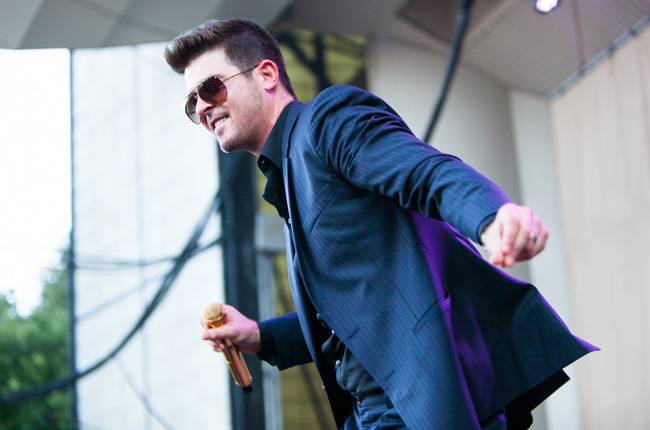 This week, Robin Thicke scores the uncommon feat of having both the No. 1 album on the Billboard 200 and No. 1 song and Billboard Hot 100 charts, with "Blurred Lines." He's the first artist to concurrently reign at No. 1 on both lists since the Dec. 8, 2012-dated charts, and only the 17th act to earn the distinction in the past 10 years. The last concurrent No. 1 came when Rihanna ruled with "Unapologetic" on the Billboard 200, and "Diamonds" on the Hot 100 (Dec. 8, 2012).
She was only the second act in 2012 to double-up, following Adele for two weeks (Feb. 4-11, with "21" and "Set Fire To The Rain"). Adele was also the only act to do manage the feat in 2011 — twice, with "21" and singles "Someone Like You" and "Rolling In The Deep." Why is it unusual for an act to be No. 1 on both charts? There are a few reasons. First, it's often a matter of timing. Sometimes an act will grab a No. 1 on both charts — just not in the same week. P!nk, for example, hit No. 1 on the Hot 100 this year with "Just Give Me A Reason," but it came almost six months after her album, "The Truth About Love," was No. 1.
Secondly, some artists might be huge singles acts, but haven't been able to translate that success into a No. 1 album. A prime example of that was Rihanna. She scored six top 10 albums between 2005 and 2011, but never a No. 1. Meanwhile, on the Hot 100, she was a monster success, notching 11 No. 1 songs through the end of 2011. Finally, last year, she claimed her first No. 1 album with "Unapologetic," which was led by her 12th No. 1 Hot 100 single, "Diamonds." Conversely, there are many Billboard 200-topping acts that simply don't generate Hot 100 No. 1 singles.
*billboard.com
For example, of the 26 artists that went to No. 1 on the Billboard 200 this year, only seven of them have ever earned a No. 1 song on the Hot 100. Those without No. 1 songs include Lady Antebellum, Justin Bieber, Josh Groban, Fall Out Boy, Daft Punk and Michael Buble. Also making it difficult is how songs tend to linger at No. 1 on the Hot 100 for a significant amount of time. Thus, that leaves less opportunity for acts to have a chance at taking a turn at the top. Thicke's "Blurred Lines" has been No. 1 for the past nine weeks, which followed a five-week run by Macklemore & Ryan Lewis' "Can't Hold Us."
Meanwhile, in that same span of time, there have been 12 different albums at No. 1 on the Billboard 200 chart. Since the Aug. 16, 2003-dated Billboard charts, there have been 523 chart weeks. Of those, just 9% (46) housed concurrent No. 1s on both the Billboard 200 and Hot 100. (And, in that time, there were 340 No. 1 albums on the Billboard 200 and 133 No. 1 songs on the Billboard Hot 100.) Here is a list of all of the weeks (in the past 10 years), where an act was simultaneously No. 1 on both the Billboard 200 and Billboard Hot 100:
Robin Thicke, "Blurred Lines" and "Blurred Lines"
Rihanna, "Unapologetic" and "Diamonds"
Adele, "21" and "Set Fire to the Rain"
Adele, "21" and "Someone Like You"
May 21 – June 4 & June 25, 2011
Adele, "21" and "Rolling in the Deep"
July 31 – Aug. 7 & Aug. 28 – Sept. 4, 2010
Eminem, "Recovery" and "Love the Way You Lie" (featuring Rihanna)
Ke$ha, "Animal" and "TiK ToK"
The Black Eyed Peas, "The E.N.D." and "I Gotta Feeling"
The Black Eyed Peas, "The E.N.D." and "Boom Boom Pow"
T.I., "Paper Trail" and "Live Your Life" (featuring Rihanna)
Leona Lewis, "Spirit" and "Bleeding Love"
Alicia Keys, "As I Am" and "No One"
Kanye West, "Graduation" and "Stronger"
Avril Lavigne, "The Best Damn Thing" and "Girlfriend"
Justin Timberlake, "FutureSex/LoveSounds" and "SexyBack"
Nelly Furtado, "Loose" and "Promiscuous"
Kanye West, "Late Registration" and "Gold Digger" (featuring Jamie Foxx)
Mariah Carey, "The Emancipation of Mimi" and "We Belong Together"
March 19 – April 23, 2005
50 Cent, "The Massacre" and "Candy Shop" (featuring Olivia)
May 22 – June 5 & June 19, 2004
Usher, "Confessions" and "Burn"
Usher, "Confessions" and "Yeah!" (featuring Lil Jon & Ludacris)
Jan. 10-17 & Jan. 31 – Feb. 7, 2004
OutKast, "Speakerboxxx/The Love Below" and "Hey Ya!"