Pharrell Williams x CCS Interview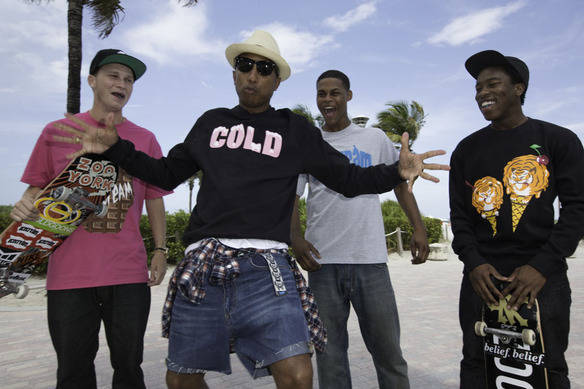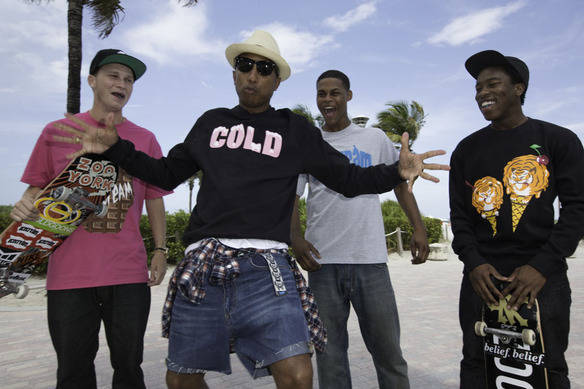 Pharrell Williams continues as one of the busiest artists in pop music releasing several global hits this summer including landmark collaborations with artists like Daft Punk and Robin Thicke. But for as hectic as his musical obligations are, Pharrell maintains a deep and authentic appreciation for skateboarding embodied in his brand, ICECREAM. CCS caught up with Pharrell this month to find out more about his team, his product and his music.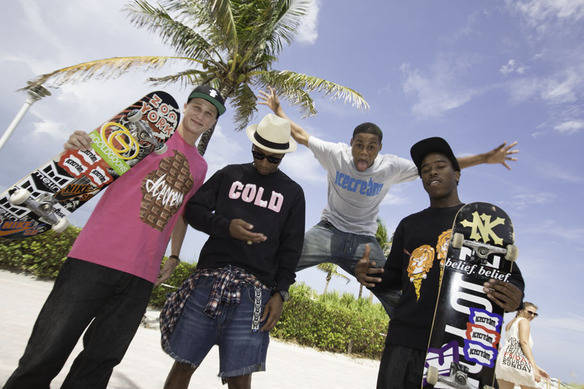 What about skateboarding inspired you to launch a skate brand like ICECREAM? What is it about skateboarding for you?
Skating allowed me to do something different growing up and really opened my eyes to a different world. I was not the greatest skater as a kid but the culture really helped me become who I am today. As far as the team, it was an opportunity that was given to me in terms of having a clothing line, and I wanted to give back to the culture that gave me my vision of how I look at the world.
Pharrell & Emmet Duffy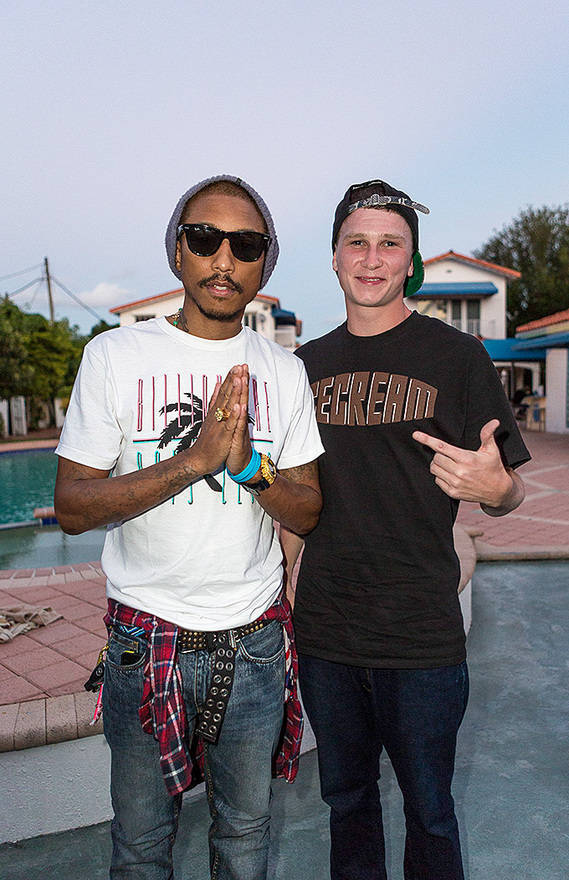 ICECREAM seems to have gone through some changes over the years. How has the brand changed into what it is now? What have you learned along the way?
I had different partners at different times for ICECREAM and it was all a wonderful learning experience, but for me to be able to have a successful action sports line, I had to be able to offer goods at a reasonable price and my current partnership allows us to do that. The spiritis the same and when it comes to visuals, we're still doing designs that we believe in and are continuing to offer support to a culture that's given me so much.
The Neptunes – Team Ice Cream 2013 (DJ Freakiii Edit) (13′)

*ccs.com
*twitter.com/i_am_other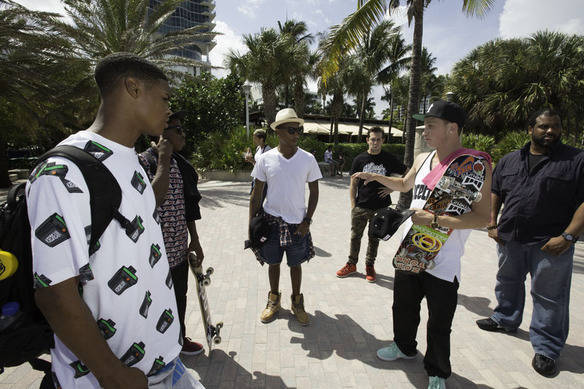 What's up with the new skate team? How did you select these guys? Why all Ams? What makes a skater fit for the ICECREAM team?
At first I thought we should recreate the original concept for the team—one or two pros and a few ams. Ben Oleynik who works with us found the Ams first and as we kept discussing the Pros it turned out that these am kids were so good we felt it was best to grow with them and fully support them.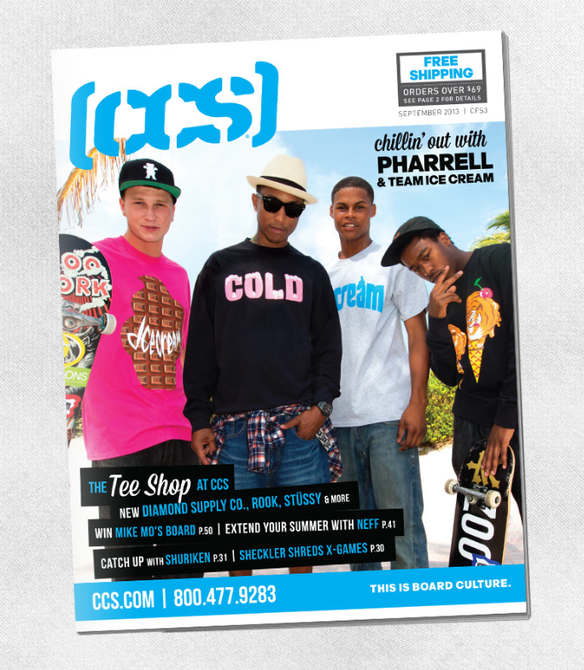 How has skateboarding impacted hip-hop in particular? Seems as if skateboarding has shown up in hip-hop more than ever in recent years. Is there something about it you think hip-hop/urban culture can relate to?
Hip-hop is culture, skating is culture. I don't know how to put it in different boxes like that. I have never looked at it that way since I was a kid.
ICECREAM has always had a unique color and graphic story with its designs. Where does some of that inspiration come from? What are some of your favorite brands, artists and designers that you look to for inspiration?
I always said that I wanted to "Willy Wonka" the brand. Colors are really important to us and originally separated us from a lot of other brands. Our designers have vivid imaginations as well and we just make what we think feels right. As far as my personal choices in fashion it's Comme des Garçons, Junya Watanabe, Lanvin and Ralph Lauren.
Where do you see the future of skate culture and fashion going? How does what you're doing with ICECREAM play into that story?
I don't think we look at ourselves as influencing anything. I think we just look at ourselves as contributors to a collective conscience call, you know, like the mindset of a skater. Skating has already been an important part of fashion way before we got started, we're just going to keep on having fun and doing things our way.
You just dropped a new record with Daft Punk. Can you talk a little bit about what it was like working with those guys?
I was just happy to be a part of the whole process with Daft Punk. They're robots working with a bunch of really interesting humans on that album. I'm just very grateful to be a part of it with those guys.They made incredible music, like they always do. I've had a chance to work with them over ten years ago and I'm glad they reached back out again for this album. Should be a fun summer.