Armchair A&R: 50 Cent & Pharrell Should Make An Album Together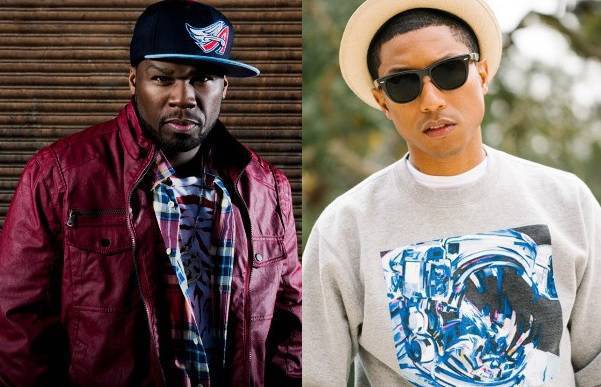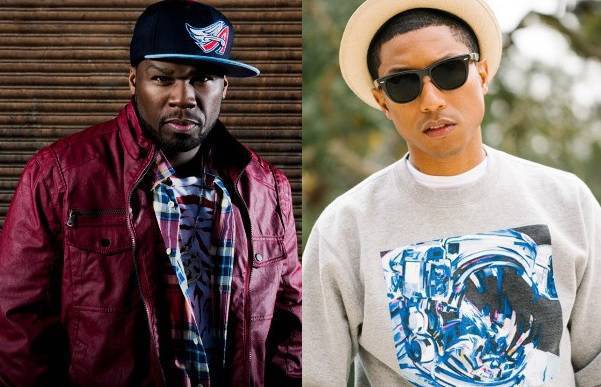 By Adam Fleischer. It's time for 50 Cent to make a comeback. And we know just the man to help him make one. But first we reached out the powers that be.
Dear Mr. Jimmy Iovine:
I'm inviting you to take a trip with me down memory lane. Let's go back 10 years. As December comes to a close, 50 Cent's "In da Club" will round out 2003 as the biggest song of the year. The Queens rapper is just a few months removed from releasing his debut album, Get Rich Or Die Tryin', and has dropped a successful string of hits, while also ushering his G-Unit cohorts into the mainstream.
There's another rapper who has had a breakout year, as well: Snoop Dogg. A decade after his debut, Snoop has revived his career, reintroduced himself to old fans and grabbed the ears of new ones. With his smash hit "Beautiful," Snoop showed a softer side with more mass appeal than he had in previous releases. Sonically, too, the single brought an evolution, as The Neptunes' production and Pharrell's airy vocals gave the joint a warm, upbeat and accessible feel.
This collaboration with Pharrell, as well as another, the album's lead single, "From Tha Chuuuch To Da Palace," signified the beginning of a musical friendship between Snoop and Pharrell that would result in Tha Doggfather's two biggest mainstream hits, "Beautiful" and "Drop It Like It's Hot,"and give his already weighty cultural capital even more strength.
I'm writing you today because we have the chance to create a similar career revival for 50, through a partnership with Pharrell. As head of Interscope Records, you make the final calls about 50's musical output. Let's come right out and say it: the current formula isn't working.
It's been too long—years, in fact—since 50 Cent has held the spot that he's proven capable of; that place atop the game. That's not to say Fif hasn't remained relevant within hip-hop and pop culture on a larger scale in the time since—because, surely, he has, thanks to his many business ventures, books, boxing promotions and more. But music has ceased to be the primary spark for discussions, headlines and excitement about 50. It's become secondary.
With 50's new music, the goal must be recapturing the feelings and enthusiasm from that moment in 2003, without actually trying to recapture the moment. We both know Fif is in a bit of a Catch 22: listeners simultaneously want the Old 50 back, yet express frustration when he raps about similar stuff that he did in '03. The current path hasn't been making the ripples we'd hoped for, even if The Big 10 was reasonably well-received, and singles "New Day" and "My Life" earned some spins and sales. Something's still not quite right.
Luckily, an exciting new option just presented itself. Earlier this month, in an interview with Complex, Pharrell suggested that he'd relish in the opportunity to work on an entire project with 50. "I would love that. But, you know, he would have to see why that makes sense…for himself," the Virginia native said. "That doesn't mean it makes the ultimate sense, I mean you know, people could read this and be like, 'What?! Ew, no. Don't fuck with Pharrell.' You know?"
Right within his response, the veteran musician acknowledges two of the potential hiccups in this partnership: 50 may not feel like it's the right situation; and fans may be hostile towards the concept. But we can dismiss that latter concern, since the reactions to the interview have been largely positive, as fans have voiced intrigue on what kind of offspring that sonic marriage would create.
And, well, what would the results be? Obviously, we won't know until Fif and Pharrell lock into a studio for some time, but the prospects are promising, as envisioned by the producer. "I would love to make an album with 50 that felt like a film," he continued. "'Cause he's an actor. He's an actor and a rapper and all these other things. I would wanna put all those talents together and try and make a cohesive body of work that was all about him. I'd just be Mario Puzo. I don't have to be Corleone. I don't have to be in it at all. I could just be the air in the room, which is just the story writer or the backdrop. Cause he's the story writer."
Beyond his vision, talent, and the role he played for Snoop 10 years ago, there's another major asset Pharrell brings to the table: the man makes hits. Today. He's been doing it for a decade and a half, and, amazingly, he may be at the peak of his powers. With Daft Punk's "Get Lucky" and Robin Thicke's "Blurred Lines," each of which feature Pharrell, the multi-talent played an instrumental role in two of 2013's biggest hits. And he's nominated for seven Grammys this year, as he continues to walk the fine and rare line where commercial domination and critical praise overlap.
There some similarities. 50 has always had a way with a spritely melody and a catchy hook. Think of "P.I.M.P." Those steal drums. You could almost hear them come out of a Neptunes session, couldn't you? (Think of "I Just Wanna Love U") Fans of 50 Cent want to hear the hunger, passion, and thrill that made them first fall in love with his music. There seems no better way to accomplish this than by trying something completely new. And there's no better musical companion than Pharrell.
Sincerely,
Adam Fleischer
Enclosures
CC: Mona Scott, Doug Morris, Andre Young