Lyrical References To Billionaire Boys Club/Icecream Through The Years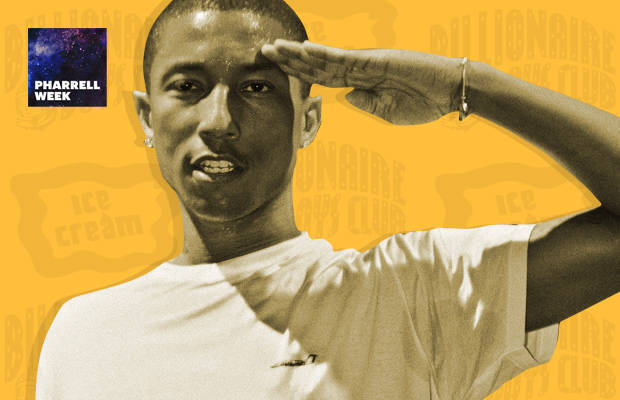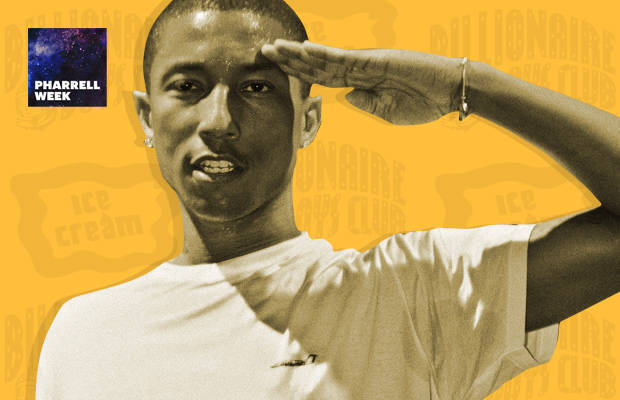 By Elva Aguilar. We first got a look at Pharrell's Billionaire Boys Club clothing line in 2003 in the video for his song "Frontin'." Pharrell strategically placed his new brand throughout the music video so fans could see what his new venture with BAPE creator Nigo was looking like. Later, Pharrell distributed Billionaire Boys Club T-shirts at the release party for The Neptunes' Clones marking the first time the brand made its way into the hands of people outside the BBC camp. By the following year, Billionaire Boys Club added Icecream to its repertoire as Pharrell was spotted with the first Icecream sneaker. Slowly but surely, BBC/Icecream was becoming a staple of hip-hop fashion.
Over the past decade, BBC/Icecream has revolutionized the streetwear marketing game, with Pharrell and associated artists mentioning the brands in their raps to the point where other rappers (and of course their fans) developed an obsession with Billionaire Boys Club and Icecream as well. At this point many of the biggest names in hip-hop wear BBC/Icecream not just to show support for Pharrell, but because the storied brand has become a status symbol within hip-hop. P's formula for success should be a lesson to all artists trying to launch a fashion line. So for Pharrell Week we've compiled this crash course. Marketing 101: Lyrical References To Billionaire Boys Club/Icecream Throughout The Years.
2003
After fans saw Billionaire Boys Club for the first time in 2003 during Pharrell's "Frontin'" video, rappers started mentioning the brand in their songs. Jay Z name-dropped BBC on "Change Clothes" and Pharrell also managed to get Nas to mention Billionaire Boys Club when they worked together on the soundtrack for Charlie's Angels: Full Throttle. Pusha T showed his loyalty to Star Trak in '03 by hopping on Nelly's "#1 Remix" and mentioned Billionaire Boys Club twice in one verse, saluting Pharrell's new brand well before other rappers followed suit. "I wanted to present everybody with my world," said Pharrell in The Oral History Of BBC/Icecream. "Because at that time, I was making Billionaire Boys Club stuff for myself."
"Imagine that Rolls Royce crashed and unscratched/In that Billionaire Boys Club fashion/Uh, you niggas is clones/I hand out styles like Icecream cones." —Pharrell on Clipse's "Hot Damn"

"Lookin for a coward-well it's not in here/Under the BBC, this heart be popping here." "I'm hearing that the cops is here/In these BBC socks, I got the rocks in here." —Pusha T on Nelly's "#1 Remix"

"Hilton style, Billionaire Boys Club/Braveheart, y'all don't want no war with us." —Nas on "Nas' Angels… The Flyest"

"Jiggy this is probably Purple Label/Or that BBC shit, or it's probably tailored." —Jay Z on "Change Clothes"

"Hmm, flows on top of flows/Two hundred karats in my B-Boy pose/Cool Whip, the Icecream rake em in O's." —Pusha T on Kelis' "Milkshake Remix" "I'ma show you more beats, more fees, more keys, more vis/BBC, wait a minute, more cheese." —Pharrell on Kelis' "Milkshake Remix"

2004
The first Icecream sneaker was seen during N*E*R*D's performance at Pinkpop 2004. In the same year, Fabolous and Pharrell both rapped about the sneaker. The most notable lyric for the year, however, came on Snoop Dogg's "Drop It Like It's Hot." The song was a huge hit, landing at No.1 on Billboard Hot 100 and becoming Snoop's first chart-topper since 1993. P stunted on the track, asking, "See these Icecreams?" To top it off, the minimalist black and white video for the song provided him the perfect opportunity to show off his kicks.
"I'm in the Icecream shoes, nice gleam too/Crack the button up so the ice beam through." —Fabolous on "Tit 4 Tat"

"I'm a nice dude, with some nice dreams/See these ice cubes? See these Icecreams?" —Pharrell on Snoop Dogg's "Drop It Like It's Hot"

"You and me/BAPE, Icecream and BBC (yup)/Just because we skate down the road (niggas)/Don't mean we can't slam Phantom doors (bitches)." —Pharrell on "Maybe" Remix

2005
In 2005, Pharrell's Star Trak label continued to carry Billionaire Boys Club on its back. Both Malice and Pusha T of the Clipse mentioned BBC in their raps and Pharrell utilized two features that year to keep pushing his brand. By the following year, Billionaire Boys Club exploded.
"The true style icon to me is Pharrell Williams," said Pusha T in The Oral History of BBC/Icecream. "And what they've created and continue to create, to just raise the bar for a brand that is rich in quality and rich in a standard. It's probably the go-to streetwear brand. I want people to know, like I do this as the student. I am 100% a student of Pharrell Williams. Style student; Pharrell Williams."
"I British broadbast, this is Billionaire/Boys Club, fuck the rocks, color canary." —Malice on Clipse's "Where You Been"

"You got it wrong, I don't touch the heaters/Though my Icecream sneakers got the drug dealer beepers." —Pharrell on Slim Thug's "Already Platinum"

"Get your two step cause this the record of the year/Nigga that brought you Icecreams, 2 for a pair." —Pharrell on "Can I Have It Like That"

"All that hair and all that wear/BAPE, BBC, Three Dots and all that there." —Pusha T on Faith Evans' "Goin' Out"

2006
Pharrell's marketing was on max in 2006, the same year he dropped his debut album, In My Mind. Lil Wayne shouted out Icecream on a song with Juelz Santana, "Rewind," but Pharrell mentioned the brand on nine songs that year. The majority were featured on his debut album but he also made sure his brands got mentioned on albums he produced like Clipse's Hell Hath No Fury and Slim Thug's Already Platinum. He even dropped a reference on his collaboration with Gwen Stefani, helping introduce Billionaire Boys Club to the pop world.
"Yeah, Icecream hoodie, Bathing Ape tennis shoes/No time for pictures, no time for interviews" —Lil Wayne on "Rewind"

"The Icecreams make all the bitches want to fuck/Plus the black card is something like an armored truck." —Pharrell on "When Skateboard Came"

"From these sherbet Icecreams with a dose of lime/I'm strictly Shirley Temple Nigo wants to toast with wine." —Pharrell on "Swagger International"

"Walk in the place, they know my face/Billion…aire boys/Ice cream drippin' 'cross the floor." —Pharrell on Gwen Stefani's "Yummy"

"Oooh had a chilly chilly past/Look at the Icecream symbol that's why the nigga laugh." "Face on the Newsweek the actress want to date you/Icecream boutique the Icecream skate shoe." – Pharrell on "Liquid Swords"

"Haters, I'm doin' deals like the majors Icecream sneakers, I signed my first skater." – Pharrell on Clipse's "Mr. Me Too"

"Look mama, I be fly papa/Strictly Bathing Ape, Icecream, and BBC rocker, EGHCK!" – Pusha T on Clipse's "Wamp Wamp (What It Do)"

"You can't out bling me, or BBC jean me/You ain't got no vibe, you can go and ask MiMi." – Pharrell on Slim Thug's "Keep It Playa"

"Can't be mad at the world cause you and your girl ain't famous/Cause you both on Bape, BBC, and chainless." – Pharrell on "Best Friend"

2008
Lil Wayne's "A Milli" was one of the biggest tracks of 2008, a year where Billionaire Boys Club and Icecream mentions in rap were noticably lower. But in his freestyle over "A Milli" Jay Z kept repping for the brand, claiming he wore it not just because Pharrell was his boy, but because he's paid like that.
"When I wear "Billionaire Boys Club" is more than gear/I don't wear it 'cause Pharrell/I wear it 'cause I'm fo' real." —Jay Z on "A Billi Freestyle"

2009
Though Pharrell was still productive in 2009, it was one a relatively quiet year in his career. But that didn't matter because he had made so many damn hits during the late '90s and 2000s that his influence was beginning to show on rap's younger generation. Rappers who grew up idolizing Pharrell and his hip-hop iconoclast style, were now openly repping Billionaire Boys Club in their lyrics—whether they were friends with P or not. Kid Cudi, Wale, and Tyler, The Creator all paid respects to Skateboard P's brand in 2009 through their lyrics to show that they, too, loved, supported, and rocked Billionaire Boys Club.
"All the BBC cannot put you, in the same place or give you the same face/Find you first and you couldnt raise the stakes." —Kid Cudi on "Can I Be"

"Nigga, I'm in charge, I fuck with Freshjive/Cause I get it, no charge, and BBC for the low price." —Tyler, The Creator on "Jack and the Beanstalk"

"DC chillin', PG chillin', floor To the ceilin'/Stuntin' in my Billionaire gear on my/Millionaire frames, that's money on my mind, Wale." —Wale on "Chillin"

"And I be with P, so I got BBC shit/Even if I didn't I would ball like Arenas-swish." —Wale on "Pretty Girls"

2010
In 2010, Billionaire Boys Club was mentioned on two ends of the rap spectrum. On one side Childish Gambino, who was just beginning to build a buzz for himself, mentioned the the brand on his I Am Just A Rapper mixtape. On the other, Pharrell once again brought BBC into his rhymes in a highly anticipated CRS track "Don't Stop"—the first time we heard Lupe Fiasco, Kanye West, and Pharrell come together since their first collaboration, "Us Placers," in 2007.
"I'm on some BBC bape shit, I'm on some cake shit/ In the kitchen with the heat, making beats in my apron." —Pharrell on CRS' "Don't Stop"

"Billionaire Boys Club, I'm living it/One shirt, eight dubs, I'm spending it." —Childish Gambino on "I Love Clothes"

2011
By 2011, Billionaire Boys Club had a strong following and was already considered one of the biggest names in urban fashion. Big Sean mentioned BBC on his debut album and Skateboard P used the opportunity he had on T.I.'s "Here Ye, Hear Ye" to market the Billionaire Boys Club name once again. Meanwhile, when Pharrell hopped on Game's "In My '64," Game showed love by name-dropping Icecreams.
"Hoody over my head, Jedi, Anakin/Looking like a BBC, Louis V mannequin." —Big Sean on "Celebrity"

"I like my Icecreams with toppings/But we ain't going to the candy shop—we call it shopping." —Game on "In My '64"

"Catch me in the Gap V with some BBC trunks/Flip flops sipping on cream like its punch." —Pharrell on T.I.'s "Here Ye, Hear Ye"

2012
The Billionaire Boys Club and Icecream brands were used to strictly flex on people in 2012. A$AP Rocky had come up and made his name, and decided to drop Billionaire Boys Club in his raps for Swizz Beatz's "Street Knock." And on "Magic" Future showed his appreciation for Pharrell's Billionaire Boys Club grind. "Pharrell is the representation of jiggy for our generation," said A$AP Rocky in The Oral History of BBC. "He represents for those who are different and creative."
"Billionaire boy that's true inspiration/Learned the Astronaut Kid, no such thing as limitation." —Future on "Magic"

"We some billionaire boy in some Billionaire Boys Club/Plus probably push a 'Gatti that's the billionaire's toy huh." —A$AP Rocky on Swizz Beatz's "Street Knock"

"Billionaire Boys, Icecream, my nigga/See the hat with the big ass B, my nigga?" —Pharrell on The-Dream's "Real"

2013
With Billionaire Boys Club in a partnership with Rocawear, it made sense that Jay Z's latest album, Magna Carta Holy Grail would featured a song all about the brand, the Nas assisted track "BBC." The song actually opens with Nigo saying Billionaire Boys Club but it went over most people's head since he said it in Japanese. Meanwhile, Nas proclaimed, "Pharrell's a pharaoh, peep the features." Other rappers kept rapping about Billionaire Boys Club as well, but there was no greater endorsement than Jay's song, which was placed as track 10 on the album to mark the brand's 10th anniversary.
Jay Z f/ Nas, Beyoncé, Justin Timberlake, Swizz Beatz & Timbaland "BBC" (2013)

"That new BBC Barney's collab came out, I ordered me one, lit one up and got happy as fuck/Shout out to the niggas swagging me up cause now you think I get this shit off the back of a truck." —Wiz Khalifa on "Old Chanel"

"Pay me in cash, fly to Japan and convert it to yen/BBC stores, we shut them down, it's just how we is." —Nipsey Hussle on "You See Us"