Pharrell Williams To Work On The 'Annie' Remake Movie Project (Update)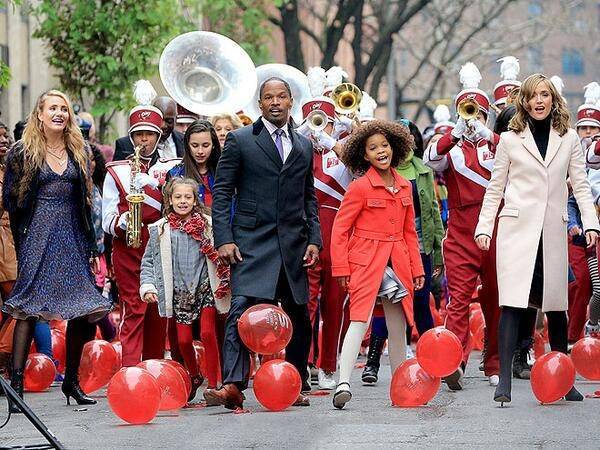 Posted: Jully 22nd.


According to Jamie Foxx, Pharrell just got another blockbuster deal under his belt for the Musical Remake of Annie from 1982. Jamie Foxx is a guy you've seen in a lot of big movies lately (Django Unchained, White House Down), and that streak will continue into next year when he tackles his first-ever superhero movie as the villain Electro in The Amazing Spider-Man 2, due out on May 2, 2014. Before wowing the Comic-Con crowd with a lengthy trailer for the film, Foxx revealed to movies.com that Pharrell also be a part of the Annie movie, probably for the OST.
One thing he is lined up to do is play a new take on the "Daddy" Warbucks character in an updated version of the movie-musical Annie opposite Beasts Of The Southern Wild breakout star Quvenzhané Wallis. On Annie, Foxx had this to say: "They're doing it 2014/2015-style, so more updated. "Daddy" Warbucks is now going to be called Stacks. It's interesting because they're getting Jay-Z involved, Pharrell involved — making it a little hipper," he said. Foxx also revealed they'll be using a mix of the existing music and some new stuff. "[They're] using eight of the original songs, but also creating four new songs for the franchise. I think it's really gonna land nice," adding that he'll "have a hand" in creating all the music.
Jay-Z will be the producer on the new Annie movie, alongside Will Smith and Jada Pinkett Smith. The rapper, who sampled a song from the classic Broadway musical for his 1998 hit 'Hard Knock Life (Ghetto Anthem)', is also rumoured to be writing new songs for the remake. Based on the stage musical Annie, with the book by Thomas Meehan, music by Charles Strouse and lyrics by Martin Charnin — which in turn was based on the comic strip Little Orphan Annie. Jamie Foxx will play a character named Benjamin Stacks, a variation of Daddy Warbucks, who takes in the orphan girl being played by Quvenzhane Wallis which is sceduled for a December 25th 2014 release.
Will Gluck (Easy A, Friends With Benefits) is set to direct and is currently revising a script that has already had input from Emma Thompson and The Devil Wears Prada screenwriter Aline Brosh McKenna. The original stage production of Annie opened on Broadway in 1977 and ran for six years. The 1982 film version was directed by John Huston and starred 11-year-old Aileen Quinn in the title role, alongside Albert Finney, Tim Curry and Carol Burnett.
Based on the popular comic strip, Annie tells the extraordinary story of a little orphan who ends up in the lap of luxury with billionaire Benjamin Stacks, a variation of Oliver "Daddy" Warbucks. Unlike most of the other children at Miss Hannigan's orphanage, spunky Annie (Quvenzhané Wallis "Beasts Of The Southern Wild") believes that her parents are still alive and will one day return to claim her. So when Mr. Stacks offers to adopt her, she asks the most powerful man in America to help find her real mom and dad instead, and he agrees.
Stacks' whopping reward for Annie's parents attracts the attention of con artists Rooster, Lily and the wicked Miss Hannigan, who hatch a plot to kidnap Annie and take the reward. The film is based on the Broadway musical stage play "Annie," book by Thomas Meehan, music by Charles Strouse, lyrics by Martin Charnin, and on the "Little Orphan Annie" comic strip. Thanks to VandG.
Distributor: Sony / Columbia
Release Date: December 25, 2014
Directed by: Will Gluck
Produced by: Jay-Z and Will Smith
Written by: Aline Brosh McKenna
Starring:
Quvenzhane Wallis as Annie
Jamie Foxx as Benjamin Stacks
Cameron Diaz as Miss Hannigan
Rose Byrne as Grace