Pharrell's Phone Star Of Water Demo With Liquipel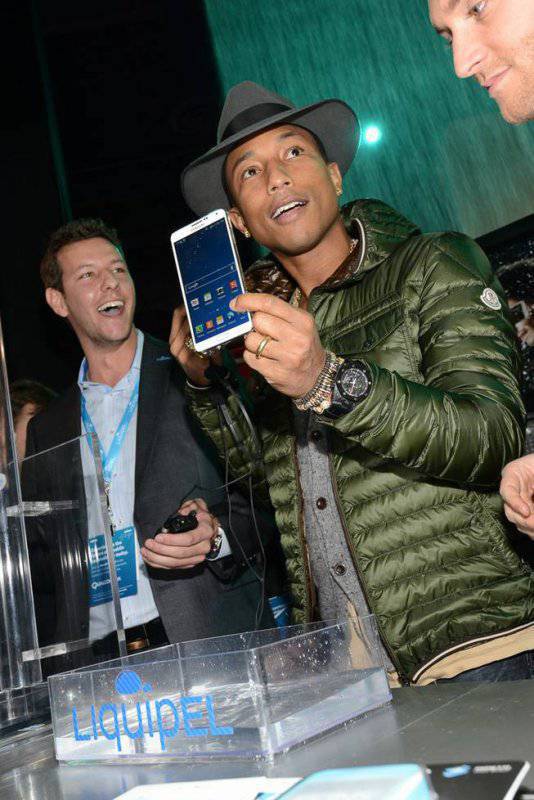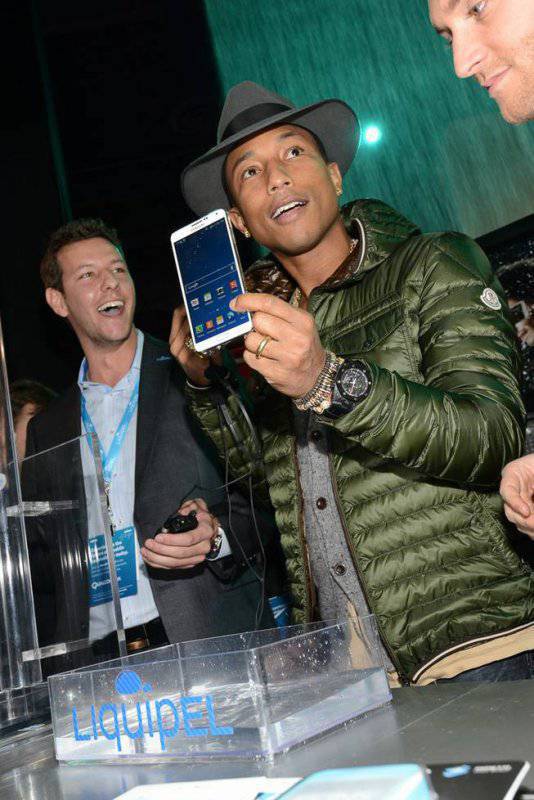 Pharrell submerged his own mobile phone in water and dropped a steel ball on an iPhone as he lent his star power to a technology demonstration. The rapper and record producer, who has had a string of hits including the recent Blurred Lines, Happy and Get Lucky, showed off the Liquipel watersafe technology at the International Consumer Electronics Show in Las Vegas, Nevada.
The special casing creates a new surface on smartphones and tablets to repel liquid. Pharrell held his own Samsung phone under water during the demonstration, before showing the huge crowd of fans that it still worked. He admitted he has suffered mishaps with his phone in the past, saying: "You go to the old wives' tales of putting it in rice or on the refrigerator. You can do that but it's not a 100% guarantee like you have with Liquipel."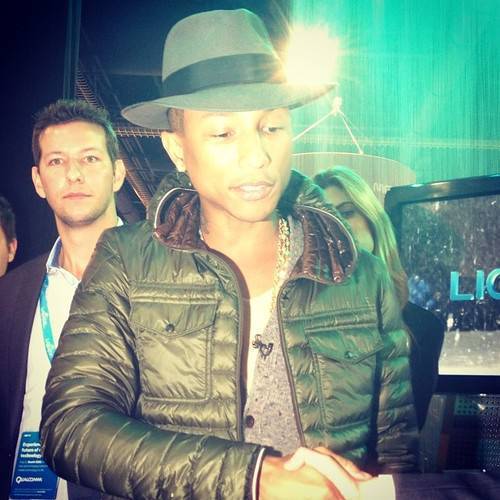 He then dropped a half-pound steel ball bearing on two iPhones, one which had been treated and one which had not, to show that the one that had not been treated shattered while the treated phone stayed intact.
Speaking about his involvement with the product, Pharrell said: "These guys existed before my participation so if anything it's just been a really interesting process I was allowed to participate in. "This was an opportunity that I didn't even think I deserved. It was an incredible opportunity because it was two brothers and a dad and it was the American dream happening before your eyes and it all really works."
He added that he is not trying to follow in the footsteps of rappers 50 Cent and Dr. Dre, who have both launched lines of headphones."If anything I am just happy to co-exist and let them do what they do, they are super genius guys and I am appreciative a great opportunity was sent my way. They never needed me so I'm just happy to hitch a ride to a really cool car," he said. The singer is not the only famous face at the event: 50 Cent met fans and signed autographs to promote his SMS audio headphones.