Pharrell Williams' 20 Biggest Billboard Hits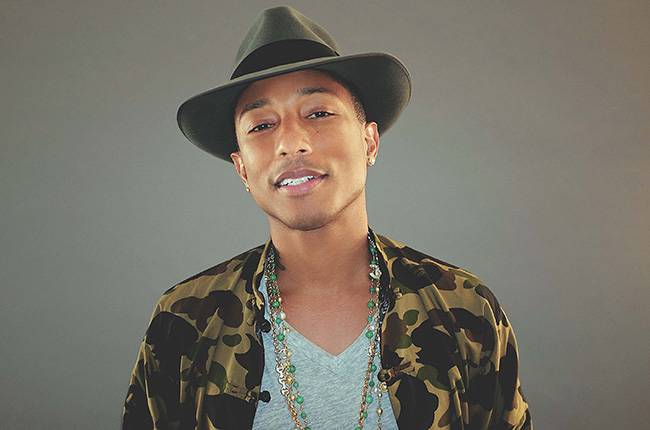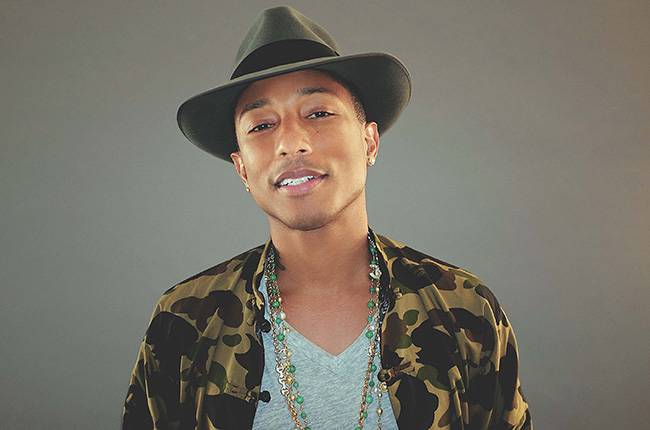 By Erika Ramirez. In music and entertainment, Pharell Williams can do it all. A creative force to be reckoned with, he wears many hats other than the now-famous Vivienne Westwood mountain hat he sported at the Grammys: he's a s singer, songwriter, rapper, producer, fashion designer and much more (look at his resume!) – and he's been behind both his own and many other artists' memorable hits. His soundscapes and songwriting have shaped the sonic style of many, while never falling short of making listeners simply feel good.
In celebration of the success of his recent single, "Happy," and the release of his album 'G I R L,' we've compiled this special list of Pharrell's 20 biggest Hot 100 hits, including those he's written and produced. Pharrell is credited as a writer on all 20 songs, and he's credited as a producer on all but one, "Get Lucky." This ranking is based on actual performance on the weekly Billboard Hot 100 chart. Songs are ranked based on an inverse point system, with weeks at No. 1 earning the greatest value and weeks at No. 100 earning the least.
"Like I Love You" – Justin Timberlake
Hot 100 Peak: 11, Peak Date: 10/12/2002

"Wind It Up" – Gwen Stefani
Hot 100 Peak: 6, Peak Date: 12/16/2006

"I Just Wanna Love U" – Jay Z
Hot 100 Peak: 11, Peak Date: b/30/2000

"Lookin' At Me" – Mase feat. Puff Daddy
Hot 100 Peak: 8, Peak Date: 9/19/1998

"Excuse Me Miss" – Jay Z
Hot 100 Peak: 8, Peak Date: 4/12/2003

"Happy" – Pharrell Williams
Hot 100 Peak: 1 (4 weeks to date), Peak Date: 3/8/2014

"Nothin'" – N.O.R.E.
Hot 100 Peak: 10, Peak Date: 8/10/2002

"Beautiful" – Snoop Dogg feat. Pharrell & Uncle Charlie Wilson
Hot 100 Peak: 6, Peak Date: 4/26/2003

"Girlfriend" – N' Sync feat. Nelly
Hot 100 Peak: 5, Peak Date: 4/6/2002

"Rock Your Body" – Justin Timberlake
Hot 100 Peak: 5, Peak Date: 5/10/2003

"Luv U Better" – LL Cool J
Hot 100 Peak: 4, Peak Date: 11/16/2002

"Frontin'" – Pharrell feat. Jay Z
Hot 100 Peak: 5, Peak Date: 9/20/2003

"Milkshake" – Kelis
Hot 100 Peak: 3, Peak Date: 12/27/2003

"U Don't Have To Call" – Usher
Hot 100 Peak: 3, Peak Date: 5/4/2002

"Money Maker" – Ludacris feat. Pharrell
Hot 100 Peak: 1 (2 weeks), Peak Date: 10/28/2006

"Get Lucky" – Daft Punk feat. Pharrell
Hot 100 Peak: 2, Peak Date: 6/29/2013

"Drop It Like It's Hot" – Snoop Dogg feat. Pharrell
Hot 100 Peak: 1 (3 weeks), Peak Date: 12/11/2004

"Hollaback Girl" – Gwen Stefani
Hot 100 Peak: 1 (4 weeks), Peak Date: 5/7/2005

"Hot In Herre" – Nelly
Hot 100 Peak: 1 (7 weeks), Peak Date: 6/29/2002

"Blurred Lines" – Robin Thicke feat. T.I. & Pharrell
Hot 100 Peak: 1 (12 Weeks), Peak Date: 6/22/2013