Pharrell Williams x CBS Interview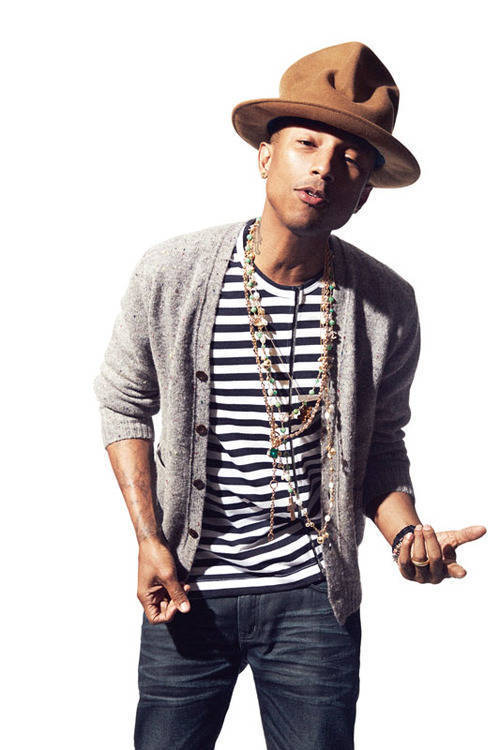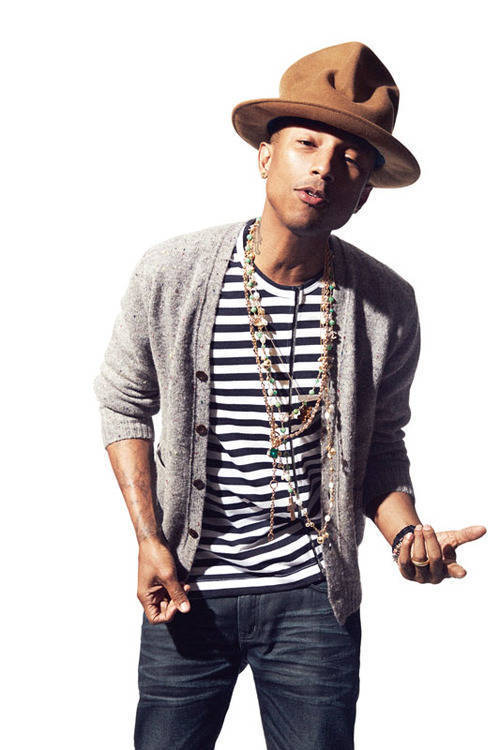 "Happy" & Grateful. A HAPPY GUY is definitely the self-image Pharrell Williams projects through his music — an image that seems to be pretty much in line with the reality, as Anthony Mason will now show us: Most artists only dream of having a year as big as Pharrell Williams'. He sang and co-wrote Daft Punk's summer smash, "Get Lucky." He produced and co-wrote Robin Thicke's mega-hit, "Blurred Lines."
But it was with his first solo Number One, "Happy," that Pharrell Williams himself suddenly went stratospheric. "Does it feel any different having a huge hit with your name on it?" asked Mason. "It's super weird," he replied. "Because I'm used to being the guy standing next to the guy. I was happy being that guy! It's weird."
Named the top producer of the past decade by Billboard magazine, as one half of The Neptunes production team, Pharrell was behind hits for Nelly ("Hot In Herre"), Jay-Z ("I Just Wanna Love U (Give It 2 Me)"), Justin Timberlake ("Rock Your Body"), and Britney Spears ("I'm A Slave 4 U"). "You've said that you were one of those kids who just didn't fit into the box," said Mason. "No. I just never even seen the box," Pharrell said. "It's like, what do you mean? What wall? What ceiling? What are you talking about. Hence the phrase 'Room without a roof,' you know? Limitless."
Lately, everything he's touched has turned to gold, including the head gear he wore the night he Eon Four Grammys: a mountain hat designed by Vivienne Westwood. "One of my managers says, 'The hat has its own Twitter.' What?!?'" What happened? As we slipped into a New York clothing shop called Fine and Dandy, Pharrell said even he doesn't understand. "I can't tell you why people fixated on Vivienne Westwood's hat, 'cause it's not mine, it's hers, right?"

That from a designer with two of his own clothing lines, who Esquire once ranked the best dressed man in the world. "When did you start developing a clothing style?" asked Mason. "I suppose I've always had my own way," he replied. "You know, they always say 'Never judge a book by its cover.' But the cover does say a lot. I've always been, like, an extrovert. If you think color, you kind of dress in color."
He's been thinking in color since he grew up in Virginia Beach, Va., the son of a handyman and a teacher. It was his grandmother who urged him to get serious about music: "She had been diagnosed with cancer. And I was turning 15. And she said, 'You love the drums. Why don't you learn how to play the drums?'" So he went to summer band camp and joined the school band: "And that's where I met my first music teacher, Mrs. Warren. And my other band teacher, Mr. Warren. And then there was Mr. Edwards and then there was Mr. Sharps."
"You remember 'em all?" "Yes, I do. And Ralph Copley had taught me how to play the drum set. My story is the average story, you know. It was filled with special people." "You're giving everybody else credit." "Well, what am I without them? Just try that for a second. Take all of my band teachers out of this. Where am I? I'm back in Virginia, doing something completely different." "What would that have been do you think?" Mason asked.
"Struggling art teacher. Struggling because the rest of my grades were not so good. They were like Cs and D's. And sometimes E's!" In beginning band class he met Chad Hugo, who played sax. They formed The Neptunes. "Group wise, it just didn't work. We were just too weird — or I was too weird at the time. I mean, hello?" So The Neptunes produced other artists' music, taking spare hip hop beats and infusing them with rock and pop. Their music flooded the radio.
One of Pharrell's few disappointments was his first solo album in 2006, "In My Mind": "It didn't turn out the way I wanted it to. And I blamed everybody around me but myself. And I really had to take a long study on what I was doing and talking about on that record." That first record was too full of ego, he says. Now 41, and married to fashion designer Helen Lasichanh, Pharrell's new album, "GIRL," strikes a different tone.
"What changed for you?" Mason asked. "I realized along the way that there wasn't enough purpose in my music," Pharrell said. "Going back and listening to Stevie Wonder songs and Steely Dan songs, you'd see that Donald Fagen had a purpose. He had an intention. Stevie Wonder was really singing about something." Pharrell says now he wants his music to lift people up.
When asked of which of his records he is most proud, Pharrell replied, "I'm proud of all my work and I'm thankful. But 'Happy' changed me." Released Last July in the film "Despicable Me 2," it went nowhere at first. "When they took it to radio, they were like, 'It's just too different.' "So here I am, 'Ha-pppppy!' They were like, 'Uh, no.'" Then in November the label released a video, and the song exploded. It hit #1 in 24 countries.
Walk down the street with Pharrell Williams now, and from all sides people approach him, people of every color and every age. "People walk up with their toddlers — 'There's the 'Happy' man!'" Pharrell said. "Are you okay with being the 'Happy' man?" Mason asked. "I'm grateful." "You're going to live with the '"Happy" Man' and the hat for a while. You're okay with that?"
"What else do I have any other business being but appreciative?" Pharrell responded. "It's not my doing." "When you –" "Does that annoy you that I keep saying that?" "No, I just –" "But you get why I say that, though?" "I get why you say that," Mason said. "The stars have to align." "Absolutely." "And the stars don't always align for everyone," said Pharrell. "No, they don't. But they've aligned an awful lot for you. And that doesn't happen unless you have a talent." "So then you would understand why I'm so thankful."
"I totally get why you're thankful. As an artist at some point you've probably tried to figure out what you do well." "I think that's when you fail," Pharrell said. "When you start trying to figure out, like, what you're the best at, that's when you become delusional, 'cause you start to believe that. I'd rather just continue to ride that mule than to bet on a cocky horse." "Are you afraid if you give yourself too much credit, it would all go away?"
"For sure," he said. "You see people spin out of control like that all the time. I mean, those are the most tragic stories, the most gifted people who start to believe it's really all them. It's not all you. It can't be all you. Just like you need air to fly a kite, it's not the kite. It's the air."