The Key To Pharrell's Success? Backup Singers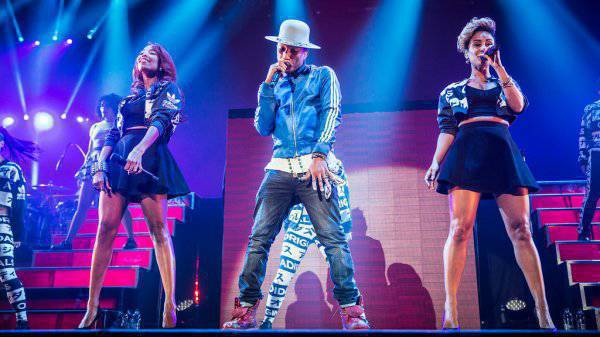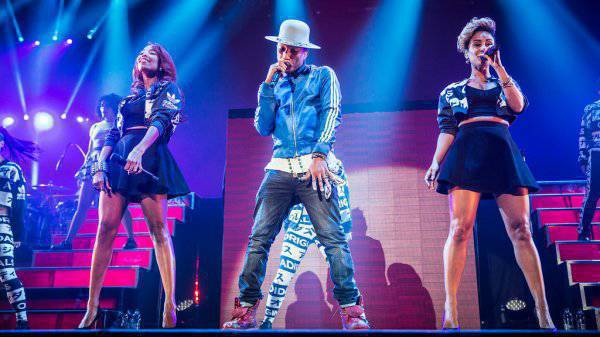 Want your song to top the charts? Just add backup singers. A new study published in Musicae Scientiae, the Journal of the European Society for the Cognitive Sciences of Music, suggests that using backup vocals may give an edge to artists and producers trying to craft the next big hit.
Professors from the University of Southern California's business and music schools – along with a marketing professor at Italy's Bocconi University – analyzed the acoustic components of the most popular songs over the past 55 years, to determine which recipes worked best. They looked both at the 1,029 songs that reached No. 1, plus the songs that made Billboard's Hot 100 chart but never climbed higher than No. 90, and they classified the instrument and vocal combinations audible in each.
The majority of No. 1 songs featured backup vocals, while background singers were absent from the bulk of the songs that got stuck at No. 90 or below. Pharrell's "Happy," for example, which topped the chart for 10 weeks — longer than any other song this year—featured six backup singers cooing under Pharrell's falsetto chorus; Van Morrison's song "Moondance" and Reba McEntire's 2005 song "My Sister" were among the songs lacking backup vocals that never cracked 90th place.
Chart toppers also tended to include both synthesizers and guitar along with the backup vocals. Michael Jackson made good use of this formula, employing it to top charts throughout the 80s and 90s with songs such as "Billie Jean," "Beat It," "Bad," "Black Or White" and "You Are Not Alone." Instrumental combinations common among the bottom-ranking tunes were clean, undistorted guitar plus acoustic piano, or bass guitar plus synthesizers without electric piano.
Of course, there's no hard-and-fast rule – 50 Cent's 2003 hit "In Da Club," for example, still managed to top charts despite sharing the core characteristics most common to the lowest-ranking songs. Joseph Nunes, the marketing professor from USC's Marshall School Of Business, said he thought that backup vocals were key because they gave the illusion of human "interplay" that most listeners enjoy at a basic level.
"A single vocal line can often sound lonely, while in contrast the dynamic interaction between a lead singer and one or more background singers may sound fuller, providing the appearance of the presence of an ensemble," he and his colleagues wrote in the study. "Of course, this reasoning is purely speculative on our part." The researchers also note that they did not control for a key variable that can influence chart position: the amount of money spent on radio promotion for each song.
For their next act, Mr. Nunes' team wants to replicate its findings in a well-controlled lab experiment, adding and removing instruments and vocals from a given song and testing the results of each change on listeners. One company in Thailand is already running such experiments on its commercial music streaming service, monitoring plays and listener feedback on different versions of the same song, the study notes: "This is something we are eager to do."
It's not the first time academics have dissected pop hits in an attempt to discern a recipe for success. A 2011 study by researchers at Bristol University in the U.K. created a "hit potential equation" based on factors such as tempo, harmonic complexity and variations in rhythm for decades' worth of Top 40 songs. A resulting website and app, "ScoreAHit" purports to tell users whether current releases—and even their own songs—are potential chart toppers, or headed for the dustbin.