Bia x Karen Civil Interview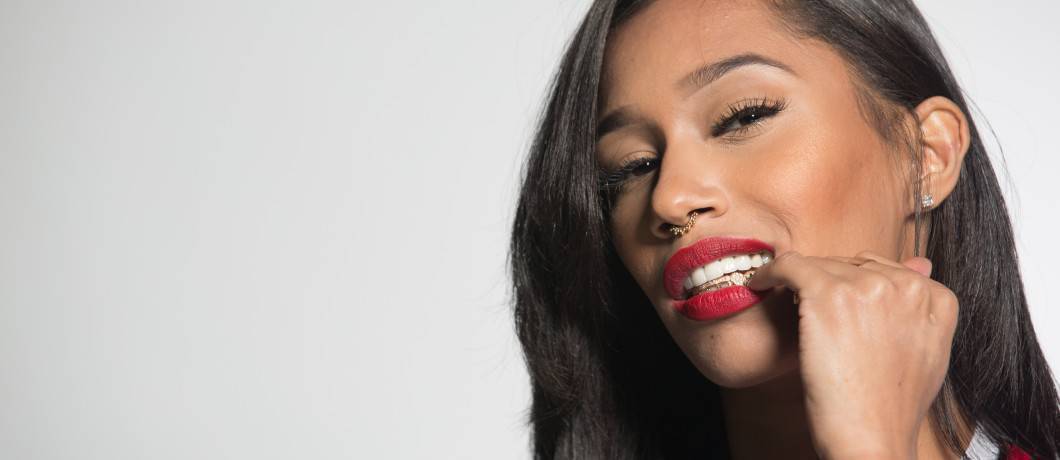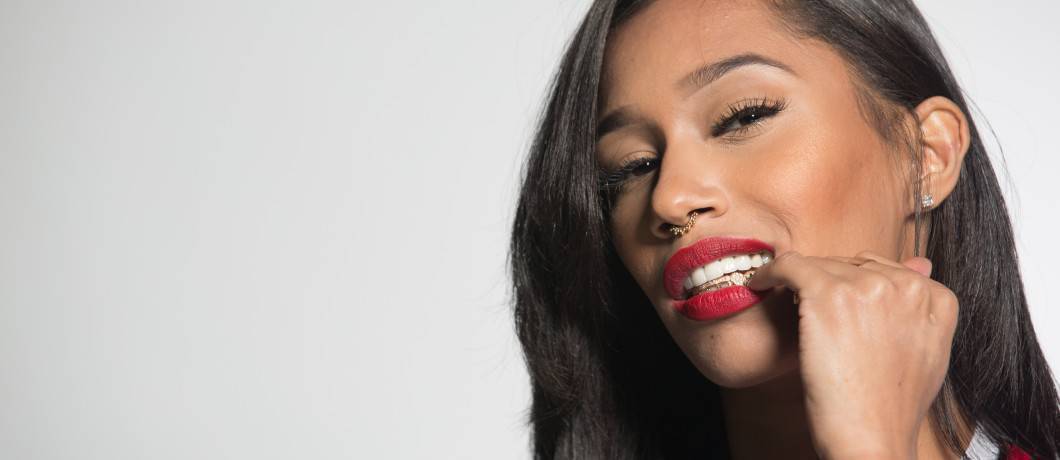 By Alley Olivier. You might recognize the face of Boston's own Bia from Oxygen's Sisterhood Of Hip Hop. The finale of the show did not close the chapter on all the rapstress has to offer. Keeping her style as unique as her debut mixtape, Chola Season, Bia manages to mesh her inner tomboy with high fashion staples.
"It's so hard for me to describe my style," she explains. "I definitely think it's a mixture of very high street fashion with a touch of old school feeling." One of Pharrell's artists from his i am Other imprint, Bia is grateful to have his team backing her. "I definitely don't miss being independent and I'm thankful that I have them everyday." Stock your holiday picks with Bia's newfound obsession in septum rings via her Instagram as well as some new music looming right around the corner. Get familiar with everything Chola Season on the following pages.
How do you describe your closet?
Bia: I'm super big into streetwear especially since I get a lot love from streetwear brands. I just love the girlyness of high fashion. I love thigh-high boots and designer heels so I try to find a way to bridge the gap between both of those things.
What are your style must haves?
Bia: [Pharrell] just sent me these Karl Lagerfield Chanel gloves so that's a must have for me right now. I'll wear absolutely nothing, look homeless and just have those gloves on and feel like my outfit's complete.
Who is your style icon?
Bia: Definitely Aaliyah and Rihanna. If I could just shove both of their styles together in my own it would be exactly what I want.
What is an "everyday Bia" outfit?
Bia: Everyday Bia outfit would definitely be something oversized – I love bombers. I'm always switching up my jackets so I love an oversized jacket with a cute pair of jeans.
What attracted you to wearing septum rings and grillz?
Bia: I love grillz, I have a couple different ones but this one [on my Instagram] I work with a female jeweler named Jazz out of Miami and she is into signature jewelry pieces. We're working on these little Asian-inspired chopsticks that have diamonds in them and you put them in your hair when you have a bun in.
Switching gears, you're signed to Pharrell's I am Other – do you miss being an independent artist?
Bia: Oh girl, I do not miss being independent. There's nothing like having a team that supports you and backs you and understands your greater vision. I will get in a comfort zone and I would like just what I like but when you have a team of different people and different minds it contributes to you artistically.
Let's get into Chola Season – for the folks who have no idea what "chola" means please explain.
Bia: Let me be clear because a "chola" is derived from Mexican descent. I'm not Mexican, I'm actually Puerto Rican. I played off the fact that we're so big into stereotypes that every time you see a girl – they don't even know what my ethnicity is – but the fact that you see a Spanish girl with baby hair down and two braids it's "chola season." It's just bigging up the Hispanic community. It's not that many hard, Spanish rappers out there that are females besides Snow Tha Product so I'm definitely repping for us.
What was that studio session like when Pharrell laid down his verse for "Chain Swang?"
Bia: I had just lost my laptop a few days before. I was just in the zone and freestyled to it. Pharrell walks in with the Baes and just got in the mood and started freestyling to it so I'm like 'oh that's hard go lay that down.' He went in the booth and freestyled that whole verse. Fam was in there and he heard it and I said 'Fam, come on we need you brother' and he did the same thing. That was really just a genuine collaboration.
Biggest lesson you've learned from Pharrell in regards to making music?
Bia: My biggest lesson from Pharrell is don't focus on making a hit. Don't focus on pleasing other people, just own it and do what you feel.
With all the work you've been doing, are you dating anyone?
Bia: I got a really great boyfriend, he helps me a lot. He travels with me. He's actually a videographer/photographer so he has his own business. He shoots a lot of videos for me so you see him around a little bit.
How do you two maintain some sense of balance in your relationship?
Bia: Any positive relationship, you have to have somebody that pushes you. I think we have a great positive influence on each other and we're always pushing each other to do better and go harder.
Now that taping for Sisterhood of Hip Hop has ended, what is the possibility for a season two?
Bia: I've heard talks about a season two so I would say just wait on it but I have no idea what's going on. It would be cool to do a season two, I think all the girls could agree that it would be dope.
Anything we should keep our eye open for?
Bia: If you love Chola Season I have something else coming out real soon. It's called Smoked Out Season – a collaboration between me and a couple other producers one being Lex Luger, High Def Raja who is A$AP Ferg's producer. We have a really dope project in the works and it's coming out like right around the corner soon.