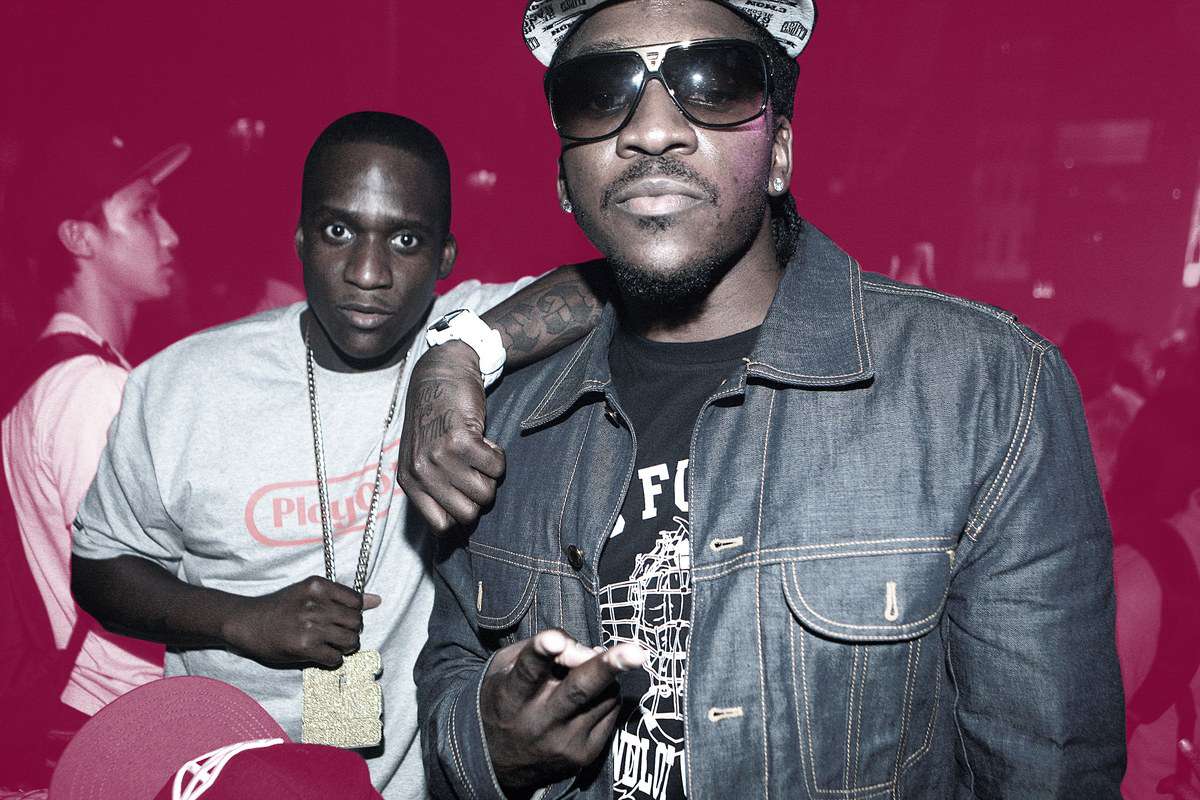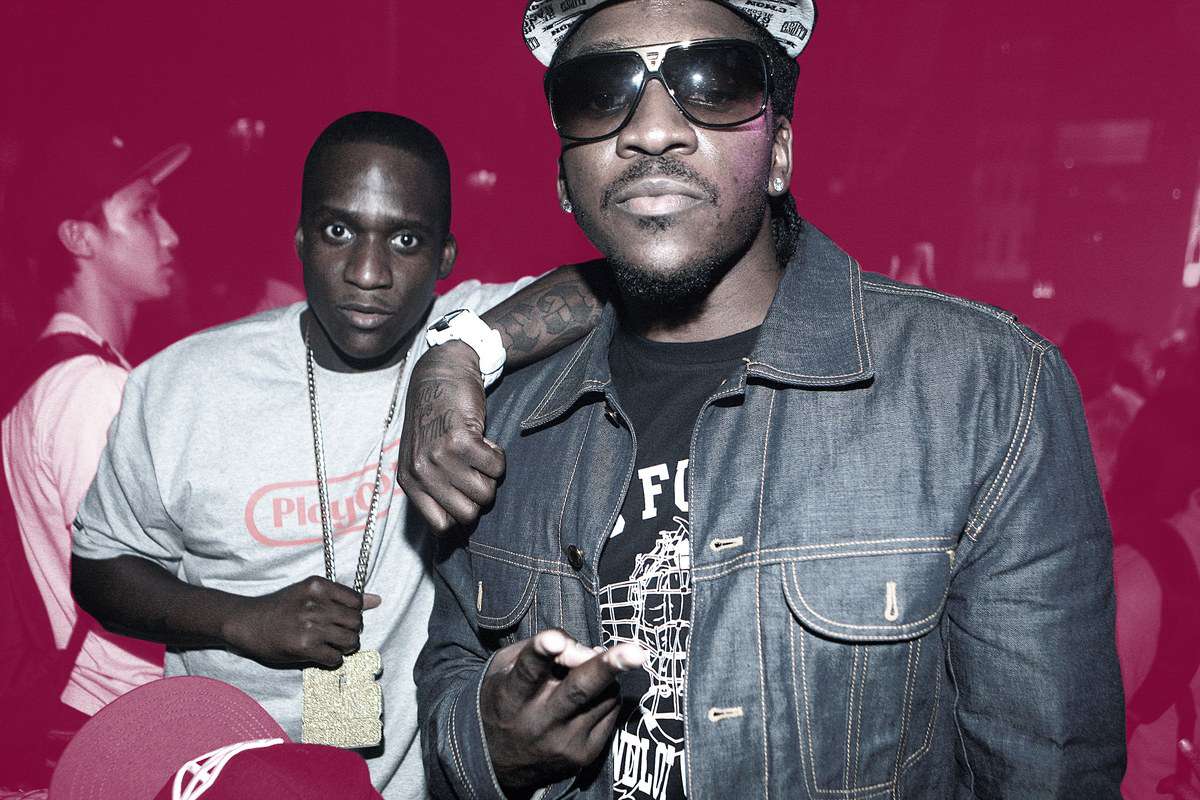 The brothers from Virginia sit down for a chat about the dark period that was their sophomore album. Pusha T, real name Terrence Thornton, knows exactly where Hell Hath No Fury ranks in his mind. "We had the album of the year," Pusha says. "It was a landslide. It was too vivid. The realest hip-hop album ever made." Coming off the success of their debut studio album Lord Willin' in 2002, Pusha and his brother Malice (real name Gene Thornton Jr., who changed his name to No Malice in 2012) got tangled up in the politics of the music industry.
Arista Records, which released their debut album, dissolved into Jive, and the label prioritized other music acts over them, eventually forcing the duo to request a release from their contract. A lawsuit was filed by the brothers that was eventually settled in 2006. In November of that year, after several mixtape projects in between, Hell Hath No Fury was finally released through the group's own label Re-Up Records, along with Jive.
Lord Willin' established a signature sound for the Clipse. As a whole, it was an unapologetic celebration of drugs and their native Virginia, but it was their partnership with The Neptunes (Pharrell Williams and Chad Hugo) that yielded them an all-time hit in "Grindin'," which Pusha affectionately calls a groundbreaking classic lunch-room table track. "We always intended to win by being left of center," Pusha says. "When we played 'Grindin'' for the label heads, they thought we were idiots." At the time, while artists like Nelly and Ludacris dominated the charts with catchy, sing-song-y hooks, Lord Willin' was austere, vivid, gristled.
The album would make it easy for history to shine a positive light on Clipse as one of the best rap duos to ever do it. Four years removed from their debut, Hell Hath No Fury pivoted the duo into a much darker space. With The Neptunes once again executive producing the album, their stripped-down production approach on the 48-minute, 12-track record, set the tone for an angrier but also a more introspective look at reconciling the pros and cons of pushing.
When Pusha raps "no serum can cure, all the pain I've endured, from crack to rap to back to sellin' it pure" on the intro of the album, it sets the tone for an airing of grievances throughout the early tracks. The label situation and hiatus in between albums put the duo in a very different headspace. "Angst, anger and ego fueled that album," Pusha says. "We were egomaniacs. We felt wronged by the music industry." On "Mr. Me Too," the group addresses all the imitators who tried to steal the Clipse's shine during their time away, from rapping to fashion. "Oh man, now y'all are talking about drugs?" Pusha says, laughing.
"Like wait a minute. I remember I was being told man you talk too much dope in your record and now everyone's BAPE from head to toe." Despite all the angst, the album does allow for room to celebrate the fame and fortunes that the success of the music afforded them, highlighted by "Wamp Wamp (What It Do)," ("Mirror mirror, who's the fairest? Tricked a buck fifty on that horse and carriage") "Ride Around Shinin'," ("Welcome to the world of Rollies, VS diamonds and that 50,000 dollar show piece") and "Dirty Money" ("Love you in Escada, Jimmy Choo, Prada, Snow White your life, how's that for starters?).
Tracks like "Hello New World" and "Chinese New Year" represent the quintessential Clipse experience—a banging Neptunes beat, fire verses from Pusha and Malice—but it's the album's closer, "Nightmares," that illuminates the range of emotions that was swallowing them up at the time. The most paranoid track on the album, "Nightmares" deals with themes of fear, guilt, and regret. "They comin' for me, they runnin' up, I'm on the balcony, seeing through the eyes of Tony," Malice rapped. "They say we homies, but I see hatred, do not they know brotherly love is sacred?"
"There were things that touched my soul in such a way, even though I was enjoying the spoils, even though I truly enjoyed the spoils, there were things that didn't sit right with my soul," says No Malice, who published a book titled Wretched, Pitiful, Poor, Blind & Naked in 2011, which detailed his personal journey towards converting to Christianity. (Hence the "No.") When No Malice thinks back to 2006, the emotions he felt in trying to untangle his guilt about the lifestyle he was leading bleeds out. "This isn't on some holy redemption. This is really affecting me personally where no one else would know. Like this doesn't feel right. Something isn't right. I couldn't find fulfillment in the comfort that I wanted.
"I can even say as recent as a month ago, listening to Hell Hath No Fury, there are things that are still being revealed about the mindset and the place I was at the time. I can even see how it has led me to where I am today. I'm speaking for me personally, I didn't set out for it to be regretful, but I was dealing with regrets, I was dealing with remorse. As far as the celebrating, I think we always found something to be thankful for and knew that things could be worse. There was a lot of pain in dealing with that album."
No Malice remembers going to bed most nights and waking up in a sweat; it was a pernicious anxiety, he says, that he still can't explain. "The funny thing about this struggle is that some people have the impression that the lifestyle wasn't all that was cracked up to be," he says. "I tell them, no, it's everything you imagined it to be." But the spoils of being young, rich, and famous could not outweigh the emotional toll that the group was going through. Pusha admits it was a difficult period for his brother and himself while they were recording the album. "It wasn't fun," Pusha says.
If "Nightmares" was a moment of personal realization for Malice, Pusha sees the track as a perfect example of what set the Clipse apart from the competition. Anyone can just go on a record and talk about drugs, Pusha says, but who was really pushing the boundaries and exploring the consequences, the other side of things. "If you mimicked Clipse at a surface level, you would only glorify the street culture because you didn't really live it," Pusha says. He credits Pharrell for always pushing the group to dive deeper with their feelings on records. "There was a conscious element to our music. We always honed in on the artistic level of rap and hip-hop as a whole. It wasn't just, oh we out here selling drugs. That's bland rap."
What the Clipse represented and what made Hell Hath No Fury a modern day classic was its naked honesty. "It was real," No Malice says. "We talked about exactly how we lived. Nothing was fabricated. Of course you can embellish things like 100 foot yachts, but you got a realism that was rare. You can fact check everything, and we come up clean." "I meant every fucking word on that album," Pusha says.
"I really fucking did." Here he launches into one of his verses on Hell Hath No Fury in which he raps "fuck the coppers, the mind of a kilo shopper, seeing my life through the windshields of choppers. I ain't spent one rap dollar in three years, holla." "I probably could have given you an album with straight facts, the shit probably didn't even need to rhyme, and it would have been the most shocking shit you've ever heard," Pusha says. "It still would have been entertaining, but the fact the actual artform was never, ever, ever, lost, the art of the cleverness, the art of the rap, it was not lost for one moment on that album."
Hell Hath No Fury was also the unofficial end of the Clipse partnership. The duo released their final studio album Til The Casket Drops in 2009, but the record was a departure from their previous sound, with additional contributions from The Hitmen and DJ Khalil. After the release, the brothers went off into their own solo ventures. Pusha signed to GOOD Music in 2010, cemented his status in the mainstream with a memorable cameo on Kanye West's "Runaway," and has continued to release solo projects. No Malice published his aforementioned book and released his solo album Hear Ye Him in 2013.
For Pusha, making music without his brother is still a huge adjustment. "This is not where I envisioned myself not where I wanted it to go," Pusha says. "I came into this game with my brother and my best friend and that's it, and now, I'm making music with good friends, but not the people I came in with. I'm not with my brother. Every aspect of what I love about this has been yanked away in some way shape or form…. I don't have the fun of like really making music with like my best friends who live up the street from me."
In particular, Pusha recognizes the chemistry he had on records with his brother. "I could give you all the colors," Pusha says. "People like me because of the double and triple entendres. I articulate differently. And if I stumbled across a bar that made you think deeper, well that was a treat." In turn, his brother would provide the introspection that brought a perfect balance to the group's music. Says No Malice: "I ain't all just pretty and shiny."
The question then, is whether Pusha and No Malice, seven years removed from their last album together, are willing to make another Clipse record today. "Beyond a shadow of a doubt, I know we can do it," No Malice says. When I tell Pusha several weeks later, he agrees, adding it would be up to his brother. "It would be an amazing album," Pusha says. "We could totally conquer the world."