Pharrell Williams x LATimes.com Article (2016)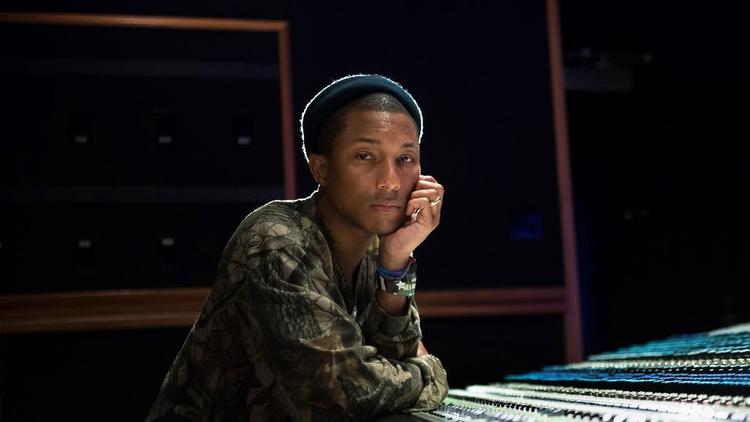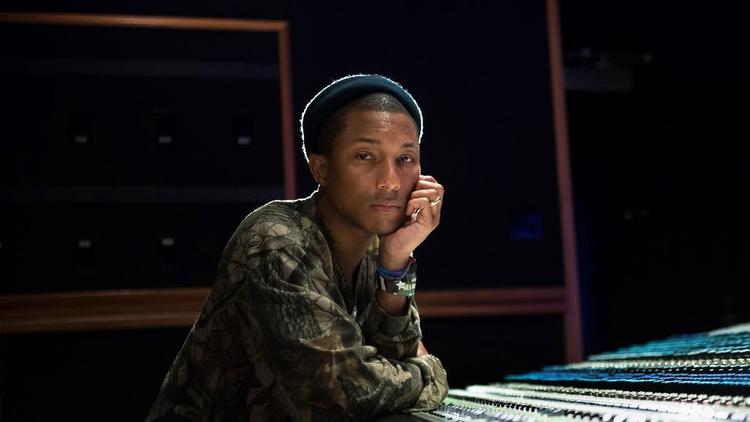 Picture by Christina House. Pharrell Williams owes his career to women. They've validated his unique sound, first cultivated as part of the producing duo The Neptunes and present on Kelis' "Kaleidoscope" album and SWV's "New Beginning." They've purchased his music, songs written and produced for the likes of Jay-Z, Britney Spears and Jennifer Lopez, and for his solo career. They've also held him accountable, lambasting his 2013 hit with Robin Thicke, "Blurred Lines," as "sexist" and "rapey" and assuring him that men too can be feminists. Williams knows this and is living in that truth.
"I just recognize that, musically, women have lifted me and kept me up, for years," he said. "Good songs, bad songs, they've always been there for me. So I've been on this thing where I just want to lift women." It's the reason he titled his 2014 album "G I R L" and dubbed it a "21st century take on feminism." It's why he endorsed Sweden's Feminist Initiative party leader Gudrun Schyman in her 2014 bid for Parliament. It's also why he signed on to produce the film "Hidden Figures," which is currently in limited release but will go wide on Jan. 6. "How could we not be involved?" he asked during an interview at Hollywood's EastWest Studios. "How could we not?"
Granted, the movie met any and every want that the budding producer — after last year's indie darling "Dope" — might have. Adapted from Margot Lee Shetterly's book of the same name, it focuses on women, particularly black women. It also focuses on space and science — the women were the brains behind some of NASA's early successes — two subjects he's loved since his childhood. And it all happened in Hampton Roads, Va., Williams' home and stamping grounds and where part of the movie would be filmed.
At the center of the story are Katherine G. Johnson (played by Taraji P. Henson), Dorothy Vaughan (Octavia Spencer) and Mary Jackson (Janelle Monáe), who, along with other "colored computers," as they were called, overcame 1960s-era sexism and racism to become integral members of the manned space program. It also stars Kevin Costner, Kirsten Dunst and Jim Parsons. After signing on, he told his mother about the gig, happy that he'd not only be doing the soundtrack but also helping bring the untold tale to the big screen.
On the phone, she informed him that six years prior, he had actually met the real Johnson, now 98. (Vaughan died in 2008, Jackson in 2005.) She had been the guest of Leland Melvin, a black astronaut, at an event for Williams' nonprofit, From One Hand to Another. "I met her briefly, but I didn't know that was her story," he said. "That's when I realized [working on this film] was serendipitous." And that he couldn't squander the responsibility. He brought in famed composer Hans Zimmer to score the project; Zimmer in turn tapped Benjamin Wallfisch and Williams as partners.
Their task: not "just another score," but "something that matched, paralleled what [these women] were possibly going through and feeling," Williams said. It was important to center the women, and their blackness. "Most scores, to date, when you listen to them, they have a Euro, Anglo Saxon-esque chord progression," Williams said. "But why don't we do something that may feel more kindred to these women's stories, and that they're African American?" Because so much of the film was focused on ascension, the goal was to mirror that same feeling.
Theodore Melfi, the film's director and cowriter — along with Allison Schroeder ("Mean Girls 2") — said such an approach "very effectively puts you in the female character's mind," asserting that "all the music was written and designed from a female point of view." Though no women were on the credited sound team, now nominated for an original score Golden Globe, Melfi said they brought in as many female, and black, musicians as they could for the in-studio scoring session. "It all leads up to the total feeling of what you hear in the movie," he said.
"[Williams] was able to give lyrics that tell the story, and it's not necessarily [all] positive. [They] give the pain, but with an upbeat melody. You're able to learn from it without being [potentially] turned off by [the emotion]." One of the lead singles, "Runnin'," for example, embodies the experience of mathematical savant Johnson, who had to run across the NASA campus to use the bathroom; the only "colored" restroom was 30 to 45 minutes away, round trip, from the building where she worked, and the knee-length dresses she wore didn't mix well with the campus bikes provided for commutes.
All the while, she was still expected to complete mathematical calculations in a timely manner for astronaut John Glenn's eventual orbit. "How does that mind work? What's going on in that brain?" Williams said of his creative process for the song. "I was trying to figure out what she must have been thinking — she didn't 'want a free ride,' she was just sick and tired of runnin'." A second song, "I See a Victory," is sort of the film's mantra, Melfi said. Played during the credits, it captures what had to be the imagination of the "colored computers'" to withstand the discrimination they faced:
"They'll call it a mystery / but we're gonna call it victory / We'll be writing history / It's gon' be victory." Williams, interested in replicating the "classic Southern soul, zydeco sound," recruited gospel great Kim Burrell "to give us those jazz inflections" she's known for. "When I sing in that register, I sound like Curtis Mayfield, and that's not what I wanted to give off," he said. "The way she harnesses notes is unbelievable. When she does her runs, she pulls from the chords; so many of those colors come together. The novice ear hears it and is blown away."
Her vocals, paired with track assistance by prolific songwriter and producer Kirk Franklin, made "rainbows" when Williams heard the final version. After it was taken to the powers that be, Burrell was brought into the live scoring session — to sing through 14 scenes of the film without music. "It was without sound because I was supplying the sounds," she said. "To be able to apply my energy to history like that is mind-blowing. I feel so blessed." "I See A Victory" and "Runnin'" were written specifically for "Hidden Figures," while most of the other eight tracks were conceived well before the movie was in the works.
In fact, Williams had been working on '60s-style music since the end of 2014. "I didn't know why. It was just what I was hearing around the world and felt needed to be said," he said. His 2015 single "Freedom" was a byproduct of this creative period. "But I didn't know this was coming. When this project popped up, it was like, 'Oh!' " Rather than sing the songs solo, Williams enlisted powerhouse vocalists Mary J. Blige, Alicia Keys, Lalah Hathaway and Monáe. "I wanted to take me off of all the songs," he said, in all seriousness, "but they were like, 'You have to stay on on some of the songs.' "
And though he is "shy about saying what my music is going to do," in terms of how it will affect the audience, Williams hopes that "someone feels lifted, motivated, encouraged" after listening to the soundtrack and watching the movie. It's the same hope he has for future stories — music, film or otherwise — to come from his i am OTHER multimedia creative collective, production company and record label. "We love things that feel different, things that feel vibrant, things that do something to you," he said. "We want people to feel something."