Forum Member Hiser Joins N*E*R*D On Stage!

OG Forum member Gerardo Guerrero also known as Hiser had the opportunity of his life to be on the stage with N*E*R*D last week. N*E*R*D have been performing at the Powerhouse In San Bernardino in California (May 12th) and Gerardo had the best time of his life at the concert that night. In the middle of the set, N*E*R*D performed Spaz and Pharrell started picking up random fans from the crowd to Spaz with them on the stage and Hiser was one of lucky fans who has been brought on the stage!
I caught up with Gerardo to talk about that day and how it all happened. Hiser has also his own clothing brand called DPSP Clothing co and he just released his SEASON 2 collection besides that Gerardo has also his own Podcast called Wrap This Podcast, it's a podcast everything about Hip Hop in Spanish, so please make sure to follow Hiser on those links and check out all his stuff with his story below!
Instagram
https://www.instagram.com/hiser/
DPSP Clothing Brand
https://www.facebook.com/DPSPco/
https://www.instagram.com/dpspco/
https://dpsp.bigcartel.com/
Wrap This Podcast (Hip Hop Talk In Spanish)
https://www.youtube.com/wrapthispodcast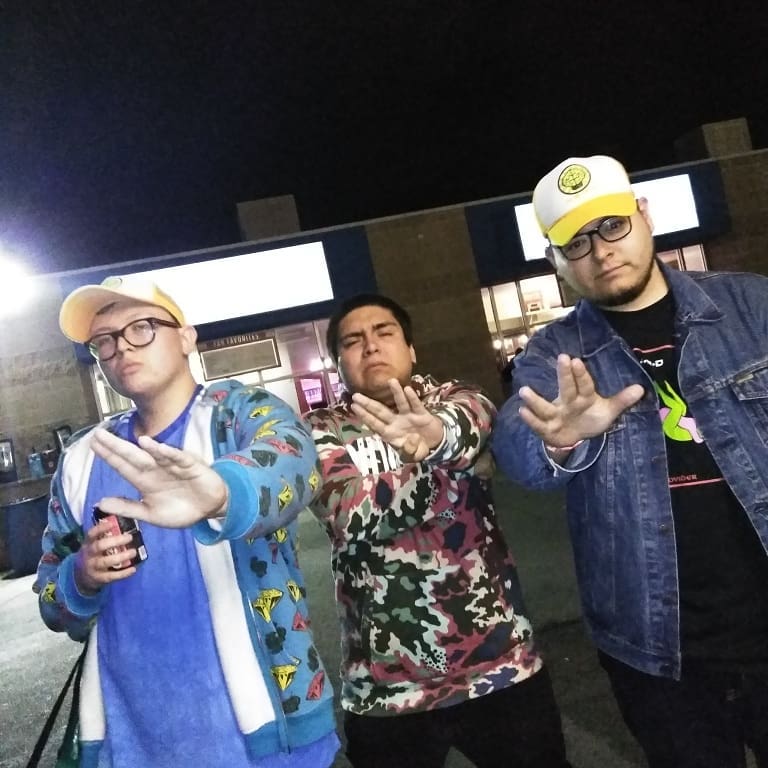 "Saturday May 12. Its 5:50 am and my two alarms started ringing, yes I had to set up two loud and annoying alarms, I couldn't risk myself. Had an hour to get ready because I had to be at the bus station before 7am. The bus trip was about 4 hours, it started at 7:30 am in the south of California in Calexico, a border city with Mexico, and it ended at San Bernandino at noon. I never recalled being in San Bernandino before it seem like a really calm city. I had time to explore around because my room at the hotel was not available until 3 pm, so I walk around downtown found a Starbucks to chill before heading to the hotel.
When I finally got into the room, again it took me like an hour to get ready to head to POWERHOUSE 2018, I was still undecided on which shirt I was going to wear my Fly Or Die Tee or the Provider Tee, I end up wearing the Provider tee. I arrived at the venue (Glen Helen Amphitheatre) around 4:30pm there was not too much at first, walk around to look a concert T-Shirt ,after I found one I went to the area I bought my ticket for, Tinashe was doing her set. The 'festival' had a great line up. I had a chance to see, Lil' Dicky, Asap Ferg, Tech9ine, Snow Tha Product, Lil' Jon (Lil' Jon set was crazy for real, he brought out E-40 and Too Short to perform some classics) Miguel, Ty Dolla $ign, Yo Gotti, Logic, Jadem Smith and more.
But the main act for me, the only reason I was there was to see N*E*R*D. It was after the DJ Carnage set, I find myself a nice place close to the front to see the show, a couple was fighting next to me, I was like please God make it stop I wanna enjoy the show. It was a little after 8:30 pm when Pharrell, Shae and Chad and the band came out. I was speechless. The first song was Anti-Matter, the couple next to me was still arguing but when they saw me I was all into the songs they decide to stop and let me enjoy the show. Later they did Kill Joy and Brain, yoooo Brain was epic, then he was picking people from the audience to get in the stage with them.
They started playing Spaz, In my mind I was like please pick me and Pharrell was like in search of someone else to get in to the stage then he saw me, I guess it was my t-shirt that made him look at me and ask me up. I started pushing people aside and made myself to the front I told the security that Pharrell ask me to go up and he didn't believe at first then Pharrell came and started pointing at me like 'Get him up here' and out of nowhere a 7 feet tall security guard picks me up like nothing and I am a pretty big guy so I was 'Is this a dream' then I was up there.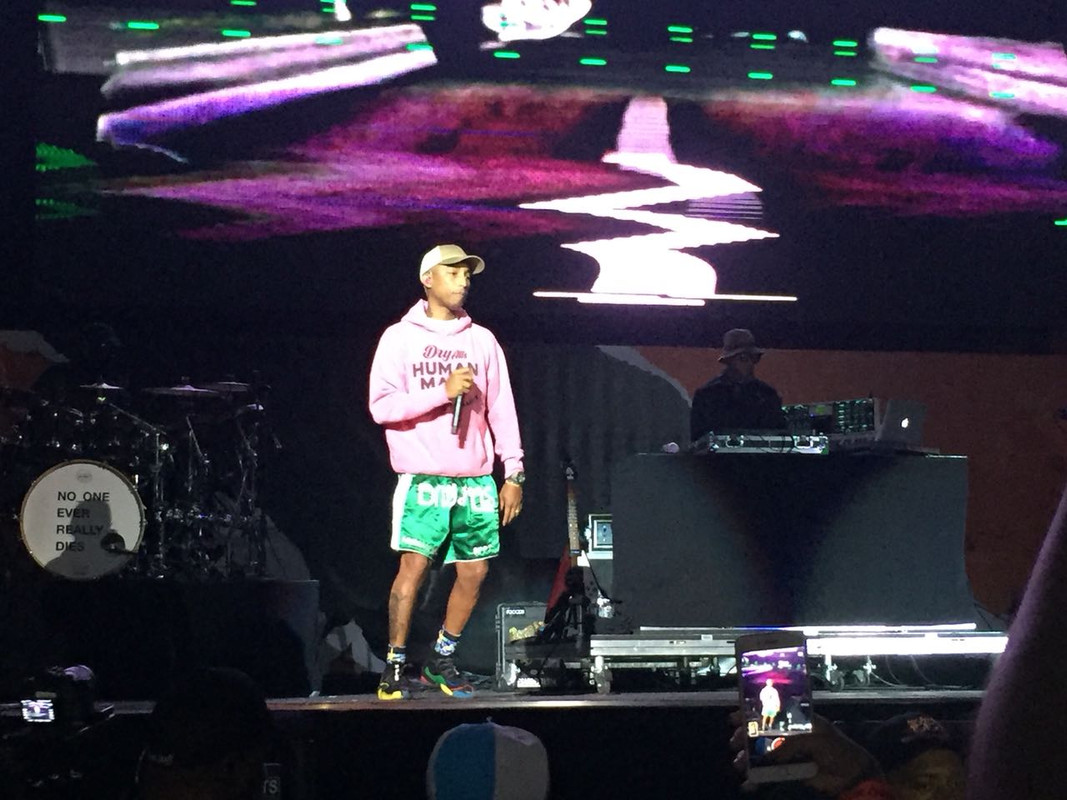 I made it. I was with my hero, my idol, and as soon I had him in front of me I bow down then he bow down to me. We sang, we dance, same with Shae, we dance, he even kicked me on my leg cause the energy of the song and the moves. You seen the video for Spaz, that energy the video gives you x1000. It was crazy, 15000 people in front of me. I still can't believe this happened. Well after the song ended they asked us to move aside the stage, then they sent me back to the crowd. All people were asking me how was it, if I was okay,if I needed anything, and I just wanted to go back to the place I was before to enjoy the show.
They did Voila, they played Everyone Nose and added P's verse from the remix that was very dope, Rockstar and they finished with Lemon and they even had one of the other guys that was up there with me back on the stage so that can Mette dance for him, that was crazy too. And later I noticed Jaden Smith was the stage the whole time just vibing. The best show of my life. After they peform Logic was next I just saw him do one song and head myself out even tho Nipsey Hussle was next. Heading out I stumbled on to the other two guys that were on stage with me, they were in shock one guy couldn't stop crying and chilling with them for a while other N*E*R*D fans came by even this girl that had a 'In Search Of..' tattoo and we figure out most of the crowd wasn't showing much love and we couldn't figure out why. Around 10 pm I left Powerhouse 2018 being the happiest I had ever been."