Pharrell Williams To Open Restaurant & Lounge On November 1st
Dave Grutman, Pharrell Williams & Jean Imbert


On a trip to New York a few years ago, French celebrity chef Jean Imbert set up a makeshift kitchen inside a quiet city apartment, where he cooked a private meal for longtime friends: rapper Pharrell Williams and JR, the semi-anonymous Parisian artist whose identity is unconfirmed. Imbert, the season three winner of Europe's Top Chef, knows his way around celebrity diners. As the owner of L'Acajou, located just a mile and a half from the Eiffel Tower, Imbert has served some of the biggest names in entertainment, from Jennifer Lawrence to Beyoncé.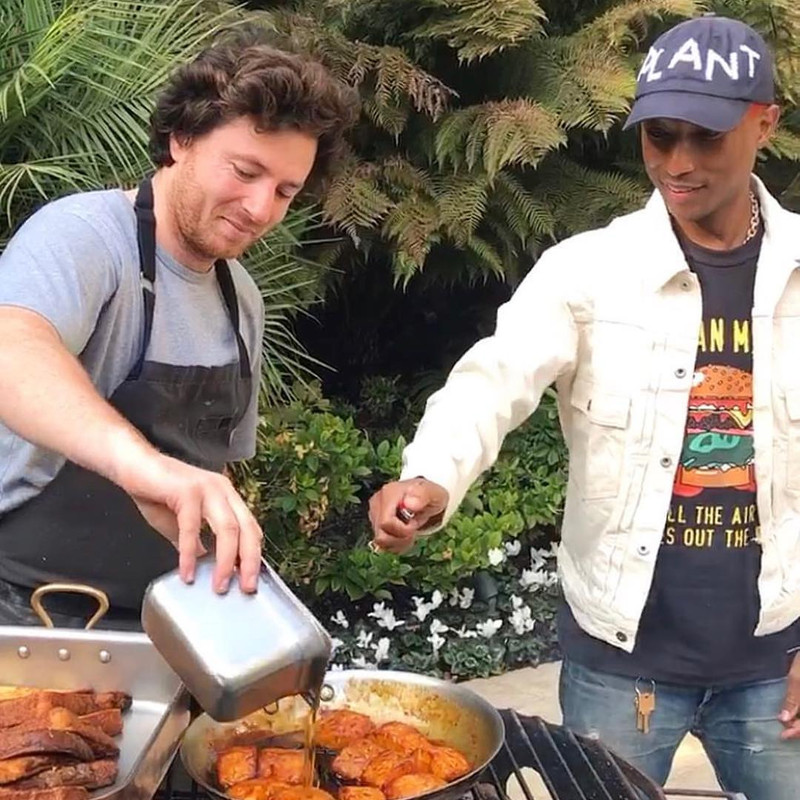 But unlike the others, Williams and Imbert struck up a friendship, drinking wine, making pizza, and hanging out in Paris and Los Angeles. Now, they're about to go into business together. In a few weeks, the "Happy" singer will open his first restaurant with Imbert as executive chef. Through a partnership with South Florida hospitality entrepreneur David Grutman, who owns South Beach nightclubs LIV and Story, Swan and Bar Bevy are expected to debut November 1 in the Miami Design District.

The restaurant and lounge will span two floors, featuring French-American cuisine from Imbert, a few DJ booths, two cocktail bars, and private hangout areas. "Swan is a curated experience from my partners and I," Williams said. "Taste begets taste, and there should be environments to foster conversations over meals and drinks. The proof is in the details." Inside the 13,500-square-foot, two-part space, everything down to Bar Bevy's Moroccan-style zebra stripe accessories has been handpicked by either Williams or Grutman, who, in addition to his nightclubs, operates three other successful Miami restaurants: Komodo, Planta, and OTL.
"Pharrell and I have been friends for years," Grutman says. "He's not someone who just knows music. He understands how food and entertainment come together. Plus, he's got this fashion and music vibe going on. I'm deeply involved in hospitality and a lot of my places are entertainment-focused. Together, we're sort of like a powerhouse." Open for lunch and dinner, Swan channels an Art Deco feel with a light and bright space blanketed in shell pink and jade green. Designed by San Francisco-based Ken Fulk, the dining room's centerpiece is a horseshoe-shaped bar covered in scalloped tile. Tucked upstairs at Bar Bevy, which is only open in the evenings for drinks and small bites, the atmosphere is darker and a bit more mysterious.
"When you walk into Swan, it's a place you'll want to spend hours," Grutman says. "We also have this really beautiful garden going on outside designed by Raymond Jungles. Bar Bevy is the place you'll go before or after dinner for drinks. Or maybe you'll stay there all night." Anyone who's been to a Grutman-owned restaurant knows they'll likely have a run-in with a celebrity, be it the Kardashians, DJ Khaled, or Bella Hadid. But unlike his other establishments, Swan and Bar Bevy will mark Grutman's first restaurant opening with a star from the get-go.
"It's funny because I always say my restaurants are places where people will see a star, but also be treated like a star," Grutman says. "A lot of people come for the scene and leave surprised that the food is actually great. So that's basically what we're going for here." Though Swan and Bar Bevy have been in the works for more than a year, it was Williams' suggestion of Imbert as executive chef that helped bring the concept together. "I remember when Pharrell first told me about Jean," Grutman says. "He told me to go to Paris and try his food. So that's exactly what I did, and I was absolutely blown away."
At Swan, Imbert will showcase his interpretation of New American fare with hints of French and Latin influences. A peek into his menu reveals something called the "Corn, Corn, Corn," a bowl of creamy polenta with popcorn bites and warm brown butter, and the "Tomato Water," a light soup flavored with ricotta and cucumber. Larger plates include a Dover sole dressed in brown butter, lemon, and capers, a generous cut of roasted chicken spiced with vadouvan and buckwheat, and a sweet and sour pork chop topped with ripe peaches and spring onion.
"We're trying to go simple," Grutman says. "We don't want to overdo it with a million sauces. You'll notice a little French influence, but it's not going to be traditional. And you definitely won't see the same old tuna tataki that's basically on every menu right now." As for cocktails, which will be available at Swan's dining room bar as well as upstairs at Bar Bevy, look out for the vodka-based Dew of the Sea with cucumber, rosemary honey sea water, and lime, as well as the tequila cocktail Purity, made with grapefruit and thyme shrub, yellow chartreuse, and lemon.
"Pharrell has spent a lot of time sculpting Bar Bevy," Grutman says. "It's going to be really high-end with all of these insane cocktails and a menu of elevated snacks. You know, more than just your average bar food." When Swan and Bar Bevy open, Grutman and Williams will incorporate nightly programming with DJs and other musicians. Grutman also warns this is just the beginning for him and Williams, though he won't say exactly what's next. "We want both places to evolve," Grutman says. "You'll be having much than just lunch or dinner here. That's for sure. As for Pharrell and me, we're actually working on many hospitality concepts together within the next few years. Our worlds crossover so much, so it just makes sense."