The Neptunes Recap Of 2022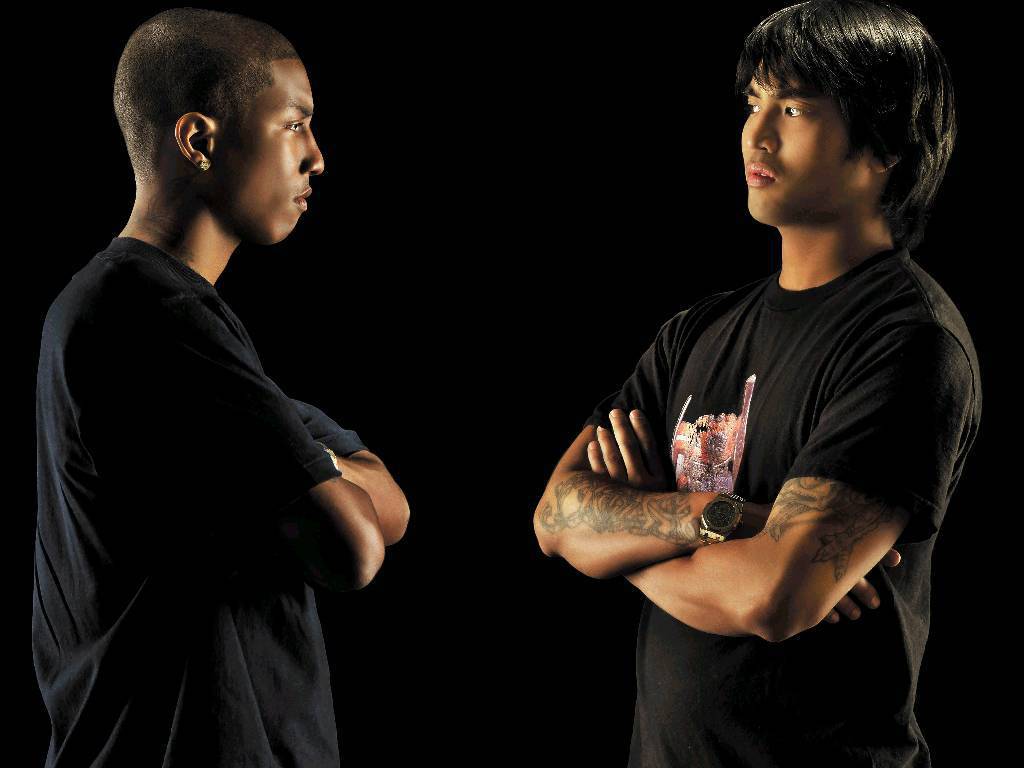 The Neptunes had a highly productive year with the release (and leak) of more than 100 tracks, making it one of their best years in the new decade. Pusha T's 'It's Almost Dry' album, which features Seven Neptunes tracks, including 'Let The Smokers Shine The Coupes', was a notable highlight. The 'I KNOW NIGO' project, which has Six Tracks produced by Pharrell, includes the Clipse's return on the Neptunes-produced 'Punch Bowl'. In addition, there were many other great tracks from artists such as Kendrick Lamar, M.I.A., Jack Harlow, Latto, and Omar Apollo, as well as several singles produced by Pharrell, such as 'Cash In, Cash Out' and 'Down In Atlanta'.
It is also worth mentioning the leaks from last year, such as A$AP Ferg's 'Fergegatron' project and Cardan's 22-year-old track 'Get You (Ooh Aah)', which had been mentioned in various discographies over the years. Moreover, the Tammy Lucas demos from 1997 that were intended to be on her debut album were finally heard. See the complete list below and let me know which track was your favorite from 2022.
The Neptunes Tracks from 2022
A$AP Ferg
Fergegatron (2018)
Daze

(Produced by Pharrell Williams)

Demise

(Produced by Pharrell Williams)

Green Juice feat. Pharrell (Alternate)

(Produced by The Neptunes)

Jesus feat. Pharrell

(Produced by Pharrell Williams)

Mayweather feat. A$AP Rocky

(Produced by Pharrell Williams)

Medicine

(Produced by Pharrell Williams)

Paper Plates feat. Pharrell (Alternate)

(Produced by Pharrell Williams)

Raid

(Produced by Pharrell Williams)

Sasquatch

(Produced by Pharrell Williams)

Whippin' Up A Watch feat. Pharrell & Quavo

(Produced by Pharrell Williams)
Studio Session (2018)
Demise feat. J. Cole (Alternate)
Easy Life
Gas
Mat
Raid feat. Megan Thee Stallion (Alternate)


(All tracks produced by Pharrell Williams)
Green Juice (Promo) (2021)
Green Juice feat. Pharrell


(Produced by The Neptunes)
A$AP Rocky
Live (2022)
Piper


(Produced by Pharrell Williams)
Anitta
Expressing Myself (Promo) (2018)
Expressing Myself


(Produced by Pharrell Williams)
Ariana Grande
Studio Session (2016)
Starshot
Starshot (Alternative)
The Light Is Coming feat. Skepta (Alternate 2)


(All tracks produced by Pharrell Williams)
Brent Faiyaz
Wasteland (2022)
Wasting Time feat. Drake


(Produced by The Neptunes)
Calvin Harris
Funk Wav Bounces Vol. 2 (2022)
Stay With Me feat. Pharrell, Justin Timberlake & Halsey
Stay With Me Part 2 feat. Pharrell, Justin Timberlake & Halsey


(Produced by Calvin Harris, Adele Phillips, Mark Goodchild, Emma Marks and Brandon Buttner)
Camila Cabello
Havana (Promo) (2017)
Havana feat. Starrah (Alternate)


(Produced by Pharrell Williams and Frank Dukes)
Cardan
Get You (Ooh Aah) (Promo) (2001)
Get You (Ooh Aah)


(Produced by The Neptunes)
Chad Hugo
Meet Me On Cloud 9 (Promo) (2022)
Meet Me On Cloud 9


(Produced by Chad Hugo, arranged and edited by DJ Freakiii and Andrew)
Charlie Wilson
Let's Talk About It (Promo) (1997)
Let's Talk About It feat. Magnum, The Verb Lord (aka Pharrell) & Tammy Lucas


(Produced by The Neptunes)
Clipse
I Know NIGO! (2022)
Punch Bowl


(Produced by The Neptunes)
Cordae
Studio Session (2022)
Poppy Seeds


(Produced by The Neptunes)
Doechii
Studio Session (2022)
Get Raw


(Produced by The Neptunes)
Doja Cat
Studio Session (2019)
Woman feat. Pharrell


(Produced by Pharrell Williams)
Dua Lipa
Studio Session (2019)
Tijuana


(Produced by The Neptunes)
Ed Sheeran
Studio Session (2022)
In Your Eyes feat. Pharrell


(Produced by Pharrell Williams)
Eyedress
In The Dog House (2022)
Dream Dealer


(Produced by Chad Hugo and Eyedress)
Hudson Mohawke
Redeem (Promo) (2022)
Redeem


(Produced by Chad Hugo and Hudson Mohawke)
Jack Harlow
Come Home The Kids Miss You (2022)
Movie Star feat. Pharrell


(Produced by Pharrell Williams, Jack Harlow, Angel López and Rogét Chahayed)
Janet Jackson
Ruff (Promo) (1997)
Ruff feat. Pharrell


(Produced by The Neptunes)
JJ Doom
Guvnor (Promo) (2022)
Guvnor (Chad Hugo Remix)


(Produced by Chad Hugo)
Joe Stonestreet
Say Your Goodbyes (Promo) (1997)
Say Your Goodbyes


(Produced by The Neptunes)
Slipped Away (Promo) (1997)
Slipped Away


(Produced by The Neptunes)
Kanye West
Skeletons (Promo) (2018)
Skeletons feat. Pharrell, Travis Scott & The Weeknd
Skeletons feat. Pharrell, Travis Scott & The Weeknd (Alternate)


(Produced by Kevin Parker and Tame Impala)
Keith Ape
Ape Into Space (2022)
Mull


(Produced by Chad Hugo)
Kendrick Lamar
Mr. Morale & The Big Steppers (2022)
Mr. Morale feat. Tanna Leone


(Produced by Pharrell Williams)
Pure (Promo) (2019)
Pure

(Produced by Pharrell Williams)

Pure (Alternate)

(Produced by Pharrell Williams, arranged and edited by DJ Freakiii)
Studio Session (2019)
Hooligan


(Produced by Pharrell Williams)
Kid Cudi
I Know NIGO! (2022)
Want It Bad


(Produced by Pharrell Williams)
Want It Bad (Promo) (2022)
Want It Bad (Kenzo Version)


(Produced by Pharrell Williams)
Latrelle
Dirty Girl, Wrong Girl, Bad Girl (2002)
I Need U feat. Pharrell


(Produced by The Neptunes)
I Need U (Promo) (1998)
I Need U feat. Pharrell (Alternate)


(Produced by The Neptunes)
Latto
777 (2022)
Real One


(Produced by Pharrell Williams)
Coffins (Promo) (2021)
Coffins


(Produced by Pharrell Williams)
Don't Miss Out (Promo) (2021)
Don't Miss Out


(Produced by Pharrell Williams)
Lost One (Promo) (2021)
Lost One (aka Real One)


(Produced by Pharrell Williams)
Not Right (Promo) (2021)
Not Right


(Produced by Pharrell Williams)
U Do It (Promo) (2021)
U Do It


(Produced by Pharrell Williams)
M.I.A.
MATA (2022)
Time Traveller


(Produced by Pharrell Williams and Bobby Raps)
Madonna
Hard Candy (Studio Session) (2007)
Spanish Lesson feat. Pharrell (Alternate)


(Produced by The Neptunes)
Marley Bleu
Studio Session (2022)
Good Morning
In The Air
Is That OK
Love
Up In The Air


(All tracks produced by Pharrell Williams)
Murda Beatz
No Más (Promo) (2022)
No Más feat. Quavo, J. Balvin & Anitta


(Produced by Pharrell Williams and Murda Beatz)
N¤E¤R¤D
One Of You (Promo) (2019)
One Of You feat. André 3000 & Kendrick Lamar


(Produced by The Neptunes)
Omar Apollo
Ivory (2022)
Tamagotchi


(Produced by The Neptunes)
Pharrell & A$AP Ferg
I Know NIGO! (2022)
Paper Plates


(Produced by Pharrell Williams)
Pharrell & Gunna
I Know NIGO! (2022)
Functional Addict


(Produced by Pharrell Williams)
Pharrell Williams
Cash In Cash Out (Promo) (2022)
Cash In Cash Out feat. 21 Savage & Tyler, The Creator


(Produced by Pharrell Williams)
Down In Atlanta (Promo) (2022)
Down In Atlanta feat. Travis Scott


(Produced by Pharrell Williams)
Studio Session (2022)
Bitcoin


(Produced by Pharrell Williams)
Heartbeat (Promo) (2007)
Heartbeat feat. Nicole Scherzinger


(Produced by The Neptunes)
Incredible (Promo) (2007)
Incredible feat. Shae Haley


(Produced by The Neptunes)
Ring My Bell (Promo) (2007)
Ring My Bell


(Produced by The Neptunes)
Studio Session (2007)
I've Heard You're Having A Baby (Snippet)


(Produced by The Neptunes)
Pusha T
It's Almost Dry (2022)
Brambleton feat. Pharrell

(Produced by The Neptunes)

Call My Bluff

(Produced by The Neptunes)

Let The Smokers Shine The Coupes

(Produced by The Neptunes)

Neck & Wrist feat. Pharrell & Jay-Z

(Produced by The Neptunes)

Open Air

(Produced by The Neptunes)

Rock N Roll feat. Kid Cudi & Kanye West

(Produced by The Neptunes and Kanye West)

Scrape It Off feat. Don Toliver & Lil' Uzi Vert

(Produced by The Neptunes)
Sociopath (Promo) (2018)
Sociopath


(Produced by Pharrell Williams, Noah Goldstein and Kanye West)
Rosalía
Motomami (2022)
Hentai

(Produced by Pharrell Williams, Rosalia, Sir Dylan, Michael Uzowuru and Noah Goldstein)

La Combi Versace feat. Tokischa

(Produced by Pharrell Williams, Rosalia, Teo Halm, Tainy, Sky Rompiendo, El Guincho, Noah Goldstein and Michael Uzowuru)

Motomami

(Produced by Pharrell Williams, Rosalía and Michael Uzowuru)
SoFaygo
Took Off (Promo) (2022)
Took Off feat. Gunna & DJ Khaled


(Produced by Pharrell Williams)
Tammy Lucas
I Can't Explain (Promo) (1997)
I Can't Explain feat. N¤E¤R¤D


(Produced by The Neptunes)
Back Together (Promo) (1997)
Back Together (Interlude)


(Produced by The Neptunes)
Reach Me (Promo) (1997)
Reach Me feat. Magnum, The Verb Lord (aka Pharrell) & Joe


(Produced by The Neptunes)
Use Your Heart (Promo) (1993)
Use Your Heart


(Produced by The Neptunes)
Teriyaki Boyz
I Know NIGO! (2022)
Morë Tonight


(Produced by The Neptunes)
The Skins
Rude Girl (Promo) (2014)
Rude Girl


(Produced by Chad Hugo, Michael Einziger and The Skins)
Tobe Nwigwe
moMINTs (2022)
Lord Forgive Me feat. Pharrell, EARTHGANG, & Fat Nwigwe


(Produced by Pharrell Williams)
Tyler, The Creator
I Know NIGO! (2022)
Come On, Let's Go


(Produced by Pharrell Williams and Tyler, The Creator)
Studio Session (2021)
Ride Around


(Produced by The Neptunes)
Victoria Monet
Studio Session (2020)
A Lot (Snippet)


(Produced by Pharrell Williams)