Slim Thug's MTV Article (1st Sept)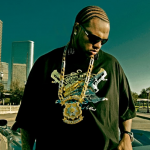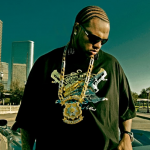 This week, Slim releases the sequel to last year's Boss Hogg Outlawz's Serve & Collect via Koch Records. Slim is now fully independent. "I was never signed directly to [Pharrell's] Star Trak," he said. "[There was an understanding] that if he did this many beats for me, he would put his imprint on [my album]. It was never nothing between me and Pharrell. We did good work together. I appreciate everything he did for me. It ain't no beef with Jimmy Iovine or Geffen. I love them for everything they did for me. I just like to move independent. I got off the label, and now we're moving with Koch." Slim says he just couldn't "click" with the major and is back to moving units almost the same way he did when he first started. But thank goodness he doesn't have to distribute his own records hand to hand.
"Being with Koch is [like] a smaller major," he explained. "They got a helluva radio group over there. They do a wonderful job and give people major-label looks as far as the radio." Back by Blockular Demand: Serve & Collect II features Thugga and his Outlawz Young Black, Chris Ward, J-Dawg and his captain, Killa Kyleon. "It's the whole Boss Hogg Outlaw gang," Slim said. "It's really like a sampler of all the talent on my label. We did it last year with Serve & Collect. We got a lot of love from that. We got Ray J on there and Lil' Keke on there. Not too many guest appearances. The next Slim Thug solo is definitely coming out, if not this year, early next year. It's called Boss Of All Bosses. The title ain't change. As far as the Boss Of All Bosses, I done work with so many different artists and producers.
I don't know who or what songs I'm gonna put on there. And I'm still working. I got over 150 songs. I'm gonna keep working, and whenever it drops, then we'll know." "When we get together, nobody sounds alike," Thugga said. "Everybody got their own style, man. This whole record, man, is strictly for the streets. From the beginning to the end. I love all the music, not just because it's my music and my people on there rapping on there with me. I love that kind of music. It's not really for the radio or BET or MTV. It's for what we do. For the streets." "On the cool, though, we work so much, I don't remember the whole CD," Dawg added. "We been finished with that." "Keep It Playa." "[It's] the new single we got with Ray J," Slim said. "We did a record for the playas, and when we played if for Koch, they went crazy for it."
*mtv.com