N¤E¤R¤D's "Sooner Or Later" MTV Article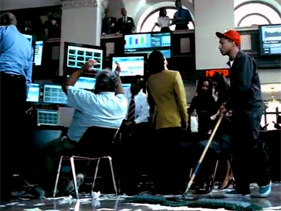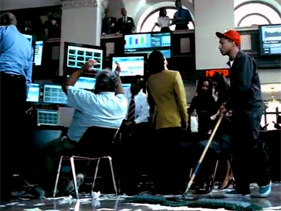 Tough times call for tough measures, according to N¤E¤R¤D. Pharrell Williams and company recently premiered their next video, the somber "Sooner Or Later," from 2008's Seeing Sounds, and the trio said the daily headlines inspired visuals for the track. "We were talking about how the stock market crashed and how the world economy is so terrible, so the [directors] came up with this concept right around this same time," Williams explained of the clip. "Next thing you know, we're here [on set]." The Malloys are the directors behind N¤E¤R¤D's "Sooner Or Later" clip. The brothers, Emmett and Brendan, have helmed videos for the White Stripes ("Icky Thump") and the Black Eyed Peas ("Don't Phunk With My Heart").
For "Sooner Or Later," the pair put a broom in the hands of Pharrell; the image is decidedly working-class and quite a departure for the flashy Billionaire Boys Club enthusiast. Meanwhile, bandmates Chad Hugo and Shay Haley got placed on mopping and janitorial duties, respectively. "Sooner Or Later, it all comes crashing down," Williams sings on the song's chorus. "Crashing down, when everyone's around/ I bet you would've paid up or you'll cash down." "Rob & Big" star Rob Dyrdek makes a cameo in the clip. Williams produced the official anthem of Dyrdek's skating crew, "Hoppin' Over Fences." The MTV star is optimistic the video will help ease the concerns of fans that are being hit hard by the slumping economy. "Hopefully, we're letting everybody know it'll be OK," Dyrdek said.
Sooner Or Later – Behind The Scenes