Robin Thicke ~ Azcentral.com Interview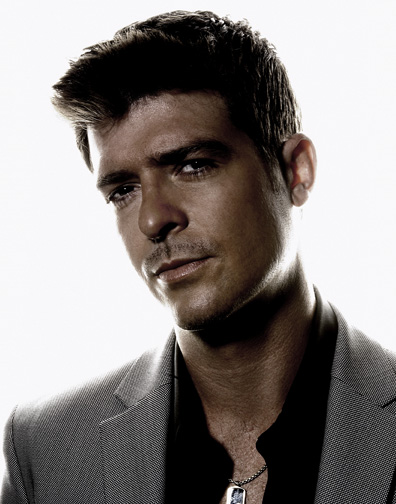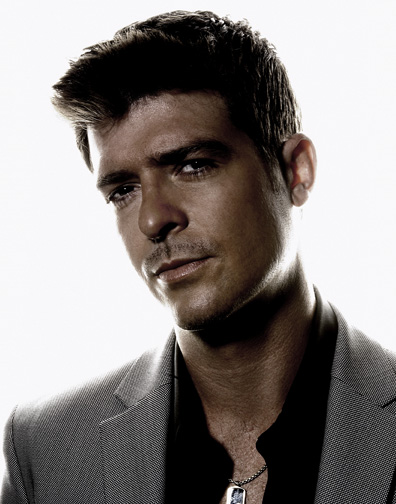 First thing that comes to mind when you think about Robin Thicke: How did the offspring of singer and actress Gloria Loring and "Growing Pains" dad Alan Thicke wind up with so much soul? There's no easy answer, but the 32-year-old singer-songwriter has become a consistent presence at R&B radio, as well as an in-demand music producer. The "Magic" singer called to chat up his co-headlining tour with Jennifer Hudson, which plays the Dodge Theatre on Tuesday.
Question: Do you like working behind the scenes with other artists?
Answer: I really don't like making music for other people. I'm an artist first. You make your own music and you don't have to compromise. Anytime you work with other people, you have to make sure it's right for them. I'll only do it when I'm inspired: Lil Wayne, Jennifer Hudson, Mary J. Blige, Usher – they inspire me easily.
Q: Your last album came out six months ago, and you're already nearing completion of your next disc. That seems quick.
A: It's all a question of the exhibition. I look at my albums like exhibitions of paintings. When the songs are completed, then it's time for the exhibition. And each exhibition is different. The next album won't have anything to do with the last album. They don't have to be connected in nature. They're about what I'm saying and how I'm feeling at the time.

Q: When you create like that, do you go back in time when you perform them live?
A: Whatever the song, you've got your own daily problems. You just had a conversation with somebody who is sick. You're worried about your new single. You've just talked to your mother. All these things affect how you feel about the songs at the time. If my lady wasn't with me for a week and I'm on the road, I could get a little choked up on "Lost Without U." They have a brand-new relevance each time.
Q: Musically, what did you get from your mom and dad?
A: My mom would play soul singers around the house, people like Luther Vandross and Whitney Houston. My mom liked sangers! (laughing) My dad liked the Boss, small-town working-man music. And then I was listening to Jodeci and Mary J. Blige, the hip-hop soul movement. So I got just enough of the rock and roll from my dad, and I got the real singers from my mom.
Q: Having famous parents: A help or a hindrance?
A: As far as influence, you can see what's possible. You see them and think that maybe you can do it. But then there's a big monkey on your back. It's the Eli Manning thing. Your parents have succeeded at such great lengths, it's hard to do it as good as they did.
Q: Plus, is there a competitive thing?
A: Yeah, I think so. Like, doing the same as your parents wouldn't be enough. That's a natural complex, that you'd have to outdo Daddy.
Q: Your mom is really a good singer. But having the "Growing Pains" dad as your dad?
A: It makes me even cooler, like how did this guy do all that coming from that hunky-dory household? (laughing) But you'd be very surprised. At a party, whether it's Jay-Z or Puff Daddy, my dad is not looked at as uncool. Cool people think he's cool.
Q: Almost every interview with you mentions that you're White. Does that bother you?
A: I hope people think it's unusual. I hope they think there is something special about me. I know what you mean: Are people being small-minded and stereotypical? But in this new Obama era, we're starting to erase those lines a little bit. I hope people can see that, I guess, White guys can sing soulfully.
Q: Do you see a time coming when the race thing is not an issue?
A: I don't know if that's possible when 90 percent of your fan base is African-American and you're a White singer. Except for maybe Teena Marie, that doesn't happen. I see it as a huge compliment. When you make music, you want it to be colorless and boundary-less. I just have to sing what I'm going to sing, and I hope people connect with it.
Q: Coming from a wealthy show business background, can you be as hungry for success as some people?
A: (laughing) Hunger has never been a problem for me. I have endless ambition, sometimes to the detriment of my soul.