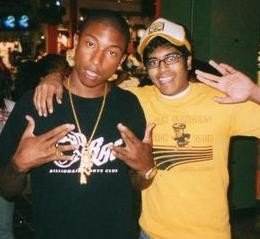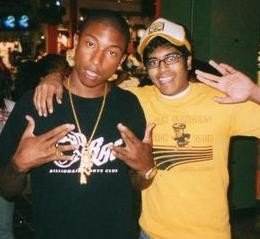 Pramel had the pleasure of meeting Pharrell in Dallas, TX. Back in 2003. Pramel asked us if we could post his meeting with Pharrell on the site and we sure would like to share this with yall. Here is what he has send us.
"Hey Man, I Wanted to say I love the site and all the updates you put.  I had the pleasure of meeting Pharrell when he wasn't as big of an icon to the public.  That is one of the best memories I have, as I got to have a conversation with the then army short wearing Pharrell at a mall in Dallas, TX.  At that time clones was just about to drop, and he had Fam-Lay rollin around with him. So I go "Pharrell, I thought you were going to be at Irving Mall, I have been circling at that mall for about an hour looking for you, and then I heard you were here so I left that mall"
Pharrell: "Ah, for real man were their a bunch of girls looking for me"
Me: "haha, no man, just some fans"
At that time, P was just looking for some fake gold chains.  I don't really know why – but probably just to mess around with.  Love the site man, so wanted to drop a line.  I attached a picture of me and P.
Pramel Shah