Robin Thicke – Meiplé feat. Jay-Z (Studio Session)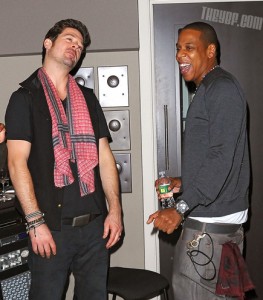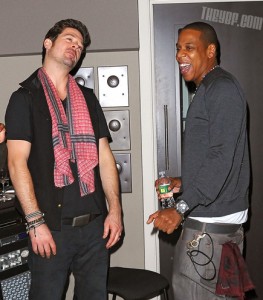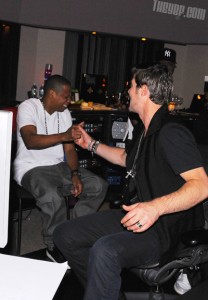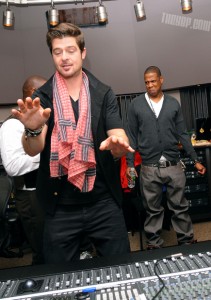 Update: November 10th
Thicke just released via Youtube this Video of him & Jay-Z in the studio working on Meiplé.

Robin Thicke – Meiplé feat. Jay-Z (Studio Session)

Update: November 9th
Here is the CDQ off Meiplé feat. Jay-Z where Thicke emphasises his love of french girls, champagne and the glamourous lifestyle in the addictively funky 'Meiplé'. Adding to the fact that it cleverly samples Brigitte Bardot's 'Moi Je Joue'. The rapper even references wife Beyoncé being the black version of the iconic French pin-up.

Update: November 7th
Here is the Radio Rip of Me I Play feat. Jay-Z on Hot 97.


Update: November4th
'It was one of the best days of my life,' crooner says about recording 'Me I Play' with Jay. In December, Robin Thicke will be giving fans Sex Therapy on his new album, and he'll have a few guests sitting in on those sessions. In addition to Kid Cudi, Snoop Dogg and British chanteuse Estelle, Thicke will be joined by Jay-Z. Thicke said he still can't believe he got our Hottest MC in the Game to join him on a track. "Working with Jay-Z [came about because] he came by the studio, and he heard the album. He was very excited," Thicke explained to MTV News on the set of his "Sex Therapy" music video. "He jumped on a track called 'Me I Play.' "
Thicke said the track hearkens back to the soulful hip-hop from the early '90s. "[It's] kind of like a De La Soul kind of song, but he was really excited about it," Thicke said, adding that the collaboration was incredible. "To work with him was a dream come true. It was one of the best days of my life." The singer has already been getting rave reviews for the album — he's just hoping no one is lying to him. "The album, as a whole, is actually the first time I didn't write and produce everything myself," he revealed. "I tried to create a new sound that I had never had before. A lot of people are telling me it's the best album yet, so I'm really excited. I hope that they're right!"
Update: October 29th
Here is a snippet of the tune.
Robin Thicke is about to be blessed with a song from the greatest rapper alive. The R&B singer took to Twitter on Friday (Oct. 23) to share his excitement with fans about collaborating with Jay-Z. Thicke revealed that Jay will be rapping on a track off his new album. "In the studio today with Jay Z… His Hovieness!! So excited!!" he tweeted. "He's jumping on one of my records for my Sex Therapy album. Wish me luck!!" The soul man's fourth studio album Sex Therapy is due December 8th. Sex Therapy was released on iTunes Oct. 20th and right now it's holding the #4 spot. I know many of you probably downloaded it for free when it leaked on the internet, but let's show our support to Robin and purchased his single at iTunes.
*mtv.com
*twitter.com/robinthicke
*rap-up.com