Robin Thicke – Sex Therapy (Album Preview)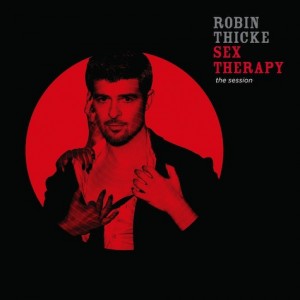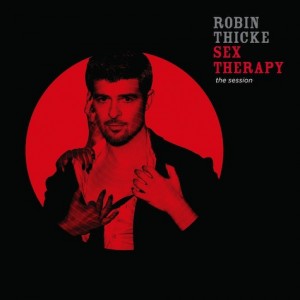 Editors, photographers, and bloggers all piled into a candle-lit studio in New York City last Thursday night to get a taste of Robin Thicke's latest studio dessert. Tightly packed in and sipping on Hennessy and cranberry, critics from various outlets allowed the blue-eyed soul singer to introduce songs from his fourth album Sex Therapy, dropping December 15.
"Oh, nooo! He smokes!" one fan squealed to her girlfriends, who all sighed in disappointment as they spied the 32-year-old crooner pull a cigarette out of his jacket pocket. "I thought he was perfect." He may not be perfect, but Thicke definitely knows how to work a crowd, his impeccable manners and charming demeanor radiating throughout the venue. Let's just keep it real, with the caliber of this album, he really didn't have to take the effort to work the crowd and make everyone feel like a VIP. Rap-Up.com takes a peek at the collabo-heavy offering from R&B's smooth operator.
01 – Mrs. Sexy
The album starts out with a sexy (shocker!) tribute to women. The intro sets the tone with a beat so laid-back that it almost feels a little dub. Escape the islands with Mr. Thicke, even if just for a few hours.
02 – Sex Therapy (Polow Da Don)
Look no further for the perfect shrink, ladies. Thicke takes off with his signature falsetto on this first single, and doesn't land until the very end ofthe album. The love doctor prescribes the perfect remedy for a little sexual healing.
03 – Meiplé feat. Jay-Z
It's not really a French word, but the song's sentiment is definitely Euro-seductive. "You could spend all my money, bay-bay," sings Thicke, as talks of balling out in Saint-Tropez and Jay-Z's whimsical verse make this track playful yet promising.
04 – Make U Love Me
This frisky, danceable track could set the mood in a dimly-lit nightclub. Lighthearted but beat-heavy, it's reminiscent of Thicke's earlier collabo with Pharrell on "Wanna Love You Girl."
05 – It's In The Mornin' feat. Snoop Dogg (Teddy Riley)
Produced by Teddy Riley, this mid-tempo track has a very distinct BLACKstreet-esque quality. Fueled by an appreciation for a passionate morning tryst, an endearing Thicke contributes the nice, while Snoop adds the naughty.
06 – Shakin' It 4 Daddy feat. Nicki Minaj (Polow Da Don)
Speaking of naughty, this Polow Da Don-produced and Ester Dean-penned joint holds nothing back. Nicki's Lil Wayne-like verses add a little bit of raunch to the staple stripper-pole track. Though it's catchy and delicately synthed to commercial perfection, it's clearly added tothe album for some diversity.
07 – Elevatas feat. Kid Cudi
"This is my 'Dirty Diana' joint," says Thicke, who attributes his MJ-inspired yelps and versatile vocals to the late King of Pop. The adrenaline-infused guitar riffs make this one a decent pick for the acoustics of a speeding car with the windows cracked.
08 – Rollacoasta feat. Estelle
This song was not played at the listening, but appears on the tracklisting.
09 – Million Dollar Baby feat. Jazmine Sullivan
It's not surprising that Thicke claims this as his favorite track on the project. It's his most natural sound. Audibly free of studio manipulation, this is grown folks music, with snares that give it a jazz lounge feel.
10 – 2 Luv Birds
"This is the wedding song," Thicke says of the sweet and soft cliché track. The cheesy lyrics and expected piano riffs hold this one back from shining as brightly as the rest ofthe album.
11 – Jus Right
A personal favorite, this track is pure in sound and sentiment. Thicke dedicates it to his beautiful wife Paula Patton. It has a Motown feel, perfect for an impromptu spin around the living room. Touched with the effortless sweetness of a Luther Vandross classic, this one should be the realwedding song.
12 – Diamonds feat. Game
Thicke finishes off the album on a high note. He attributes beauty, grace, and love to the strong and worthy women on this conscientious love song. "This is for thebeautiful black women, you are all diamonds," he declares.
*rap-up.com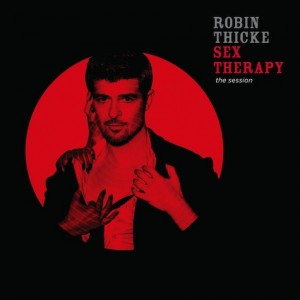 Robin Thicke – Sex Therapy (2009) (December 15th)
The Session
01 – Mrs. Sexy
02 – Sex Therapy (Polow Da Don)
03 – Meiplé feat. Jay-Z
04 – Make U Love Me
05 – It's In The Mornin' feat. Snoop Dogg (Teddy Riley)
06 – Shakin' It 4 Daddy feat. Nicki Minaj (Polow Da Don)
07 – Elevatas feat. Kid Cudi
08 – Rollacoasta feat. Estelle
09 – Million Dollar Baby feat. Jazmine Sullivan
10 – 2 Luv Birds
11 – Jus Right
12 – Diamonds feat. Game
The Experience
01 – 911
02 – Start With A Kiss
03 – I Got U
04 – Mona Lisa
05 – Brand New Luv