Swizz Beatz Thanks Pharrell For Justice Sample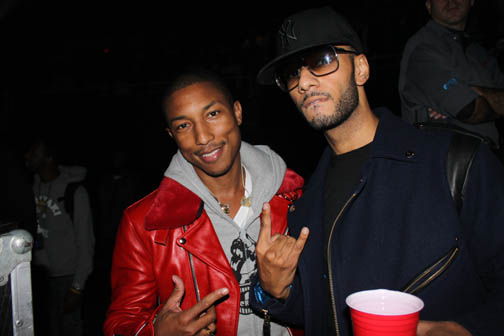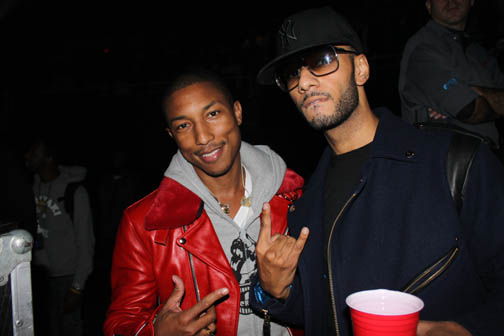 The hip-hop heavyweights urged Swizzy to check out the French electronic duo, whom he sampled for Jay-Z's On To The Next One.' Even before Jay-Z's Blueprint 3 dropped, fans had already gravitated to the Swizz Beatz-produced "On To The Next One." The popular three-second sample loop on the hook leant itself to a head-nodding and sound-system-bumping experience. And ever since the video kicked off the new decade, the song's hook has been on repeat on radio. But the funny thing is, the sample doesn't say "on to the next one." It's actually looping the words "under the spotlight." The song samples Justice's 2007 hit "D.A.N.C.E.," and Swizz said he never would have created Jay's club banger without the urging of Pharrell Williams and Q-Tip.
"To be honest, Q-Tip and Pharrell put me onto Justice," Swizz told MTV News. "We had a long conversation on the phone, and they were like, 'Yo, you need to get onto this Justice joint.' I knew the sound, but I didn't know the name of the sound that I was liking. They were calling me back, like, 'Yo, did you get the Justice stuff yet?' Nah, nah, I'm on it. I was on vacation or something, and they called me again, and they were like, 'Yo, did you get the Justice joint? We're going to stay on top of you!' " Swizz said he was vaguely familiar with the song, but he wasn't aware of the French electronic duo, made up of Gaspard Augé and Xavier De Rosnay.
Pharrell and Q-Tip felt Swizz was the only person who could flip Justice's song for a beat. Once he finally heard the track, he called Pharrell in excitement. " 'Yo, I got it! I got the joint! I already hear 10 things I could do with it,' " Swizzy recalled saying. "I did 10 of them, literally, but then 'On To The Next One' was the least complicated one that I did. It was something that would easily fit into the system but still got the bounce, and it still gives Jay space to do his thing, even with the sample behind him through the whole song. It gave me a chance to be able to rock the chorus. It was a perfect fit."
Jay-Z – On To The Next One (Swizz Beatz)

Justice – D.A.N.C.E. (Jay-Z's 'On To The Next One Sample)