Summit On The Summit: The Documentary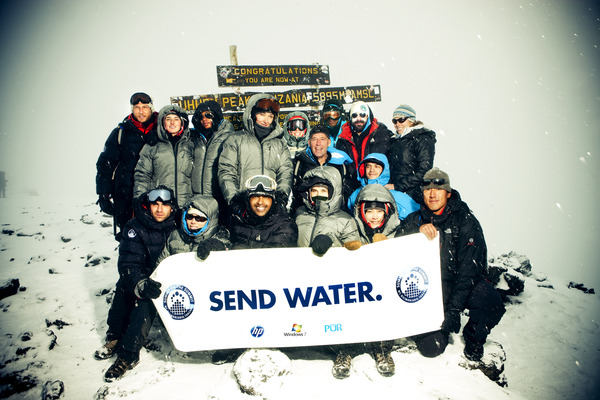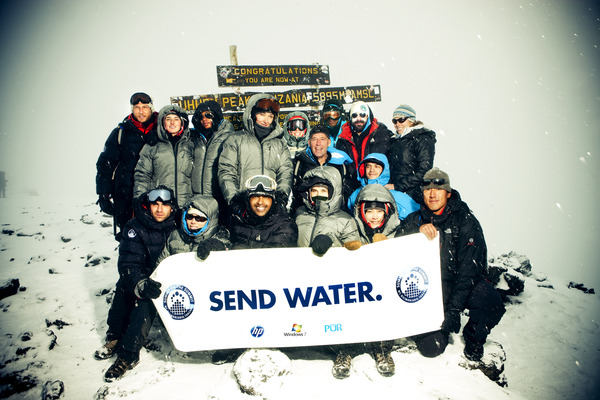 Earlier this year, Jessica Biel, Emile Hirsch, Lupe Fiasco, Santigold and others banded together to climb to the summit of Mount Kilimanjaro to raise awareness about the global clean-water crisis. Here is the complete Summit On The Summit Documentary in case you missed it last night. Also make sure to Text SEND to 90999 to donate $10 to the UN Foundation on behalf of Summit On The Summit to provide 1000 liters of clean water – water to a child for a year!
Part 1
Part 4
Updated: March 11th
Now Justin Timberlake has pitched in to support the effort. The singer is set to provide a personal introduction to "'Summit On The Summit: Kilimanjaro," the 90-minute documentary about the celebrities' climb that will air on MTV on March 14 at 9 p.m. ET/PT. Masterminded by Grammy-nominated musician Kenna, the team took a six-day, 50-mile trek to the peak of the tallest mountain in Africa. "It was a combination of the mental and the psychological aspects of the mountain, of the slow-but-steady pace that you had to go up it, and that sometimes made your brain just want to explode, because you just wanted to get there so badly,"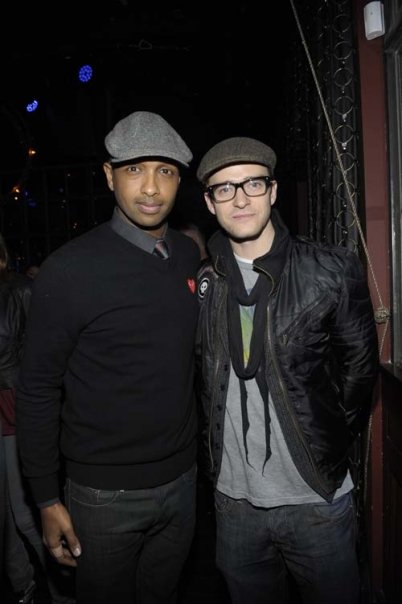 Biel told MTV News Wednesday. "But then you'd get this rush of inspiration of 'I'm not doing this for me. I'm doing this for something bigger than me, for people who don't have a voice, for people that need water around the world,' and then you'd power through."In addition to raising awareness about the clean-water crisis, the "'Summit On The Summit" raises funds for P&G's Children's Safe Drinking Water Program, United Nations High Commissioner for Refugees and Water for People's PlayPumps Technology. During the MTV broadcast, viewers will be able to text SEND to 90999 to donate $10 to the U.N. Foundation on behalf of "Summit On The Summit."
Each donation will send 1,000 liters of clean water to people in need. "MTV has a long history of educating its audience to raise awareness on issues that are important to them," said Dave Sirulnick, Executive Vice President, News and Docs. "More than 1 billion people worldwide do not have access to safe, clean drinking water. By airing this documentary, MTV hopes to mobilize a new generation of young people who may not be aware of this global cause and take action to get involved in helping find solutions to the water crisis." Don't miss "Summit on the Summit: Kilimanjaro," airing Sunday at 9 p.m. ET on MTV.
Here's a first look at the 90-minute Summit On The Summit documentary which will air March 14th at 9 p.m., on MTV.
Summit On The Summit On The People's Choice Awards
SOTS: Final Destination
Final seconds as the Summit On The Summit Climbers reach the Peak of Mt. Kilimanjaro.

SOTS: Climbers Discuss Completion
Summit On The Summit Climbers discuss their thoughts about competing the climb.
The Summit On The Summit Team has reached the top of MT. Kilimanjaro to raise awareness of the global clean water crisis. A great moment captured. The climb to the top may be over, but the fight has just begun. The expedition and the dramatic final ascent were also recorded for a special documentary that will air on MTV on March 14th at 9pm/8pm CST. The documentary is being produced by Radical Media, Procter & Gamble Productions and Fury League Inc.
From Kenna To You
Let it in. Let the love that is permeating this project affect you. Look deeply. Open your hearts to the things you don't understand. This is for all of us. We are you. You are us. This ascent is a mirror of an underlying hope for humanity and its ability to rise above in every way. It is a powerful heart that will elevate itself through conscious moves. This is the call to action. Trust your visceral response, engage and face your power. Anything is possible… You can make something happen. This was a vision first. It was the struggle second. It moved into a force when I decided that the struggle was worth it. Here we are. Water is the pivotal issue of the entire world. It is more important than anything we could ever focus on. It is the root of life. We are one. We are water. Without it we die. People are dying every day from dirty water. More than die by Malaria, AIDS and War combined.
I only wanted to spark the question.
What is the Global Clean Water Crisis?
Why does it matter to you?
What will you do about it?
Kenna
(Dedicated to my Dad who lived through waterborne illness in Ethiopia)
Kenna's Summit On The Summit Speech (Before The Climbing)
Emotional…

January 12, 2010 (19,340 Ft, Mt Kilimanjaro) – Kenna, Grammy-nominated musician, philanthropist, "actionist" and mastermind behind SUMMIT ON THE SUMMIT: Kilimanjaro, was joined at the top of Africa's largest free standing mountain with fellow climbers Lupe Fiasco, Isabel Lucas, Emile Hirsch, Jessica Biel, Santigold, Elizabeth Gore, Alexandra Cousteau, Bernise Ang, Kick Kennedy, Simon Isaacs, Michael Muller, Jimmy Chin, Melissa Arnot and Dr. Greg Allgood. In an unprecedented movement, millions of people joined the climbers for the week long trek on www.summitonthesummit.com, where they were also able to be a part of the world's first virtual mountain climb and literally follow their favorite climbers to the top.
After a successful climb that saw each and every person on the expedition reach the top of Kilimanjaro, Kenna reflected, "Even with as many grandiose illusions that I have had, this has gone beyond my wildest dreams and expectations. The influencers, educators, staff, crew, and publicists have literally braved this on behalf of the world and in a personally meaningful way on behalf of my father." Fellow climbers Lupe Fiasco and Emile Hirsch shared their thoughts after summiting. Hirsch said, "The last 48 hours have been the most intense and physically grueling experience of my life, miraculously we all made it to the top together. To have such a complete success for such a worthwhile cause – the global clean water crisis – more than reaching the summit is what is really satisfying "
Lupe added, "The thrill of conquering your fears especially in such a physically and mentally taxing environment can't really be done justice in words."After six intense days of hiking and climbing, the group set out for their final trek at 1:30am local time and after nearly seven hours reached the Uhuru peak which generally has only a 75% success rate. Each participant battled a plethora of physical and natural elements over the past week to make the ascent. Between coping with weather ranging from rain, hail, snow and the effects of altitude, including headaches, dizziness and fatigue among other ailments all made the over 50 mile journey that much more arduous. Immediately after summiting, the group descended for an additional six plus hours of hiking to 12.000 feet, where they will make their final night of camp.
Kenna added, "I also can't be more thankful for all the people that followed us, donated and have fought the global clean water crisis with us." Supporters followed the action and were able to interact with the climbers through the SUMMIT ON THE SUMMIT: Kilimanjaro website (www.summitonthesummit.com) which has been updated daily with photos, videos and information about the climb and the cause. There has also been a major presence and call to action on Facebook, Twitter (@sotsk) and dedicated climber blog (www.sotsk.tumblr.com).
SOTS Day Five
Last video before the summit!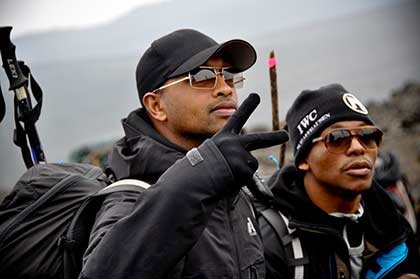 Kenna and Lupe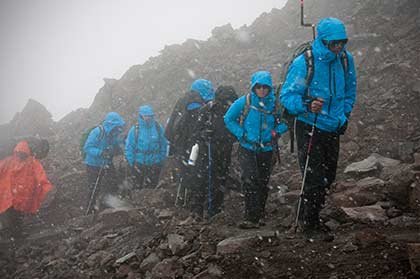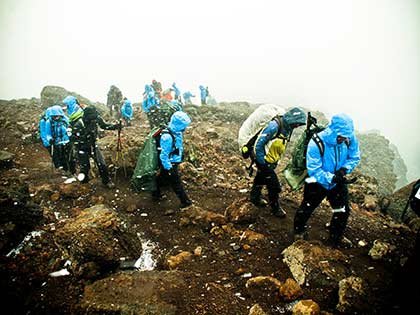 SOTS Day Four
The team hits the halfway mark.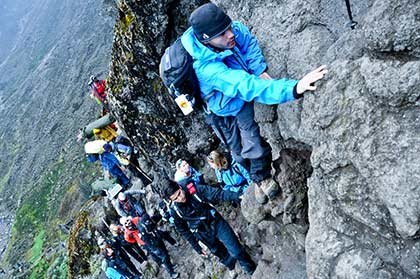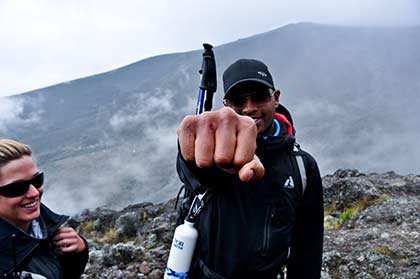 Kenna Magnanimous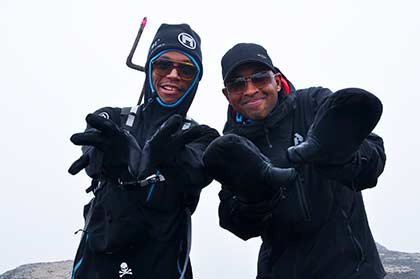 Kenna and Lupe goofing around.

SOTS Day Three
The team begins to experience a taste of the mountain's unpredictable weather.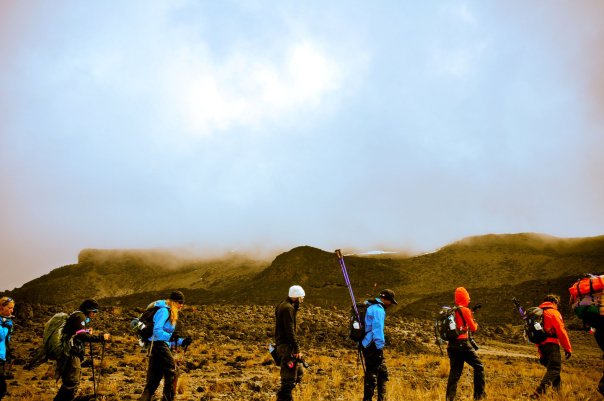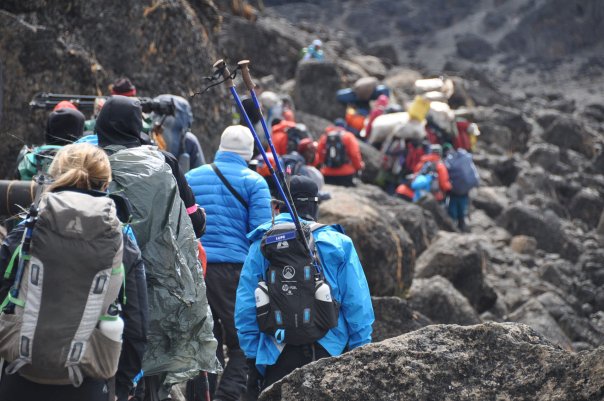 SOTS Day Two
The journey continues. Expectations are set now that the team has one night under their belt.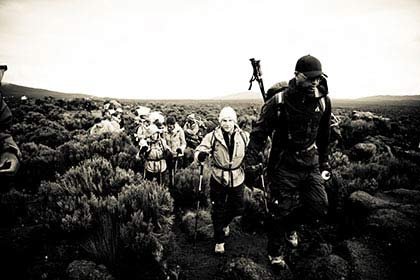 Kenna leading the way.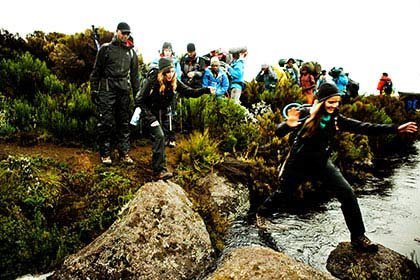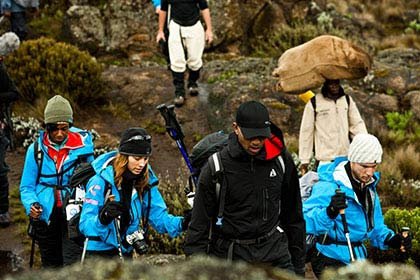 Climbers cross a small stream.
SOTS Day One
Emile Hirsch, Jessica Biel, Isabel Lucas, Alexandra Cousteau, begin their climb up Mt Kilimanjaro for clean water crisis.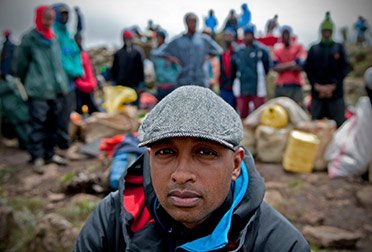 Kenna Poses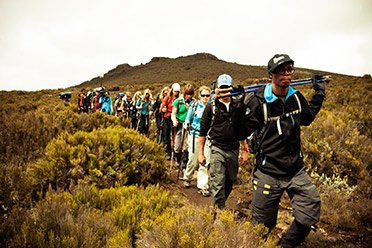 Lupe & The Crew
If you're shivering wherever you are, just be glad you're not doing it while trekking up the highest mountain in Africa. After the first day of hiking on Mount Kilimanjaro in Tanzania as part of the Summit On The Summit project to raise awareness about clean water, singer Kenna called MTV News from his satellite phone on Thursday (January 7). He says conditions at base camp are already more challenging than he ever imagined. "Everything's great," said Kenna, who attempted and failed to make it to the 19,340-foot summit of "Kili" five years ago this week. "It was a bit harder than I expected. ... The route we took was more difficult, with more rocks. We had to cross a river a few times, and there were more ups and downs than the first time I did it."
And that was just the first two-hour hike of a seven-day, 50-mile journey up the mountain that is part of a campaign to raise awareness about the need for clean water in developing nations around the globe. The climb will be chronicled in a 90-minute documentary slated to air on March 14 at 9 p.m. on MTV. In addition to a number of eminent scientists, Kenna is joined on the trek by actors Jessica Biel, Emile Hirsch and Isabel Lucas and musicians Lupe Fiasco and Santigold. Along the way, they'll be posting tweets, photos and video blogs about the climb on SummitOnTheSummit.com.
After leaving a village near the base of the mountain at 5:30 on Thursday morning, Justin Wilkes, an executive producer on the documentary project, said the team took a two-hour ride over bumpy dirt roads to a gate near the base, where everyone had to get out and have their packs weighed to make sure they were all under 20 kilograms. "Then we drove up through a tropical rainforest, where it was in the mid-80s, for another two hours and pulled up around a corner, and there was a huge team of porters waiting for us. It was an unbelievable sight. We're in this post-apocalyptic landscape and there are dozens of people standing there."
Wilkes said once they passed through the rainforest the temperatures dropped much lower than the group expected, with daytime highs in the 40s and nighttime lows in the 30s. "There's quite a bit of snow on the mountain," he said. "We spent two hours walking across this mostly flat, rocky, shrubbish plateau, and the mountain was entirely enshrouded in clouds until we got to the base camp. And when we arrived the clouds suddenly parted, and it was like, 'Holy sh–! It's really high!' It looks much higher than anyone expected it to."
All the hikers are carrying personal packs with clothing, water bottles and daily amenities. While everyone did OK on the first day, there were already some issues with altitude sickness, which caused headaches, nausea and dehydration. The stakes will be raised on Friday, when a six-hour day of trekking will take the group up 4,000-5,000 feet. "As far as the eye can see, it's just an uninhabited nothing," Wilkes said of the area surrounding the mountain. "You might as well be on the moon. One thing we're all conscious of is that there's a lot more snow on the mountain than there has been historically. Usually, it's just on the cap, but almost three-quarters of the mountain is covered in snow, so we're nervous about it getting really cold, really steep and the air getting much thinner."
Kenna said his tent mate, Lupe, is acting like a veteran, even though he's a mountain-climbing rookie. So far, the rapper is holding up just fine, even though he made the first-timer mistake of trying his boots on just one day before the climb began. "He says he's a veteran," Kenna joked. "He went to sleep a lot later than me and trekked as much as I did and drank a lot of water and took some medication [for altitude sickness].
"I think this is a monumental occasion," Kenna continued, speaking over the sounds of his fellow climbers celebrating the end of an exhausting day. "You have people of all different cultures and creeds and histories on a climb of Kilimanjaro representing other people in the world, including people that can't represent themselves. You can go on the site and see the excitement of people trying to do something difficult, who took time and energy and put their hearts into it, knowing full well it's for others."
Offering his high school superlatives for the first day, Kenna gave Santigold the "Best Dressed" award thanks to her spray-painted boots with gold laces. Lupe earned "Most Likely to Go to Bed Early From Fatigue." Hirsch got props for being the funniest, Biel for being the most focused, Lucas "Most Likely to Succeed Mother Nature" due to her love of the outdoors and himself the "Most Likely to Summit and Jump Up and Down and Scream Success After Failing Once" designation.
"When everyone summits, that's the point where we will be able to speak to the world from the top of the world and say, 'This is the global clean-water crisis. If you're not paying attention, it will happen to you.' "Check back with MTV News for more updates from Kenna and his friends during the climb and tune in to "Summit on the Summit" on March 14 at 9 p.m. on MTV.
Summit On The Summit Music Playlist
In preparation for their climb up Mt. Kilimanjaro, Lupe Fiasco, Santigold, Emile Hirsch and Kenna put together a music playlist to help motivate themselves.
01 – Daft Punk – Harder, Better, Faster, Stronger
02 – Arcade Fire – Wake Up
03 – U2 – Window In The
04 – Feist – The Water
05 – TV On The Radio – Shou Me Out
06 – Snow Patrol –
07 – Beck – Walls
08 – Queens Of The Stone – No One Knows
09 – Yeah Yeah Yeahs – Zero
10 – N.E.R.D. – Soldier feat. Santigold
*myspace.com
*lupefiasco-lupend.blogspot.com
*mtv.com