Big Sean Talking About Meeting Pharrell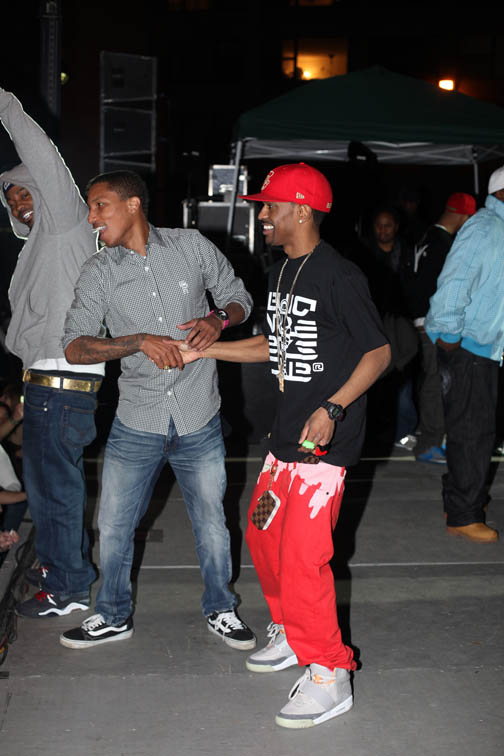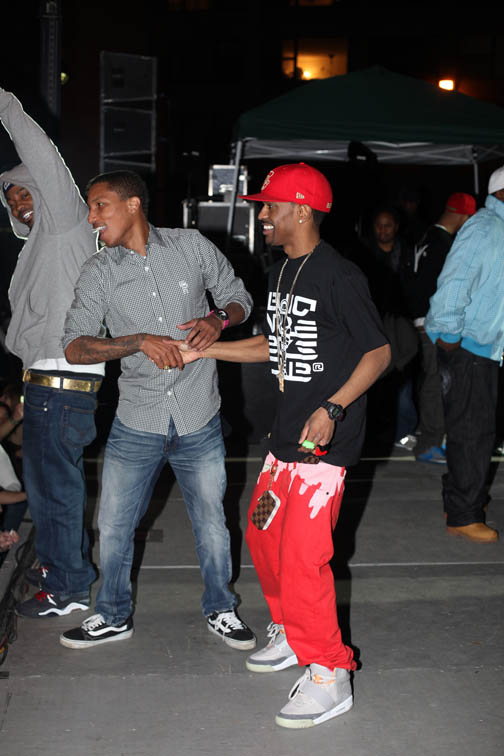 Big Sean has been Interviewed recently by Complex Magazine where he talked about how he met up with Pharrell back in 2007 in Japan with Nigo & Company.
Complex: On the UKNOWBIGSEAN mixtape, Pharrell talked about how you were pretty timid in the studio before you guys got acquainted, but impressed him with your presence on the track. Are people pleasantly surprised when they meet you?
Big Sean: I'm really the most humble, nice person. [Laughs.] My grandma always told me, "Boy, you better act right, because just as fast as you get something, you can lose it twice as fast." Plus, nobody likes a fucking asshole. That's the worst shit ever. The boastfulness on my raps is just confidence, it's not necessarily asshole-ish, I'm not trying to be…well,
I feel like you should be confident in whatever you do, and a lot of my new music [that's coming out] I want people to judge more so than the music I've put out recently, because I feel like it's really changed a lot. I just always stay honest with myself. All my stuff isn't boastful, but some of it is. But that's just the music, the art. When Kobe go on the court, he'll talk all the shit he want, but when he's in person, he may be a nice guy, you know?
Complex: Definitely. Speaking a bit more on Pharrell, I remember you had some YouTube videos out of you in the studio with P, and how a friend of yours named his kid after the super producer.
Big Sean: Oh yeah, my boy A-Dub named his son after him.
Complex: That's a pretty huge statement.
Big Sean: Yeah, definitely.
Complex: Were you a fan of P's production before you got in the studio with him?
Big Sean: Oh hell yeah! The thing was, I met Pharrell when we were in Japan. Kanye took me to Japan with him right when I signed to Def Jam for the Bathing Ape World Tour that they do over there, so it was N*E*R*D, Kanye, Teriyaki Boyz, Nigo, those guys. I absolutely love BAPE and BBC, so I was excited. I never met Pharrell, Nigo, or none of those guys. So I remember the first time I met them, and I was nervous. P didn't know who I was at all, but he was like, "What's up, what's good," and the next day after the first show, there was a BAPE photo shoot for their lookbook. Kanye was talking to Nigo and was like "Man, you should let my new artist Big Sean take some pictures." Nigo heard some of my music because Kanye started playing some of my music, and he was like, "Yeah, I fuck with it. Let's do it," so I was in the BAPE lookbook. Pharrell was there too, and Pharrell was talking to Kanye like "Man, who is that kid, what's up with him?" [Laughs.] Kanye was like, "Aww, nigga, he a BEAST!" He was like, "Aight, Nigo, Teriyaki Boyz, come here. Everybody come in the huddle!" I was like, "What the fuck is he doing?" He's like, "Spit that shit! Don't spit no wack shit!" [Laughs.] So I spit my heart out. Pharrell was really into it, and then he started listening to the music because we were playing it there, and he was like, "Man, I wanna work with you on your album! Let me get down with you." I used to ride to school listening to these guys, so it's a dream come true.