Usher & Robin Thicke – Secret Garden

Here is Jermaine Dupri's Version of Quincy Jones 'Secret Garden' with Usher and Robin Thicke, the final version will also feature LL Cool J, Tevin Campbell, Tyrese and Trey Songz on Quincy Jones – Q: Soul Bossa Nostra (2010) (Due Spring).
Usher & Robin Thicke – Secret Garden (JD) (10′)

Updated: March 11th


Two Years ago (July 22nd 2008) David Banner confirmed on sohh.com that The Neptunes have been working with Quincy Jones for his Remix album "Legendary producer Quincy Jones has employed The Neptunes to work on a new album featuring remixes of his greatest hits, according to producer David Banner. Banner said "Quincy Jones got me, Akon, Pharrell Williams and T-Pain," he explained. "[He] allowed us to choose and remake our favorite songs.", well two years later it looks like the Remix Album is finally getting a release date (due this spring) from Interscope Records.
'Q: Soul Bossa Nostra' features some of my favorite artists and producers on the scene today from the Pop, R&B and Hip Hop worlds performing selections from my catalog that people really loved when they were originally recorded," said Q, who also serves as the album's executive producer. "Each artist picked a song that really resonated with them for different reasons – some of them having a connection because they remembered their parents playing the track when they were growing up."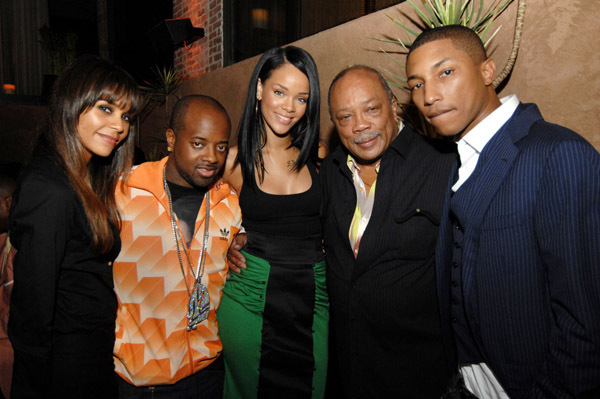 "I am honored that everyone wanted to be a part of this celebration of these songs. They all made them their own, and knocked them out of the park." Star Trak Artist Robin Thicke will have 2 tracks on the album, he'll be on the Remix of Michael Jackson's P.Y.T remixed by T-Pain and on the Jermaine Dupri Remix off Secret Garden featuring Usher, LL Cool J, Trey Songz, Tyrese, Tevin Campbell & Barry White. The set's first single, available March 24, will be Akon's interpretation of the 1977 Brothers Johnson classic "Strawberry Letter 23."  'Q: Soul Bossa Nostra,' features contemporary versions of popular recordings from Jones' massive catalog. Other artists on the album include Jennifer Hudson, Mary J. Blige, T-Pain, John Legend, Snoop Dogg, Wyclef Jean, Q-Tip, Talib Kweli, Three 6 Mafia, David Banner, Bebe Winans, Mervyn Warren, DJ Paul, and Scott Storch.
*eurweb.com
*sohh.com
*theneptunes.org
Quincy Jones – Q: Soul Bossa Nostra (2010) (Spring)
Producers & Guests: David Banner, The Neptunes, Akon, Usher, Ludacris, Jamie Foxx, Jennifer Hudson, Mary J. Blige, T-Pain, Robin Thicke, LL Cool J, John Legend, Snoop Dogg, Wyclef Jean, Q-Tip, Talib Kweli, Three 6 Mafia, Bebe Winans, Mervyn Warren, Jermaine Dupri, DJ Paul, Scott Storch, Naturally 7, Warryn Campbell, Trey Songz, Tyrese, Tevin Campbell, Barry White, Ted Chung, Terrence Martin…
Confirmed Tracks:
– Brothers Johnson – Strawberry Letter 23 (Akon Remix)
– Jennifer Hudson – You Put A Move On My Heart (Scott Storch Remix)
– Ludacris – Soul Bossa Nostra (Naturally 7 Remix)
– Usher, Robin Thicke, LL Cool J, Trey Songz, Tyrese, Tevin Campbell & Barry White – Secret Garden (Jermaine Dupri Remix)
– Give Me The Night – Jamie Foxx (David Banner Remix)
– John Legend – Tomorrow (Ted Chung Remix)
– Robin Thicke – P.Y.T (T-Pain Remix)
– Mary J. Blige – Betcha Wouldn't Hurt Me (Q-Tip Remix)
– Bebe Winans – Everything Must Change (Mervyn Warren Remix)
– Wyclef Jean – Oluwa (Many Rains Ago) (Wyclef Jean Remix)
– Snoop Dogg – Get The Funk Out Of My Face (Terrence Martin Remix)
– Talib Kweli – Ironside (Quincy Jones Remix)
– Three 6 Mafia – Wrath of Katrina (David Banner Remix)