Pharrell & Asher Roth In The Studio

Pharrell and Asher Roth put on the finishing touches of some of the songs off of Asher's upcoming album, "The Spaghetti Tree". We went to University of Miami's campus to find the worlds greatest adlibers (to give the song the obvious sounds it was missing), and it was pretty cool/funny to see the music genius Pharrell produce this session. If it wasn't for the Cuban food and the humidity, I would have thought it was 2 years ago, and Pharrell and Ash were in the West Chester basement where we recorded this video. Thanks to DruBerkley & BOYDERCAM.
Asher Roth – Mr. Me Too (Freestyle)



Updated: April 26th

"We linked up in Miami," Roth said of the Williams sessions. "Very good chemistry as far as creating music. We was down there while it was all snowy in New York. We had a blast. I think we have some really beautiful music for warm weather. "He really is a genius," Roth gushed. "Working with him, it's really fast. We wound up doing 12 records in 12 days, which is really good numbers. It's quick. He gets an idea and he harnesses that idea really quick. It's cool when someone like me gets to step into the studio with him. I feel it's probably different vibes. … I feel like it's different vibes. Even though he works with everyone from Britney to the Clipse, he can do that because he stays in his lane. He stays true to himself. He's got a very real sound he's harnessed with The Neptunes stuff; he's got a real sound he's harnessed with N.E.R.D. We wrote 12 different records. We didn't try to write one record 12 times — we have stuff all over the map, from live drums that are going to incorporate itself well into a live show … I'm excited for you guys to hear that stuff."
*mtv.com

Updated: April 3rd


"Just finished with Pharrell for 12 days. We were in Miami just d**kin' around, just being a bunch of a**holes and making some really dope fun music for the new album. "I'm not going to release the title yet, just 'cause you know I want people to take in Seared Foie Gras With Quince And Cranberry for a couple months before I get them excited about the album. "But, you know, working with Pharrell and Chad was a blast. I mean genuinely good, good people who are doing it for the right reasons. I was just out in Chicago working with my friends Twan and Evan, better known as Chuck and Mike of the Cool Kids. The next on the list is my man Q-Tip and go chop it up with him and just go make some dope music."
*divshare.com
*digitalspy.co.uk
Updated: March 24th


Sorry fellas, but this is just a freestyle over Pharrell's 'Show You How To Hustle' beat, check it out.
Asher Roth – Pubic Garden (Show You How To Hustle) (Freestyle) (10′)

Updated: March 16th
Asher Roth is about to release his newest mixtape with some big names on it including Madlib, RZA, 9th Wonder, Kanye West, Jacke One, J. Dilla, Just Blaze, Will.I.Am., Ryan Leslie, Timbaland and The Neptunes on the tune 'Public Garden'. Don't get me wrong but, this could be just a freestyle to a Neptunes produced track since it's a mixtape and I have my doubts that Asher really has all those producers lined up to produce for him for the mixtape, but it could be one of the tunes they produced together since Asher said back in february that they did "A Couple Joints", we shall see on March 23rd.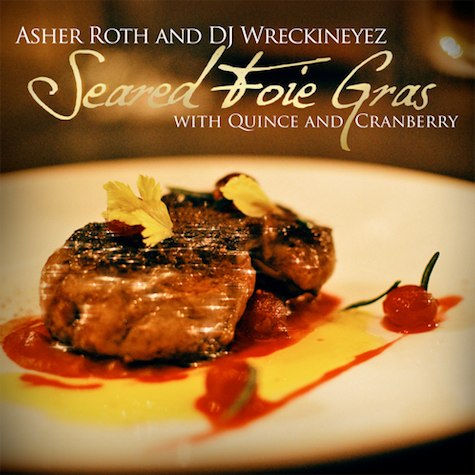 Asher Roth – Seared Foie Gras With Quince & Cranberry (2010) (March 23rd)
01 – Muddy Swim Trunks (Madlib)
02 – Toni Braxton feat. Boyder (RZA)
03 – Public Garden (The Neptunes)
04 – Vagitables (9th Wonder)
05 – Fuck The Money feat. B.O.B. (Kanye West)
06 – What Up Truck feat. Truck North (Jacke One)
07 – Trash Minutes (J. Dilla)
08 – Ash & Dem (Table For Four) (J. Dilla)
09 – Con-fid-ence (Kanye West)
10 – I'm Eddy (The Heatmakers)
11 – Rick Smiths (Just Blaze)
12 – Fuck Your Ringtone (J. Dilla)
13 – Hot Wangs (Will.I.Am.)
14 – Diamond Girl feat. (Ryan Leslie)
15 – Cumbaya feat. Boyder & Brain Bagley (Timbaland)
16 – Calling Me feat. Brain Bangley (Younglord)
17 – Hellafaded feat. Pac Div (Chad Hamilton)
18 – Sour Patch Kids feat. Talib Kweli & Blu (Travis Barker Remix)
http://rapidshare.com/files/367177987/S.F.G.w_Q._C.zip
Updated: February 25th
Asher Roth spoke to Clinton Sparks about the new album and announced that he is working with The Neptunes on his upcoming sophomore album. "We got a couple joints, couple ideas that I was working with, but right now we're just getting the ideas and vision correct, we got our ball of clay, but we haven't started carving yet which I think it's super important to get a battle plan and vision together, if you don't have that, I mean, it's always nice to have your plan and let it go where it goes. But to just step blindly into stuff, it's fun but at the same time, that's why we're in Miami messing around, we got some friends down here. We got some friends that you wouldn't expect but we're in Miami with The Neptunes and we're gonna be hanging out with them. I'm not the traditional, 'Let's get a radio hit out of you guys,' it's more for that esoteric sound. This album is going to be about bringing the earth and kinda the spacey ideas together. It's about bridging the gap, but we're here and that's kinda where we are right now"
Earlier this month, the rapper explained his aim to drop the solo effort around his birthday this summer. "There's no album title yet, I talked to everybody I wanted to get on the album. I shared my vision with them. You want to meet them halfway. Yes, you want them to come into your world as well, but you want to make sure that they're still stamping it with them. You don't want to leave their comfort zone. All the producers that are going to be on the album, I've sat down with in their living room before we got into the whole music making thing. That's super important to any artist. It makes the creation process so much easier. The sound is going to give people feelings again. I'm through with listening to musicwith no intestines, no gut. I want to make that dope sh*t that people can feel. That's all the direction is. Ideally I'd like to release it on my birthday, which is August 11. That would be great, but I believe that's a Wednesday and they try to stick to Tuesdays. But my first album released on a Monday." His Clinton Sparks Mixtape drops March 2nd on his website. Check out the Video Interview here.
Updated: February 20th
Asher Roth recently spoke with Vibe and revealed that not only is he readying his Seared Foie Gras With Quince & Cranberry Mixtape for release next month in conjunction with the re-launch of his website, but he's also busy in the studio working on the follow up to last year's Asleep In The Bread Aisle.
"We're getting people ready for the sound of this album where we have cats like Q-Tip, we're down here working with Pharrell and the RZAs and The Premos." "Yeah, we just got done touring with Blink 182 and I am working on my second studio album. It's going to be phenomenal. I've been working with The Neptunes. We've got a good body of work. It's a lot of fun music. It's some contagious stuff. It's honest music that has some feeling behind it. Hopefully it invokes some emotion from it."
Check out this Asher Roth Freestyle over Clipse's Mr. Me Too beat, from Asher's The Greenhouse Effect Mixtape from 2009.
Asher Roth – Mr. Me 2 (Freestyle) (09′)
*kansan.com
*mog.com
*bbcicecream.com
Updated: February 9th

Wale was last night on Ustream live with Pharrell, Asher Roth (24) & Rhea in the studio to record a new track for Asher Roth and Wale, I didn't watch the Ustream but this is what the peeps on the forum said who seen it. Asher Roth is doing a hook for a song produced by Pharrell and Wale said he is working on Let It Loose Part 2 'DC Style' with Pharrell. The Asher Roth song sounded alright.. a smooth piano type production. Oh yeah Rhea was there someone asked on the chatroom if she was still in N.E.R.D. and she said 'hmm am i still in nerd…?' and showed her hoodie which had the heart and mind bbc design.
So that doesn't have to mean she is still in N.E.R.D. but on Star Trak though. Pharrell was pretty too busy with work, by the end, he was insisting on Wale to turn off that shyt lol. Rhea was shouting out to the fans, Asher said wsup.. It was really funny. Asher: 'Damn I don't sell coke. Damn, I don't have cars or 25-inch rims'. Thanks to FlowHightide, Pappoo & Andrei.