Pharrell x Redbull.com Interview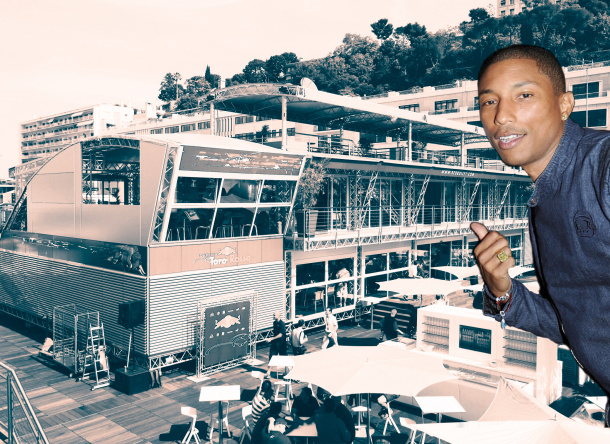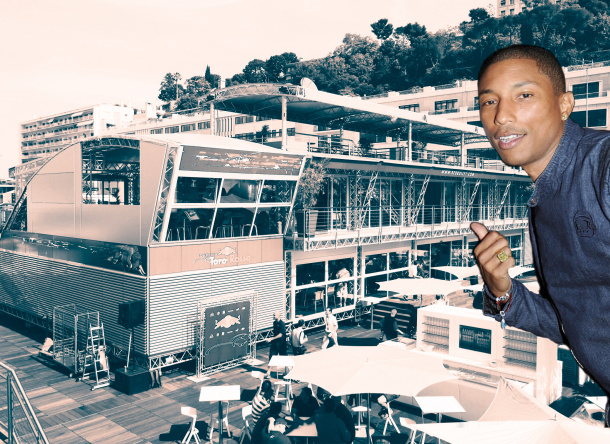 Singer, rapper, producer, musician, clothes and jewellery designer… there seems to be no end to the talents of Pharrell Williams who as part of N*E*R*D and The Neptunes redefined US dance music in the last few years. Pharrell is almost as well known for his dress sense and was voted Esquire's Best Dressed Man In The World in 2005. Chris Sullivan caught up with him in London's fashionable Soho and quizzed him on his unique style prior to his visiting the Red Bull Energy Station in Monaco.
Chris Sullivan: Tell me about your clothes labels: Billionaire Boys Club and Ice Cream
Pharrell Williams: Well I'm doing them with Nigo of Bathing Ape. He is a big music fan and we met and got on. I love his attention to detail and quality, his style his outlook. He's the perfect man for me to collaborate with.
CS: How would you describe the clothes?
PW: It's what I like to wear basically. If I see something old that has a good cut we adapt that or if there's something I'd like that doesn't exist, we make it and all in the best fabrics and to the highest quality. It's all about quality.

CS: Flea market or boutique? Where do you buy your own clothes?
PW: I will buy vintage or I will buy new. I don't care where it comes from – if I like it I buy it. I do both classic things and new ideas. I don't limit myself in anyway whatsoever with my clothing. If I like something I just like it.
CS: Do you have a style icon?
PW: Robert Redford. He gets it right all the time, looks as if he's not trying too hard and is always dapper. I'm a huge fan of Alber Elbaz of Lanvin. He just does what he wants to do and it works so effortlessly because it's going off of what he likes and is not politically correct. I am also really influenced by the clothes in the film Chariots Of Fire. I'm very partial to classic English clothes because they have both function and purpose. My label Billionaire's Boys Club is collaborating with Cordings of Piccadilly for a line in herringbone tweed.
CS: I never had you down as a lover of classic English clothing…
PW: You're kidding? I love that stuff. The Newhouses at Conde Nast have been 'chapping' me up. They've given me a lot of tips as to proper English clothing, sending me to Dandy land – Jermyn Street and Savile Row. John Lobb, the shoemaker, is dope. They took me through the company's whole history. They showed me this massive archive they have and all the lasts they've made for all these people over the years like Chaplin, Hitchcock, Cary Grant. I love all that history shit but I need to further my education in what to get from them, as that is a real dandy's shoemaker.
CS: What have you bought recently?
PW: I just bought a pair of Le Chameau Wellington boots. I'm looking forward to wearing them at the festivals in the UK and stomping around in the mud.
CS: How do you feel about tattoos?
PW: I'm over tattoos. I have seven including a cherub on my arm and an angel on my neck but that's enough for now. Everyone's got them now so they've lost their impact.
CS: Male jewellery?
PW: A man should wear whatever jewellery he feels is appropriate for him. I get a lot of my stuff made in New York by Jacob the Jeweller and Lorraine Schwartz; I bring in sketches or something for them to copy. I've had a carabina made in diamond and gold to hold my car keys. I did a jewellery line with Vuitton. It was in collaboration with Camille Miceli and called the Blason Line. It's based on French heraldry and did very well. I've also designed a sunglasses line for Vuitton. I don't them wear so much because I didn't want to be too me-ized. I'm more of a Rayban Persol guy these days.
CS: What's on your iPod?
PW: I have several iPods and I get the playlists made up by different people I respect who can teach me about music – Q Tip, Ameer, DJ Premier and Giles Peterson. My favourite song at the moment is from the 1973 Beach Boys album Holland, called Sail On Sailor.
CS: Do you do any sports?
PW: I don't play any sports at all. I do an hour of cardio on stage playing live every day. That's enough for me.
CS: What do you love?
PW: I adore cars and love driving. I drive an Enzo Ferrari, an SLR McLaren, a truck and a tour bus that has a studio installed in the back.
CS: How would you describe your style?
PW: I dress up to look dressed down. The idea of being dressed down appeals to me because people feel comfortable and they are then being themselves. Under the sun there is room for all manner of styles and self-expression.
CS: What's your most important garment at the moment?
PW: Slippers are important for me. I wear Mickey's feet. You can buy them from Disney World and they are big, yellow, fluffy, ankle high slippers. They are super comfortable.
CS: What's your advice to any young man who wants to look stylish?
PW: Make sure it's comfortable before you put it on. That's the whole point of dressing. I wear what I want and try to be myself. I just hope that I'll be stylish and fashionable.