Uffie – ADD SUV feat. Pharrell (Video)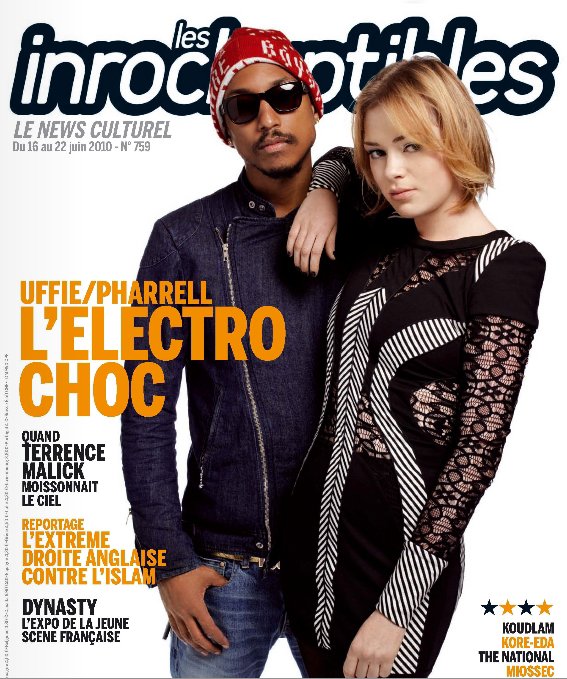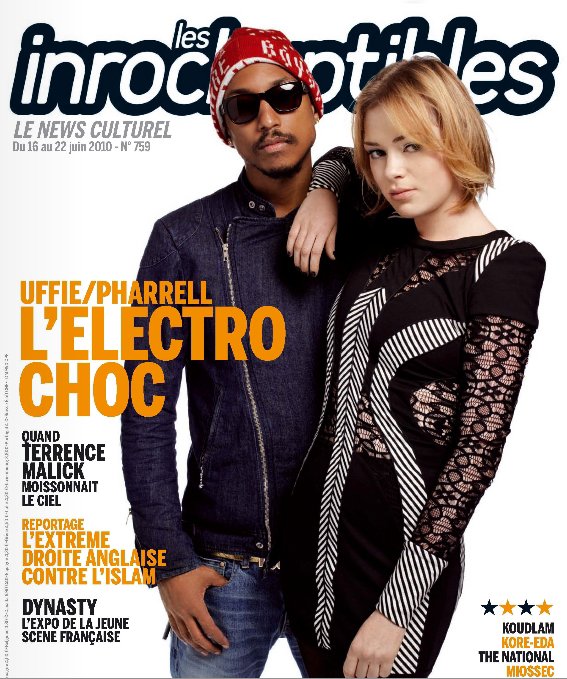 Updated: May 13th
Here are Uffie's Album and Single cover including the complete tracklist, the album is due May 31st, Single due May 24th and check out the Video Teaser of A.D.D. S.U.V., reminds me a bit of 'Lost In Translation', check it out.
Uffie – A.D.D. S.U.V. feat. Pharrell (Video Teaser)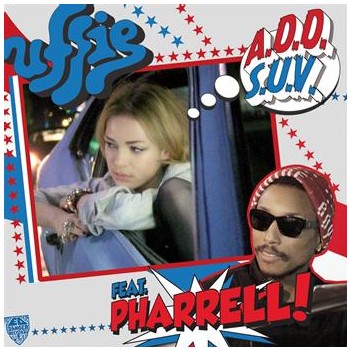 Uffie – A.D.D. S.U.V. (CDS) (May 24th)
01 – A.D.D. S.U.V. feat. Pharrell
02 – A.D.D. S.U.V. feat. Pharrell (Armand Van Helden Remix)
03 – A.D.D. S.U.V. feat. Pharrell (Hudson Mohawke Remix)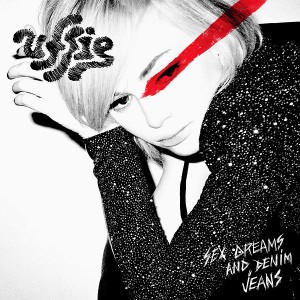 Uffie – Sex Dreams & Denim Jeans (May 31st)
01 – Pop The Glock (Feadz)
02 – Art Of Uff" (Mr. Oizo)
03 – A.D.D. S.U.V. feat. Pharrell (Mirwais)
04 – Give It Away (Feadz & J-Mat)
05 – MC's Can Kiss (Mr. Oizo)
06 – Difficult (SebastiAn)
07 – First Love (Mr. Oizo)
08 – Sex Dreams & Denim Jeans (Mirwais)
09 – Our Song (Feadz & Mr. Oizo)
10 – Illusion Of Love feat. Mattie Safer (Mirwais & Uffie)
11 – Neuneu (Mr. Oizo)
12 – Brand New Car (Feadz)
13 – Hong Kong Garden (Mirwais)
14 – Ricky (Feadz)
Updated: April 20th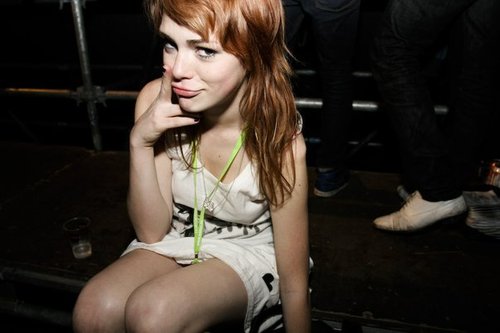 I know i'm late as fak, a pretty nice Radio Tune right there, produced by Mirwais.
Uffie – Add Suv feat. Pharrell (10′)
Uffie – ADD Suv feat. Pharrell (Mirwais)

Here is Uffie's 'Add Suv' single ripped from the BBC Radio produced by Mirwais, who helped out on much of the album, produced this track, and it sounds much more like something out of fellow Frenchies Justice's playbook than most of the stuff Pharrell has been up to lately. Which is probably for the best. His verse is kind of lame and unimaginative, and is mired in a layer of Auto-Tune that sounds a little dated at this point. By and large, though, this is a solid club track, and not nearly as frenetic as the title might imply. It starts out with a revving enging, and would sound good blaring from the back of a truck. People accuse Ke$ha of stealing Uffie's style, and the opening line "I wake up in the morning/I don't know where I am" is reminiscent of "TiK ToK"'s "Wake up in the morning feeling like P Diddy." But, of course, this is better.
Updated: April14th
Here are some more pics from the video shot.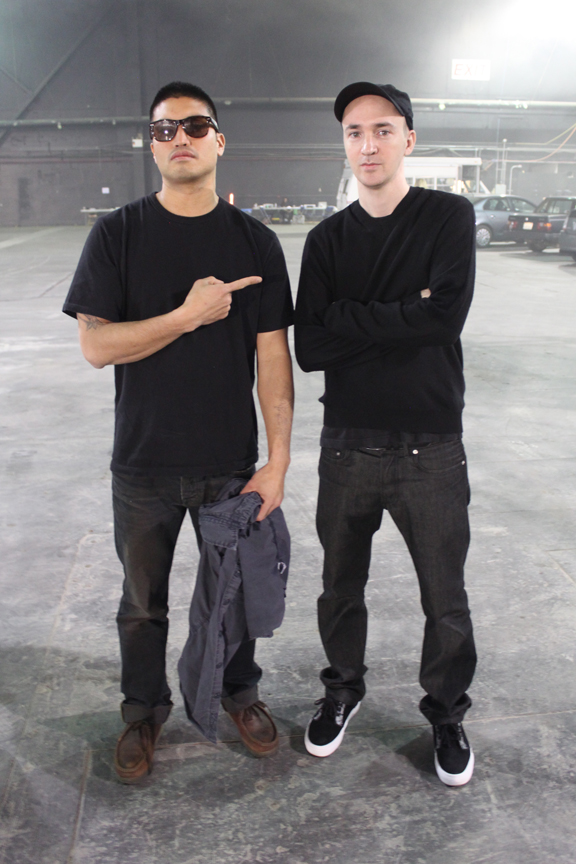 *bbcicecream.com

Updated: April 10th
It looks like The Neptunes will have a cameo appearance on Uffie's latest single according to hypebeast.com, The Neptunes were spotted with a Porsche 550 Spyder custom graphics designed by KAWS, on the streets of Los Angeles driving around, thanks to Alkashi.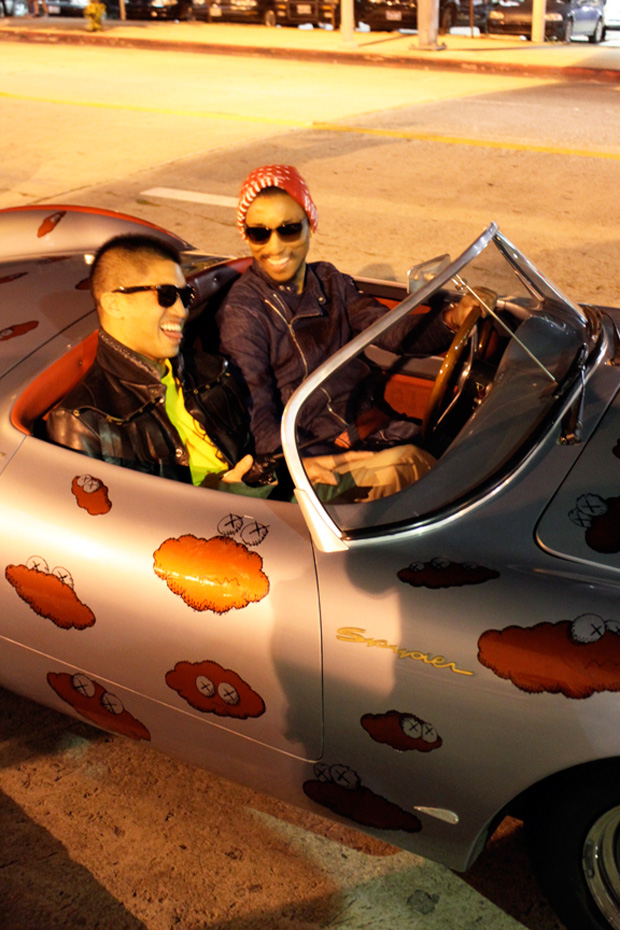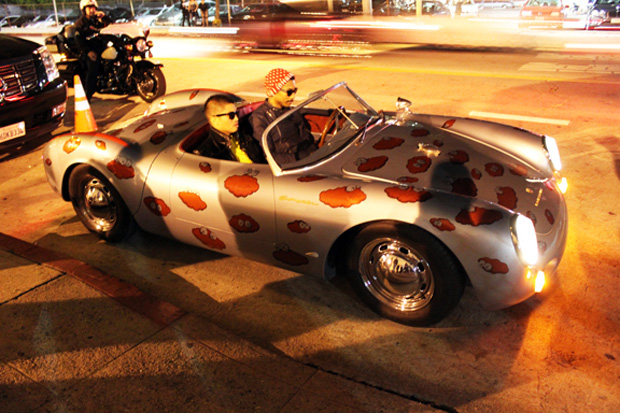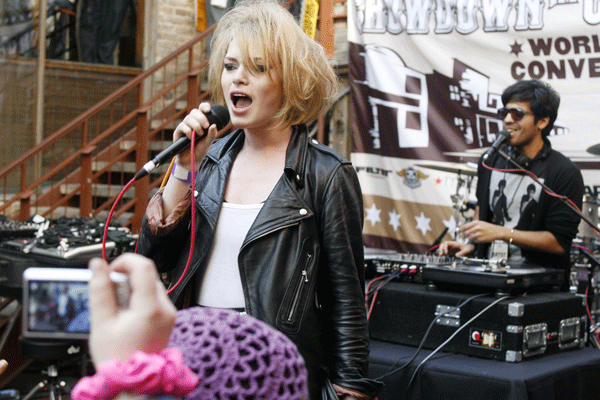 Here is a better version of Uffie's 'ADD SUV' feat. Pharrell from mark 06:20.
Uffie At Cinespace In Hollywood (March 16th)

Updated: March 20th
Florida native and hot chick UFFIE (aka Anna-Catherine Hartley) debuts her brand new collaboration with Pharrell called "ADD SUV" from her anticipated debut album "Sex Dreams & Denim Jeans" (soon to be released on Ed Banger Records). Fans have literally been waiting for years… go grab back that kiddie porn swagger that Ke$ha copped baby! She performed the song, "ADD SUV," on Thursday, and like much of Uffie's spry dance cuts, it revealed an artist who's willing to poke as much fun at herself as she is at the boys who chase her. Though she repeatedly noted it was "weird" to play in the daytime, Uffie was all smiles at SXSW, and her songs popped with effervescent, club-ready backdrops. Her first performance since the birth of her daughter… she rapped a medley of original tracks with a brand new DJ and fellas that tune is Not produced by The Neptunes, Pharrell is only featured on the tune, thanks to Krystee.
Uffie – ADD SUV feat. Pharrell (Live At SXSW)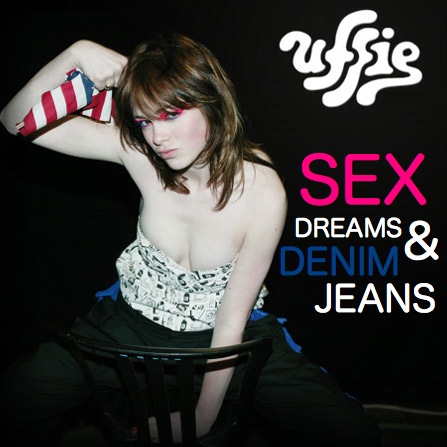 Uffie – Sex Dreams & Denim Jeans (2010) (Spring)
01 – Pop The Glock
02 – Art Of Uff
03 – ADD SUV feat. Pharrell
04 – Give It Away
05 – MC's Can Kiss
06 – Difficult
07 – First Love
08 – Sex Dreams & Denim Jeans
09 – Our Song
10 – Neuneu
11 – Brand New Car
12 – Hong Kong Gardens
13 – Ricky
*latimes.com
*edbangus.blogspot.com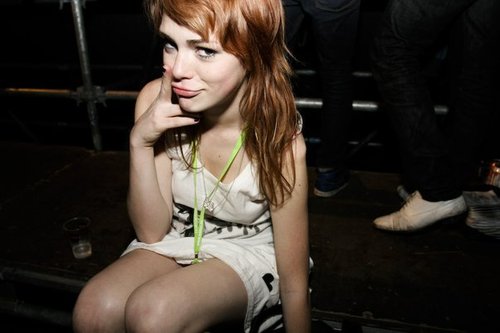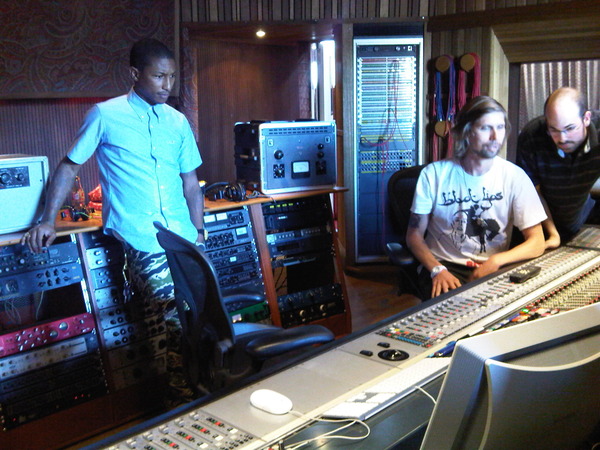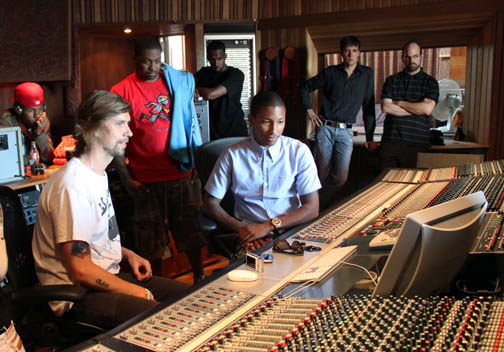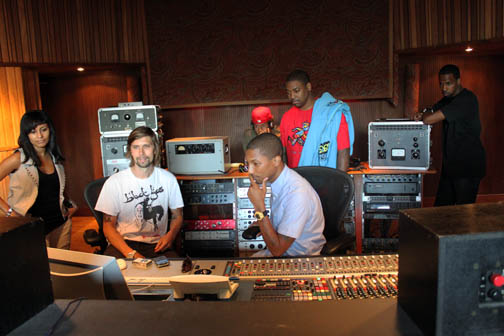 Update: 4th October
Pharrell will be featured on Uffie's first single. Yesterday, the blogfluential Parisian label Ed Banger Records premièred the new video from the self-proclaimed "hot chick" Uffie. Her forever delayed debut album – the everso Uffily titled Sex Dreams and Denim Jeans – has finally been confirmed for release in early 2010, following a four year delay due to touring off the back of her appearance on the Justice track 'Tthhee Ppaarrttyy' and pregnancy, not to mention various nudie pics in mens mags. And according to realitycheck.blogsport.de, her first single will feature Pharrell Williams. Thanks to Soultrain.Update: 25th August
I just came across that the dude who is in the studio with Pharrell is the french DJ Pedro Winter aka Busy P. who owns Ed Banger Records and manages another french electro group Cassius who already collaborated with Pharrell back in 2006 on the tune 15 Again. Check out the video down below of Cassius and Pharrell talking about working together.

Update: 24th August
The Neptunes are working with the French electro artist Uffie for her upcoming 2009 album. Her record label, Ed Banger Records first stated in late 2006 that her debut album would be released 'mid-to-late 2007', then 'sometime in 2008'. It is now speculated her album will be released sometime in 2009. Anna-Catherine Hartley, better known by her stage name Uffie, is an American-born, Paris-based rapper and lyricist currently signed by French music label Ed Banger Records. She incorporates the genres of synthpop, electronica, hip hop, rap and dance into her music and often works with her fellow label-mates, DJ Feadz and Mr. Oizo.
*drownedinsound.com
*realitycheck.blogsport.de
Uffie – Sex Dreams & Denim Jeans (Early 2010)
– Untitled feat. Pharrell
*myspace.com/uffie
*twitter.com/nerdarmy
*honeyee.com/pharrell

Cassius & Pharrell