Pharrell Williams Talks About Scoring 'Despicable Me'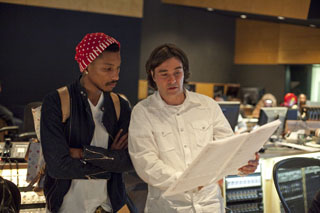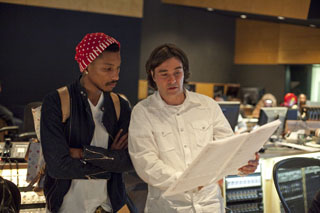 For Pharrell Williams, the opportunity to create the soundtrack to an animated film was the fulfillment of a lifelong ambition. Pharrell Williams has had his thumb on the pulse of popular music since the early 1990s, but what the 37-year-old music and fashion icon really wants is to stay in close touch with the side of himself that will never grow up. It was this confession, shared years ago with Universal Pictures music director Kathy Nelson, that led him to the set of the animated "Despicable Me," which opens this week and features a hip-hop-flavored score by the creative force behind The Neptunes production outfit and the progressive-minded rock duo N*E*R*D. The story goes like this:
After teaming up on two "The Fast & The Furious" movies, Nelson casually told Williams that she was working with Jack Johnson on an animated "Curious George" movie, for which the mellow rock singer would provide the score and compose original songs."I was so envious. I was honest about it," Williams, who admits to eating breakfast cereal at 2 a.m. and watching cartoons during his leisure time, said in an interview this week at a conference room in West L.A. "That is a big part of my personality. "I was hurt. I was like, 'Why wouldn't you ask me? You ask me for hip-hop records but you don't ask me to do this,'" he added. "I think everybody has the means to be diverse, but only some of us are adamant about it…We are Black, and yes we read Essence, Ebony and Jet magazines, but that does not stop us from picking up Rolling Stone or Time. I didn't feel typecast by not getting it, I was just saying, 'Don't you know enough about me? We are friends. I am a big, huge kid. I am the first person you should ask.'"
Nelson saw the sincerity in his eyes and promised to reach out for her next animated project, which happened to be "Despicable Me," about a delightfully wicked character named Gru, who — armed with minions, shrink and freeze rays and battle-ready vehicles for land and air — tries to steal the moon. Despite Williams' passion for the material and creative ideas, it was not an easy task. When producing for an artist, Williams said he works to identify what is missing in their body of work and finds ways to present them anew. For the movie, he had to get in sync with the emotional ups and downs of the characters, and use those feelings to convey the story through lyrics and music. After writing and producing a song, Williams had to go back and watch clips of the film to see if his work matched the particular emotion at the time. If not, it was back to the studio.
Fortunately, Williams was not alone; he was given a team of veterans who helped guide his hand while providing him the freedom to explore. Part of that exploration: resisting the obvious temptation to write songs celebrating the main character's comic treachery. "When you look at Gru, you understand that he is a guy that has issues," said Williams. "Personalities are weathered entities, if you will, that have been weathered by their environs, their parents, things that have happened to them. Basically, we are all walking molds. You can look at us and tell what we've been through and where we've come from, how it has affected us and how we are carrying it with us today. Gru was much like that. He was so mean but he also had a lot of fun. And I thought at first that he had this 'Grinch' type of feel but then you realized that the Grinch just did it to be dastardly. Gru did it because he thought it was the way, it was the way he was treated as a child…It was the way he saw his mother behave with him."
Taking this into account, Williams took strides to incorporate those themes into his songs. But strangely, he found more inspiration driving on Los Angeles' congested roads. "When you think of the crazy, crazy traffic that you guys have here in L.A., I can just see anyone getting out of their car with a rocket launcher," said the Virginia Beach, Va. native. "I can just totally understand that, and that's a guy having a bad day.I just thought of it from the perspective of someone sitting in traffic and that's where Gru's theme comes from — except he had a bad day every day." Despite this, the film provides an essential life lesson that is further complemented by the filmmakers' use of perspective. Rather than give the point of view of various supporting characters, said Williams, the film uses them to provide greater insight into Gru — exploring how he came to be so mischievous, and what it takes to reverse negative habits and behaviors.
"I realized that this was the best film for any bad child," he said, "because a bad kid can look at this and say 'I understand where he's coming from,' and then they begin to realize that there is some correlation between their behavior and things that happened when they were growing up." With this project completed, Williams is back in the studio with N*E*R*D, which is expected to release its fourth album this fall. And while he could not give exact details, he is currently working on two film projects that are in development: "Super Freak: The Rick James Story" and "Zoom". Heitor Pereira already worked on other projects such as like Gladiator, Mission Impossible 2, The Road To El Dorado, I Am Sam, Spirit: Stallion Of The Cimarron and Madagascar.
"What I like about the philosophy on the filmmakers don't make children's films. They make films for humans that use some of the tricks and treats of youthful entertainment, but at the same time, there's an amazing storyline." Though the task of scoring his first feature seemed daunting, Williams was grateful that he was surrounded by Academy Award® winner Hans Zimmer as the film's music producer and skilled guitarist Heitor Pereira as fellow composer. Says producer Meledandri: "The moment that we showed Pharrell the imagery, it took him about 30 minutes to say, 'I'll work on this film in any way possible.' He was immediately struck by the character designs and the notion of the story; his enthusiasm never waned.
"Pharrell, like our directors, took on the challenge of doing something that he had never done before; this is the first time he's scoredafeature film," Meledandri continues. "We knew that there was going to be an opportunity in the film for a number of songs that would be used as song score. What's resulted from his songs is a group of musical themes that he's worked on with the talented Heitor Pereira and legendary Hans Zimmer." Williams' collaboration with Pereira began as Williams watched preliminary footage of the film and then created musical ideas he thought would fit into each sequence. Pereira would then expand upon some of Williams' ideas and come up with additional creative works." On working with Pereira, Williams says: "Heitor took those pieces and songs, and he connected the dots. He is the glue in this house of cards.
He scored some incredible scenes and embel- lished some of the scenes that I scored and took those to the next level." Williams composed several original songs for the film, including the title track, "Despicable Me." The artist was inspired by the whimsical narrative of the lyrics from Annie, and he wanted to write lyrics that were as kid-friendly as that musical, but also as moody as Gru's character.
*blacktree.tv
*wavenewspapers.com