Pharrell Williams x Wall Street Journal Article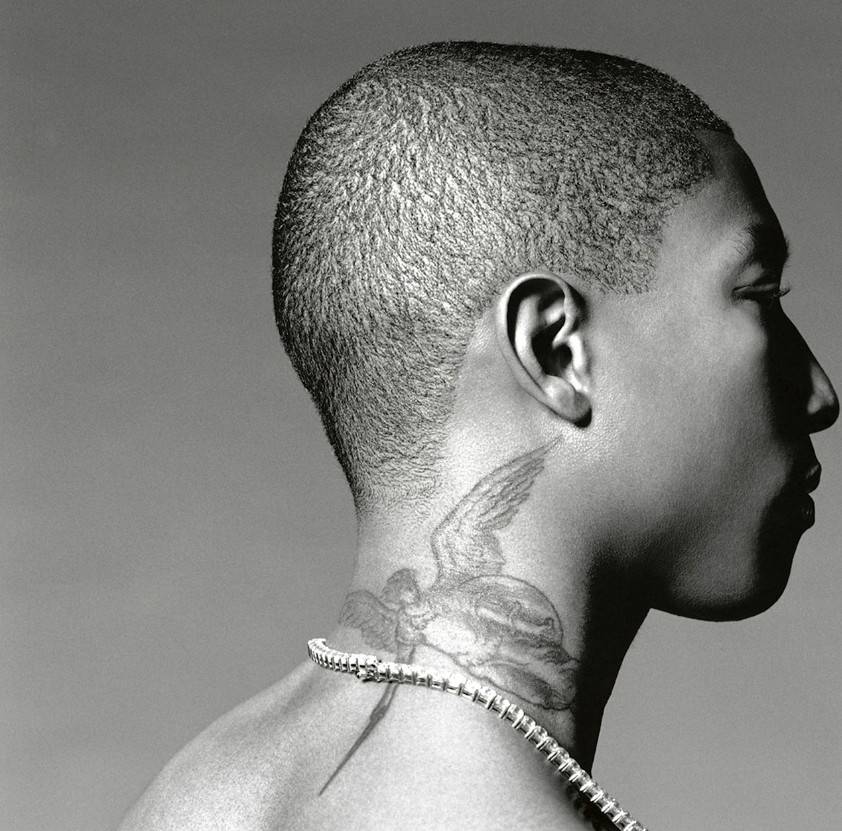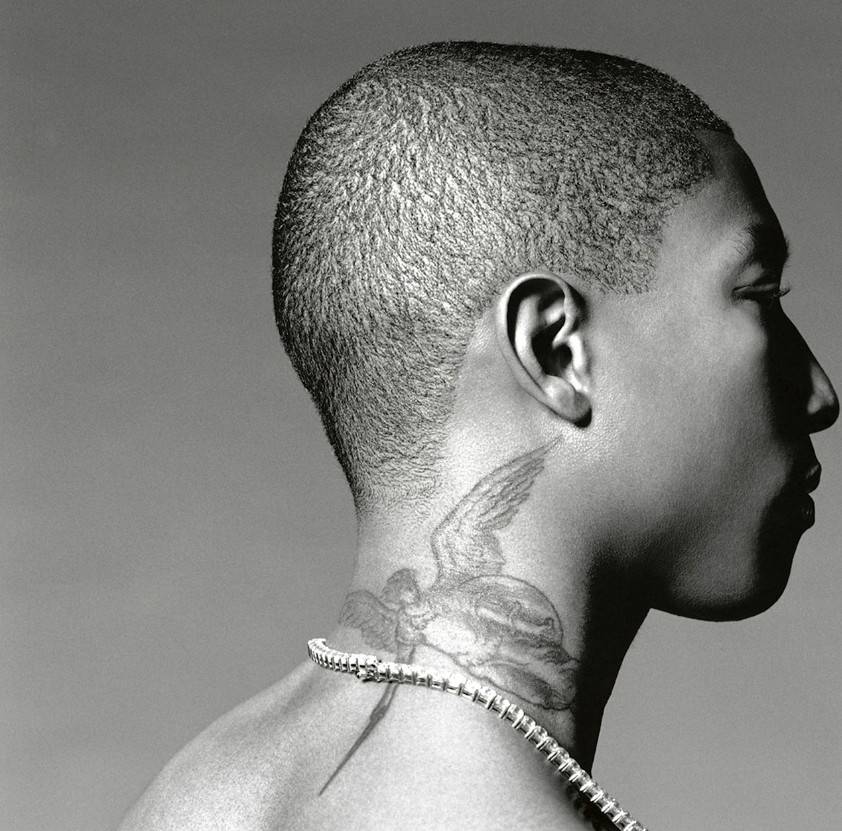 By Stinson Carter. Over the past decade, this young music mogul has created his own job description, writing, producing and rapping on countless hits. Although he's now an international style icon, a day spent with Williams is still all about the music. In the highly imitable world of hip-hop, producer Pharrell Williams has cut a unique path, never content to run with the pack. Among the first to challenge the baggy-pants ideal of hip-hop attire, he champions the work of cutting-edge designers like Rei Kawakubo and Alber Elbaz and has made possible the once absurd notion of a tough young man toting an Hermès handbag.
Williams, who turns 39 on April 5, formed the production duo The Neptunes with childhood friend Chad Hugo, and from there established his distinctive sound. In 2009, Billboard named The Neptunes the top producers of the decade. Williams has become a behind-the-scenes mastermind, producing, writing and appearing on hits for rap royals like Jay-Z and Snoop Dogg and less expected acts, such as Britney Spears and garage band The Hives. He also performs with his own band, N*E*R*D. He has moved into fashion himself, with his line Billionaire Boys Club (which has stores in New York City and Hong Kong), and has designed jewelry and eyeglasses for Louis Vuitton. He calls himself a "kidult," referencing his man-child tendencies, which might make sense for someone who rocketed to fame—and riches—in his early 20s.
But while Williams is increasingly seen as a businessman, creating new songs occupies the bulk of his time. Over the course of a 16-hour day in Los Angeles, he records four songs and also works on the score for The Oscars. (He was chosen by composer Hans Zimmer to help produce the show.) In the studio, Pharrell's concentration is unyielding. He throws out an easy freestyle rhyme and then sits down with a keyboard and laptop and slips into a trance. Layers are added, and a few errant beats turn into a full-bodied song with a sound likely to reign on the charts. Photographs by: Jessica Haye and Clark Hsiao, Courtesy of GM Company, Thinstock Images.
9:00 – Wakes Up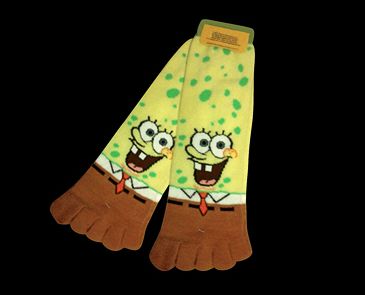 During 24 hours with Pharrell, 11 straight hours are spent in the recording studio, appearances by the likes of Wiz Khalifa and Busta Rhymes are made, and 4 songs are completed
23 Carats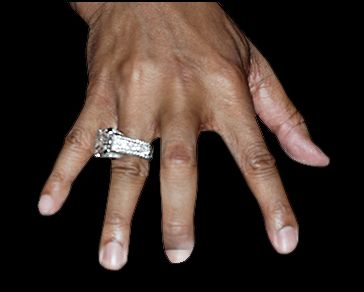 There are 23 carats in his emerald-cut diamond ring. Pharrell doesn't like to make a point of it. "Lotta guys show off, but I'm not that guy," he says.
10:15 – Breakfast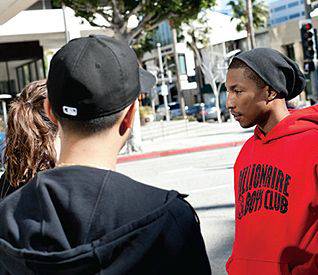 He has a breakfast of a croissant sandwich, home fries, and orange juice at Roxbury Cafe with his agent. In the course of this day, 0.6 people stop him on the street for every block he walks. Most want pictures; one wants him to listen to his friend's music.
25% On The Phone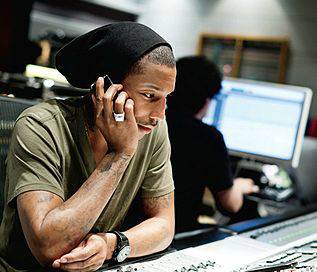 He spends 25% of each day on his phone. This day, he receives 10 phone calls, has 8 ongoing text conversations, and receives and responds to 22 emails.
12:00 – Escalade Dropoff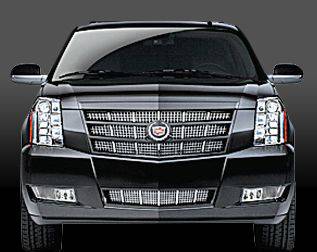 He gets dropped off by an Escalade for a meeting at composer Hans Zimmer's Santa Monica Studio.
14:30 – Lunch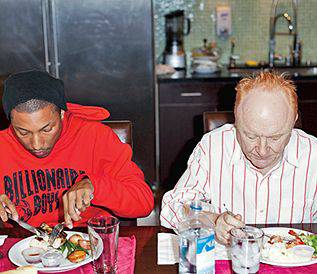 He eats chicken with mashed potatoes and string beans with Zimmer's team. In this photo, he is with Peter Asher, the music producer said to be the inspiration for Austin Powers.
3 Grammys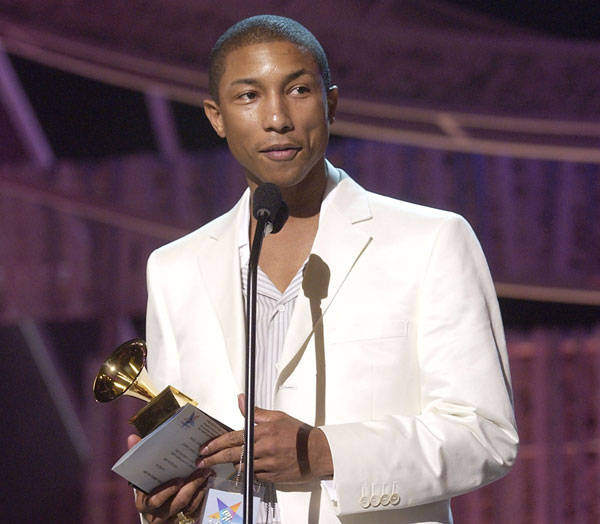 He has won two Grammys as a producer, and one as songwriter. There are 33 Billboard Top 40 singles collaborated on by Pharrell, Including Snoop Dogg's Drop It Like It's Hot." He's spent 20 years of his life working with Neptunes partner Chad Hugo. During a picture signing, he wrote of Hugo: "the most talented guy that I've ever met and best friend 4 ever."
2004
– Producer Of The Year With Chad Hugo
– Best Pop Vocal Album (Justified)
2007
– Best Rap Song (Money Maker With Ludacris)
15:45 Recording Session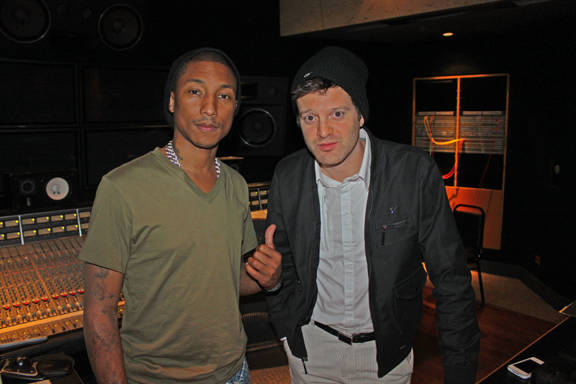 His recording session is with Mayer Hawthorne, whom he met onstage at a Snoop Dogg show. Pharrell has three members in his entourage: Mick Moreno (road manager), Ben "Big Ben" Edwards (security) and Mike Larson (sound engineer).
10 Boxes of Chinese Food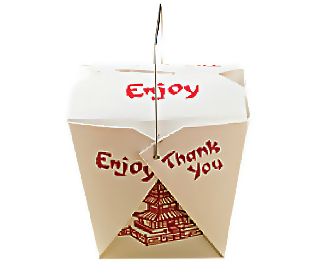 The crew orders 10 boxes of Chinese food. Also on the menu: orange soda and oversize bags of Starburst and Skittles. Snacks that Pharrell likes include Snickers bars, Chick-Fil-A, Burger King, and breakfast cereal.
11 Hours straight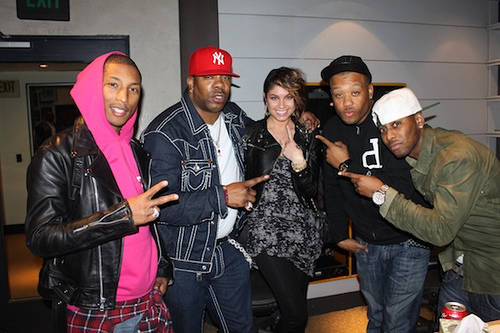 Pharrell Works for 11 hours straight with intense focus, taking no breaks to eat or drink and visiting restroom only once. Four songs are completed, and it took him an average of 70 minutes to compose a song from scratch during today's sessions. He has 17 friends in the studio today, including Busta Rhymes, music photographer Jonathan Mannion and Leah Labelle, a singer signed to Pharrell's label, I Am Other.
18:45 Wiz Khalifa Session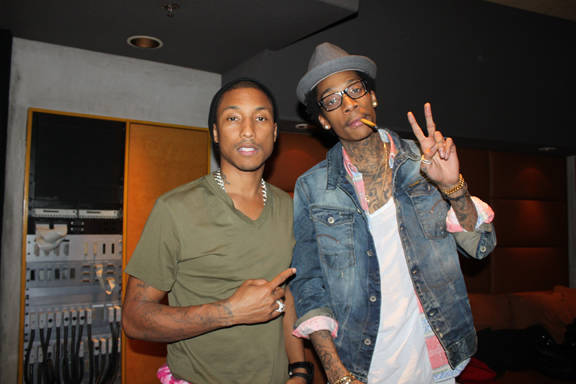 Wiz Khalifa and Pharrell start their session 105 minutes after sceduled start time, and Pharrell gets up to dance 12 times to his own music this session. There are two titles for Wiz's new album under way. Pharrell finishes recording with Wiz at 03:15 AM and is back at his hotel room by 03:30 AM. He's there for four hours until he checks out and heads to the airport for his flight home to Miami.
1 Day Off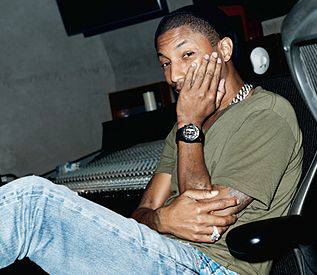 There is one day off for him and his team in January. Three of Pharrell's favorite places include his house, the recording studio and Disney World.