Danish Hit Producers 'The Pitchshifters' Talk About, Pharrell, Working With i am Other Artists Lydia Paek & Co.

Here is an update of the pictures that have been posted with Pharrell being in the studio with The Pitchshifters, musicheadline.blogspot.com managed to Interview The Pitchshifters where they revealed that they have not collaborated with Pharrell directly but for his i am Other artists, and it is safe to say that Lydia Paek is officialy also an i am Other member since The Pitchshifters revealed that they have been working with her, as well as with Buddy and the wonderful Alyssa Bernal, check out the interview below, thanks to nerd0016.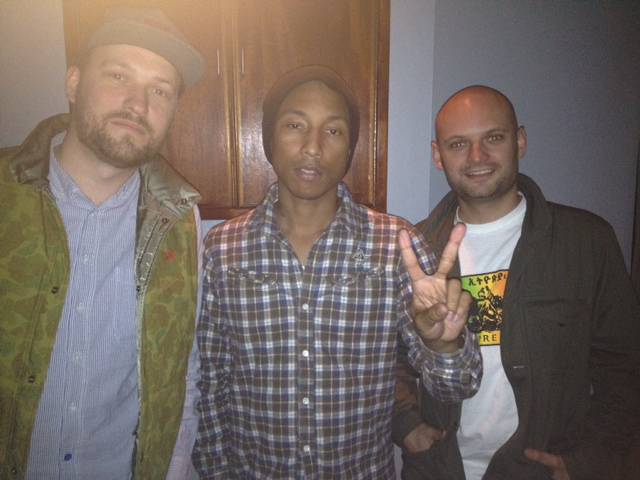 How have you suddenly ended up in the studio with Pharrell?
"Because we're good hehe, and because we have an ok buzz among other things because of our Jadakiss / Wale / Future song 'Turn Up' which has justcome out. It is 14 days has been downloaded 1.5 million times. "
How I came in contact with Pharrell?
"Our American manager in New York have driven management of NERD in anumber of years. He puts a lot of things up for us constantly. Among other things, also here with Pharrell. "
What are you working on?
"We are starting to produce for Pharrells new artists: Buddy, Lydia Paeck & Alyssa Bernal".
How far have you / when you can hear anything?
"We have plenty of tracks that are already finished for Pharrells artists. But the music industry in the U.S. is a giant machine, where things take time. Patience is one of the biggest talents to have in this game. But there are plenty other of our works out so just google us. "
Have you worked with other big stars?
"We have worked with Chris Brown. We have two songs, one is the bigcrossover single on Jadakiss upcoming album 'Dead Or Alive'. We have a song on the Rich Boys forthcoming album 'Crooked I', Kobe, Claude Kelly. We've just been to a meeting in New York with the whole Kanye Wesst team of A & R`s and songwriters, and it went really, really good. "
*n-e-r-d.skyrock.com
*twitter.com/trucknoise
*musicheadline.blogspot.com